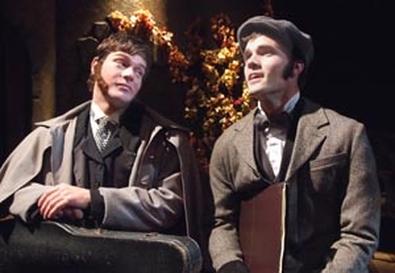 Commend playwright Israela Margalit for stepping into this exalted territory. She theatricalizes the 19th century's notorious love triangle among its bright musicians, as the mentally ill Robert Schumann fades while his wife, Clara Wieck Schumann, falls for the much younger Johannes Brahms. Recordings of Margalit expressively playing a selection of piano works by Schumann, Brahms, and Beethoven accompany the play. Unfortunately that makes us realize all the more: As much as theater can bring stories of true art to the audience, sometimes the art speaks better for itself.
Margalit's storytelling verges on the "and then we wrote" style. Director Rick Sparks has tried to soften the script, infusing it with visual glories and dexterous staging in the tiny theater. His cast reflects the dignity and physical awareness of the era but the frailties of all times. Instead of "playing" their instruments, the actors "dream" the music—engaging in air piano, air conducting, and waltzing. Indeed, several hints let us know this is probably a "dream" play, not the least of which is Clara's mourning attire throughout, as did the real-life musician in her widowhood, though here Schumann is alive but in steep decline.
Bjørn Johnson apparently can turn any dialogue into the deepest, tenderest, most meaningful conversation. His Schumann is troubled and cantankerous and finally, lamentably, institutionalized. Meghan Maureen McDonough expressively reflects Clara Wieck Schumann's strength and disappointment in the way she let her life lead her. Jeremy Shranko is engaging as the young, smitten Brahms who grows up while we watch. Peter Colburn adeptly plays papa Wieck and others. And, Bryan Normoyle plays Joseph Joachim, violinist and muse for Brahms' violin repertory, the voice of discretion and warning here.
Presented by and at the Lounge 2 Theatre, 6201 Santa Monica Blvd., Hollywood. Mar. 12–Apr. 10. Fri.–Sat., 8 p.m.; Sun. 7 p.m. (323) 960-4412. www.plays411.com/trio.