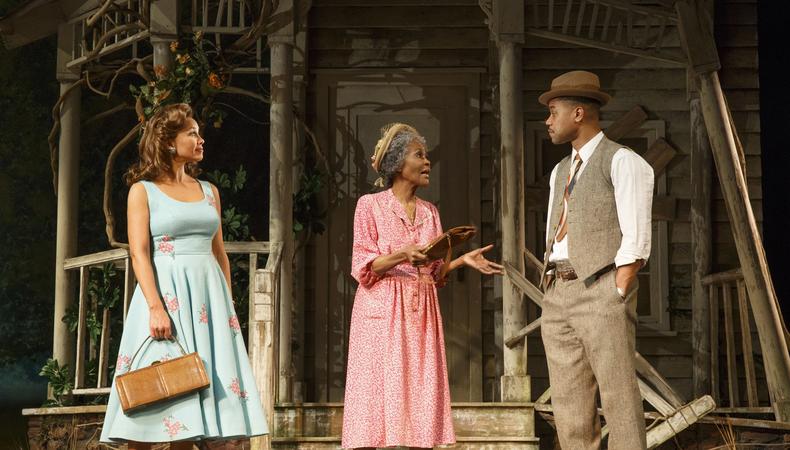 The most heart-stopping moment of the Broadway season happens late in Act 2 of Horton Foote's "The Trip to Bountiful." As Carrie Watts stands once again on the now-sagging porch of the beloved home she was forced to abandon 20 years earlier, Cicely Tyson, framed by a wooden post and a flowering vine, radiates with quiet fulfillment as Carrie gazes out over what used to be her land. It is simple, silent, and stunning, proof, if any were needed, of Tyson's magnificence as a stage actor. In director Michael Wilson's impeccable revival of Foote's masterwork, Tyson is giving a performance for the ages.
The script began life as a 1953 teleplay starring Lillian Gish that was so acclaimed that it spawned a Broadway stage production that same year, again featuring Gish, though the show only ran for a month. The 1985 film version won an Oscar for Geraldine Page.
The story begins in Houston in 1953. Carrie lives in a cramped two-room apartment with her henpecked son, Ludie, and his self-involved wife, Jessie Mae. Hymn-singing Carrie and movie-magazine-reading Jessie Mae are oil and water, with poor Ludie stuck refereeing. Carrie, who has a failing ticker, longs to return to her birthplace, Bountiful, Texas, before she dies, planning to live with her girlhood friend Callie Davis, who is now the hamlet's sole inhabitant. Dutiful son Ludie, having lost two years and a good job to an unspecified illness, is trying to make up ground in a new position that doesn't yet pay all his bills; he's ashamed that he has to rely on his mother's pension check to make ends meet. Carrie has run away before but never succeeded in leaving Houston. This time, however, armed with that check, she eludes her keepers and makes it onto the bus. Carrie is going back to Bountiful at last, but what will she find there?
Tyson invests Carrie with a deep, many-faceted humanity, landing laugh after laugh with superb comic timing only to break your heart in the very next moment. The actor never once falls prey to sentimentalizing old age, nor does she shy away from Carrie's share of the blame for the unhappy situation at home. Frail but feisty, willful yet humble, rueful and resilient, her Carrie is pretty much perfection.
Vanessa Williams manages the difficult task of fully portraying Jessie Mae's shallowness and narcissism without making her a shrew. Still beautiful in middle age, her Jessie Mae is a restless, bored woman for whom childlessness is much more of a sorrow than she lets on, and Williams allows us to glimpse underneath the girl Ludie fell for and still loves. Film star Cuba Gooding Jr., in his professional stage debut, hasn't yet learned to work with the subtlety and depth of his co-stars, but he has a warmth and transparency that suit Ludie. Gooding is particularly successful at suggesting Ludie's bewilderment at what life has done to him, and he rises to the requisite heights in the play's moving final scene.
In memorable supporting turns Condola Rashad is composed and tender as Thelma, a young woman who's Carrie's seatmate on the bus; Tom Wopat provides the laconic sheriff sent to bring Carrie back with dignity and feeling; and the redoubtable Arthur French gives a lesson in listening as a sympathetic ticket agent.
Jeff Cowie's multiple sets change seamlessly and are rendered with intelligence and detail; his vision of Bountiful is brilliant, especially as lit ecstatically by Rui Rita. Van Broughton Ramsey designed the appealingly observant period costumes.
"The Trip to Bountiful" is an American treasure, and Wilson and his wonderful company show us why in this not-to-be-missed production.
Presented by Nelle Nugent, Paula Marie Black, Kenneth Teaton, Carole L. Haber/Philip Geier, Sharon A. Carr/Patricia R. Klausner, and Wendy Federman/Carl Moellenberg/Ricardo Hornos, in association with Kevin Liles, Joseph Sirola, Stephen Byrd/Alia M. Jones, Howard and Janet Kagan/Charles Salameno, Willette Murphy Klausner, and Fifty Church Street Productions/Hallie Foote at the Stephen Sondheim Theatre, 124 W. 43rd St., NYC. April 23–June 30. (212) 239-6200, (800) 447-7400, or www.telecharge.com. Casting by Caparelliotis Casting.
Critic's Score: A