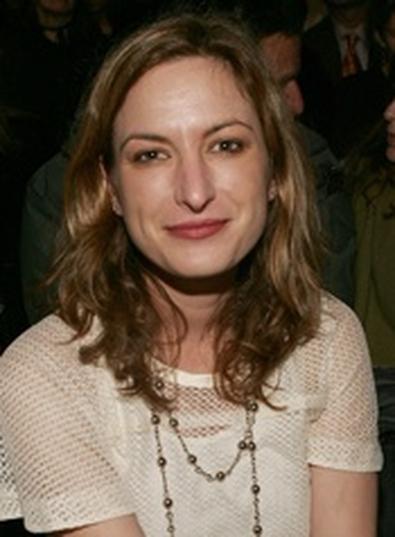 The Sundance Film Festival is prime turf for up-and-coming filmmakers to make their mark. This year a number of distinctive new voices emerged from the pack with exciting feature directorial debuts, spotlighting stories ranging from humorous high school angst and realistic romantic pitfalls to one extremely unusual road trip. Here are three new writer-directors to keep an eye out for.
'Science' and Reason
Jeffrey Blitz has already made a name for himself in the documentary world, having helmed 2002's Oscar-nominated Spellbound. For his narrative directorial debut, Rocket Science, he also borrowed from real life -- but just a little. "In general, films that have an autobiographical component to them give me hives," Blitz says, chuckling. "I feel like there's more-important stuff to do than just share the painful details of one's own life. But there are some factual things [in Rocket Science] that carry over."
The film is a hilariously offbeat coming-of-age tale focusing on Hal Hefner (Reece Daniel Thompson), a painfully shy high schooler with a pronounced stutter. After becoming enamored of his school's debate team captain (Anna Kendrick), Hal joins the team and attempts to conquer his demons. When Blitz was a kid, he had a stuttering problem and decided to join his school's speech and debate teams. But, he says, he's nothing like Hal. "And unfortunately, I didn't join the debate team because I was madly in love with somebody on the team; I joined because I really wanted to prove to the world that I could do something that God was trying to tell me I couldn't do," he says with a grin.
Blitz, who attended film school at the University of Southern California, began developing Rocket Science after HBO Films executive Maud Nadler saw the spelling-bee-themed Spellbound at the Los Angeles Film Festival. "She said, 'I must do your first fiction feature film,'" he remembers. He thought he wanted to do something set in high school, and the pair kicked around ideas for a bit. "For some reason, I never even mentioned debate and stuttering," he says. "And then one day I mentioned it to her, and she said, 'Shut up, we're making that movie.' So I was hired by HBO to write that script. And then as soon as I wrote it, they said, 'Let's make it.' It's just been the kind of golden path."
One of the most challenging parts of that path was casting. Blitz knew that Rocket Science's dense, stylized dialogue -- particularly the rapid-fire debate sequences -- wasn't standard fare. His goal was to find young actors who could internalize, understand, and deliver the lines in a meaningful way. The Rocket Science team, including casting director Matthew Lessall, saw actors in Los Angeles, New York, Seattle, Boston, Chicago, Baltimore, San Francisco, and New Jersey. "For a little film, we put all of our eggs into that basket, feeling like we can take money out of other budgets and put [it] into casting because of how important it is to the movie," Blitz says.
He recalls finding Kendrick, who turns in a charismatic, prickly performance as debate captain Ginny Ryerson, at an early casting call in L.A. Though she didn't have many credits to her name -- she appeared in the 1998 Broadway musical High Society and the cult film favorite Camp -- Kendrick made an immediate impression.
"I wrote down in my notebook when Anna first came in, 'Anna Kendrick is Ginny Ryerson,'" Blitz recalls. "I knew it. Anna is amazing. She finds a way to deliver dialogue that, in a way, feels to me like it's out of a Preston Sturges film. It's so rapid-fire, and she just goes with it. But it deeply makes sense to her, and she knows why she's saying it."
It took quite a bit longer to find the perfect Hal. After experimenting for a bit with casting a real-life stutterer in the role, Blitz found experienced Vancouver-based TV actor Thompson, who is perfectly soulful and sympathetic as Hal. "Reece's agent from Vancouver had put him on tape and sent it in. It didn't even flow through the proper channels, but the tape ended up on someone's desk, and as they were clearing off their desk, they said, 'Oh, do you want to look at these tapes, too?'" recalls Blitz. "And that was how we found Reece."
Once casting was complete, Blitz worked diligently to draw sensitive, well-rounded performances from his actors. He says two of his teachers at USC -- Jeremy Kagan and Nina Foch -- taught him early on that the actor-director relationship is a precious thing. "My approach is the idea of creating safe space for the actors to exist comfortably in," he says. "Film sets can often not be a safe place for actors to be; they're expected to be as if they were technical people on set. You have this window of opportunity. You come in and you say your lines and you do them just right and you leave. And the process of acting is just not like that. So I really tried to create a set [where], even though it was low-budget and we had to move really fucking fast, we would clear out room for the actors to be able to do their thing and to take the time to find what they needed to find." Blitz shot the film, with a budget of between $5 million and $6 million, in five weeks using locations in and around Baltimore, New Jersey, and "a teeny bit" in Los Angeles. Picturehouse, which is partially owned by HBO, will release the movie in August.
Blitz, who has also helmed episodes of The Office, hopes to segue between documentaries and narrative features. "I love the idea of being able to go back and forth for the rest of my life, if the forces that be allow that," he says.
Coming Up Posey
Zoe Cassavetes has a deep respect and admiration for actors. She says this is in part because she wasn't a very good one. The writer-director is quick to brush off her on-camera experience -- which includes appearances in the films Noises Off and The Thing Called Love -- with an uproarious laugh. "Come on, I wouldn't call it acting!" she says.
Cassavetes, the daughter of filmmaker John Cassavetes and actor Gena Rowlands, has been a writer ever since she was a kid. "Growing up in a house where someone really amazing makes films and makes it look not easy but so much fun, it just seemed like a natural thing to want to do," she says. "I tried to become an actress because my mother said, 'Well, either you can go to school or you can get a job.' And I was like, 'Does acting class count?' Luckily, in my family it did. I'm glad to have all that training, but I think maybe it worked in a different way for me."
Cassavetes, who has helmed several short films and a wide array of commercials, is making her feature directorial debut with Broken English, a witty, true-to-life story about unlucky-in-love Nora (Parker Posey), a 30-something New Yorker who starts an unlikely romance with a passionate Frenchman (Melvil Poupaud). The film was partially inspired by real life. "I was trying to figure out something to write, and this kind of repetitive question came up: 'Are you with someone; are you going to have a child?'" she recalls. "I'm 36, and it started happening at 33. I was so kind of completely offended by it. And then I started listening to all my friends, and they were like, 'The same thing is happening to me.' Once I started thinking about it, the whole world opened up. I thought it was a good way to try to explain what was going on in a freaky 35-year-old mind."
Funding for the film, which cost about $1 million, was raised through Japanese investors and production company HDNet Films, which finances and produces films shot in high-definition. Cassavetes says she relied a lot on her producer, Vox3 Films' Andrew Fierberg, to help her navigate the New York film scene. "I instantly liked this man," she says. "After meeting many producers, he said, 'All right, let me tell you how it's gonna work.' I was like, 'Please!'"
The casting process was surprisingly smooth, Cassavetes says. She worked closely with casting director Adrienne Stern to populate her film. From the beginning, the filmmaker wanted Posey as her leading lady and was thrilled when the actor came on board. "She read the script, and she couldn't have been easier," Cassavetes says. "She's like, 'Oh, honey, let's do it.' Drea [de Matteo, who plays Nora's no-nonsense best friend,] was kind of the same way. I met her, and she was like, 'I feel like I've known you for 20 years.' They were exactly the combination of women that I wanted. I wanted [them to be] polar opposites in the way they looked and acted."
Posey also assisted a bit with the casting, putting in a call to actor pal Justin Theroux, who steals a few scenes as one of Nora's would-be boyfriends. And Cassavetes wrote the part of Nora's mom specifically for Rowlands. She's grateful for the experience and expertise her mother brought to the table. "[My mom] was like, 'Well, let's talk about my part, but do you want to talk about the other parts?' I said, 'Yeah! Let me get a pen,'" Cassavetes recalls. "She's so experienced and she takes her craft so seriously and she really understands that world, so it was such a beautiful thing to be able to talk to her about it. And when we got on the set, everyone [was] in awe of her -- I am as well. But she brings a certain presence; everybody is on their best behavior."
Cassavetes shot the movie in 20 days, using locations in New York and Paris. The film will be distributed later this year by Magnolia Pictures, which releases HDNet films theatrically.
The filmmaker is currently working on getting back into writing mode and looks forward to directing talented actors again soon. She describes her approach to working with actors as more of a "theatre" process. "I like when people get to flow," she says. "I like long takes and letting people really get into it instead of stopping and starting, so they can develop a character."
Amazing 'Grace'
A while back, James C. Strouse took a trip with his brother and two nieces to the Ohio amusement park Kings Island. "My brother's a very sort of closed-off guy, and his oldest daughter was 12 at the time. And there was just something so interesting about the dynamic between [them]," Strouse says. "I can sort of speak to them more intimately than they can speak to each other, so I know there's so much love there, but just unspoken. There's this really weird kind of sadness about that. And going to one of the sunniest, happiest places in the Midwest and feeling that sort of sadness just stuck with me."
This seed of an idea blossomed into Grace Is Gone, Strouse's quiet, moving directorial debut about a stoic father, Stanley (John Cusack), whose wife is killed while serving in Iraq. Rather than tell his two young daughters, he takes them on a spur-of-the-moment road trip to an amusement park. The film walked away with Sundance's Audience Award, as well as the Waldo Salt Screenwriting Award. It was acquired at the fest by the Weinstein Co. and will be released later this year. Strouse, whose only other film credit is the screenplay for 2005's Lonesome Jim, developed the script with the help of his wife, one of the founders of New York-based Plum Pictures, which ended up being one of the production companies on Grace Is Gone. "If it wasn't for her, I don't think it ever would have gotten finished," Strouse says. "I'm sort of a downhearted guy; I give up easily. But she really pressed me to keep working on it."
After going through about 20 drafts, he felt confident enough to send the script to Cusack, whom he always envisioned in the lead role. "I wrote it with him in mind," Strouse says. "I love him as an actor. Sometimes people ask, 'It's such a stretch; it's such a different role. Did you have any trepidation about him pulling it off?' That never entered my mind, because I think there's great variety in the roles that he's played. I guess the main difference is that this is maybe one of the most inarticulate characters he's ever played, 'cause his characters are always very intellectually alive and hyperarticulate. But it was never a question. I remember drawing a sketch: I got a picture from Must Love Dogs, and I gave him a side part and glasses, and I said, 'That's it; that's the guy.'"
Strouse had met Grace Loh, Cusack's producing partner at the actor's New Crime Productions, a couple of years earlier. He sent the script to her and, as he and Cusack are repped by William Morris, had his agents pass the script to the actor's agents. Cusack was so impressed that he signed on as star and producer. Strouse says working with the actor was a bona fide collaboration, Cusack helping out "in every sense."
Continues Strouse, "One of the biggest things he helped with, and something I figured out really early on, was: You gotta have a plan, but you can't be rigid about it, because sometimes a better idea will come up. If you say no to that idea because it's not planned, then you might lose something. You might lose a good moment. Sometimes an 8-year-old girl is gonna come up with a line that's better than what you could have come up with, spur-of-the-moment. John helped me open up to that."
Once Cusack was in place, Strouse still had two other key roles to fill: Stanley's two young daughters. He worked with Chicago-based casting office Tenner, Paskal & Rudnicke to find a pair of actors who could shoulder the film's considerable emotional heft. "I wanted to cast sort of nonprofessional actors in the two children roles, because I think sometimes children actors who have been working, they work a lot in TV, they get a method that they figure out," Strouse says. "I didn't want to sort of work against that method. I had a very particular idea of how I wanted to work with these girls." In the end, newcomers ShĂŠlan O'Keefe and Gracie Bednarczyk fit the bill.
Strouse shot the movie over 28 days in Florida and the suburbs of Chicago. He says he was determined to understand the process from an actor's point of view, so he, O'Keefe, and Bednarczyk took a workshop with Cusack's former acting teacher, Joyce Piven of the Chicago-based Piven Theatre Workshop. "It was really great because not only did I learn about acting from her but we were doing these really fun exercises and being really silly and vulnerable to each other, and it created a real bond between us," Strouse says.
The filmmaker says the workshop, coupled with a rehearsal period that involved a lot of talking and bonding, helped him and his cast feel comfortable with one another. "Movie sets are the most artificial, weird, anxious places in the world," he says. "But when we were working, it just felt like me and John and those two girls."