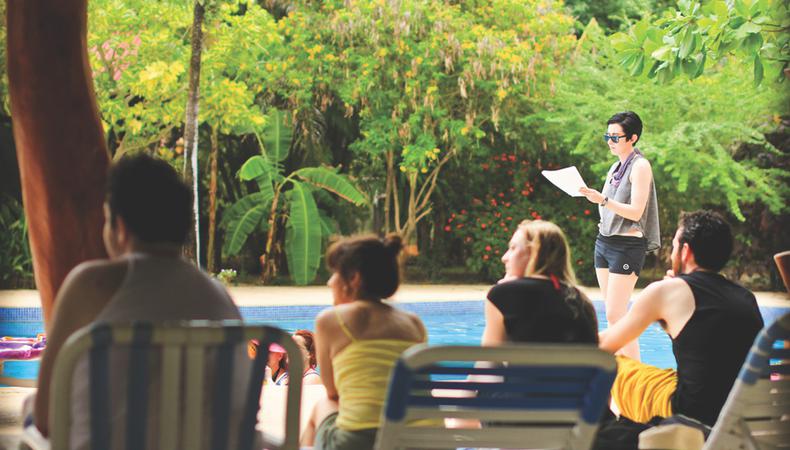 Is the turmoil of city life difficult to balance with your artistic pursuits? Worse, do you feel your creativity being stifled? For actors in particular, the competitive spirit caused by too many urban-dwelling performers and not enough jobs can hinder rather than stimulate a career.
Enter Alaine Alldaffer, a casting director at New York City's Off-Broadway company Playwrights Horizons. Since 2010 she has taken 14 performers roughly twice a year to Playa Guiones, a serene Costa Rican beach. Loosely dubbed the Costa Rica Experience, both a workshop and a retreat, the weeklong excursion helps artists unlock their creativity, collaborative power, and connection with nature.
"There are such challenges of living and being an artist in New York City, and sometimes the burdens of the business can be debilitating to the spirit," Alldaffer says. When visiting Playa Guiones years earlier with her boyfriend, she was struck by the surf spot's utter tranquility. "It was 7 in the morning, I was watching all these people surfing, and it was like nothing I'd ever seen before. There were world-class surfers, which was like poetry in motion, and then there was a 70-year-old man surfing with a young girl on his shoulders.... I thought, This would be an amazing thing for actors."
As a member of the Casting Society of America, it was understandable that Alldaffer had overworked actors in mind. But there was more to it than that. "There are a lot of parallels and metaphors," she says, between the demands of an artistic life and the activities she would later turn into the cornerstones of the Costa Rica Experience: yoga and surfing. "I believe acting is a holistic, healing art in the same way yoga is. And surfing is so much about being in the moment; the best actors, obviously, are very present.
"It's amazing what we can accomplish in a week," she adds. Participants engage in a traditional acting workshop on the first day, followed by a collaborative storytelling exercise based on the work of a contemporary writer. The experience culminates in Genesis Projects, individual efforts that each group member develops: monologues, solo dance acts, even screenplays. No two retreats are ever the same, says Alldaffer; not only do groups take their own hiking and kayaking trips, but each one also selects a distinct charity or cause to focus on giving back.
Although participants are usually theater performers of some kind, Alldaffer's emphasis on creating individual work often yields surprising results. "I trick people into being writers," she says with a laugh. "I like to start the workshop the minute we get to the airport with a writing assignment.... Actors have creative blocks the same as writers do and have to approach it the same way to overcome it." Although work has often continued to develop after the Costa Rica Experience, Alldaffer says emerging from the retreat with a ready-to-produce project is not the priority.
"It's about waking up your creativity and harnessing that creative spirit and getting those muscles working again." American artists can learn a lot from the Costa Rican philosophy of "pura vida," she says. Favoring a "pure" life over a hectic one—even if it means occasionally getting away from it all—is the key to artistic inspiration. "A lot of people are called to be actors and storytellers. That's why you'll never hear me telling people, 'If there's something else you can do, you should do it.' This chooses you. This is a higher calling and you have to be in tune with that."
For more information on the Costa Rica Experience (the next workshop takes place April 21–28), visit costaricaactors.com
Inspired by this post? Check out our audition listings!