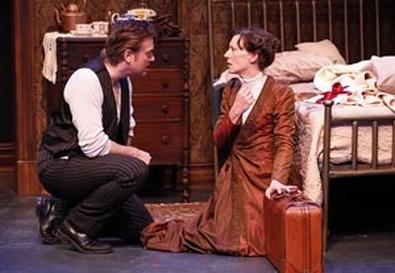 "Things are what we make them," philosophizes the unassuming Adelaide Pinchin, a troubled yet insightful woman taken in by manipulative and secretive con man George Love. While playwright Karoline Leach's romantic thriller suffers from predictability, actors Mark Shanahan and Andrea Maulella make the Irish Repertory Theatre's production a bone-chilling evening. Under Joe Brancato's intelligent and precise direction, Shanahan and Maulella waltz through this drama, set in the early 19th century, with bravura.

George Love, or so he calls himself, begins this day like any other: looking for a new wife to bed, rob, and leave. He sees Adelaide in the window of a London hat shop and makes his move. Adelaide, psychosomatically ill and self-proclaimed as ugly, works in the backroom of the shop with the other "ugly" women, content to be a spinster until George woos her. Adelaide wears a valuable brooch and stupidly reveals that she has some money stashed away for a rainy day. After a mere 24-hour courtship, the pair become secretly engaged, then they marry and run away to the seaside for the infamous wedding night, after which comes Love's inevitable departure. But through a twisted turn of events and emotional revelations, they are destined to be together for better or, sadly, worse.

Maulella and Shanahan give awe-inspiring performances that are only bolstered by their onstage chemistry. Shanahan moves between scheming con man and sugar-toothed wooer with ease, while Maulella, her character brimming with subtle eccentricities, skirts around him. Interweaving monologues allow the performers to narrowly avoid each other for a series of beats, making their emotional collisions all the more satisfying. Shanahan lifts all pretentiousness from George's life and almost convinces the audience that the blackguard has redeeming qualities. Adelaide's insecurities are manifest in Maulella's every movement, and while her character's revelations are unsurprising, her performance lends charm to an increasingly bland plot.

Costume designer Alejo Vietti dresses the performers in appropriate and simple period garb, and Martin Vreeland's suitably gloomy lighting changes slightly at moments of dramatic tension, augmenting the action. The rotating stage allows Michael Schweikardt's set to easily convert from simple, dark woods to boarding house chamber–cum–honeymoon suite, and Brancato stages Adelaide's and George's colliding monologues like a tiptoed dance about to crescendo. Dialect coach Stephen Gabis must be lauded as well, as the actors take on difficult accents and keep them up impeccably throughout.

The characters' motivations do not always make sense. Why doesn't George run away with the money when he has the chance? How does Adelaide suddenly have amazing insight into George's dealings when she seemed so oblivious before? And the final twist comes as almost no surprise. It doesn't matter. Maulella and Shanahan could act out the phone book and they'd still mesmerize.

Presented by and at the Irish Repertory Theatre, 132 W. 22nd St., NYC. July 7–Aug. 21. Tue.–Sat., 8 p.m.; Wed., Sat., and Sun., 3 p.m. (212) 727-2737 or www.irishrep.com.