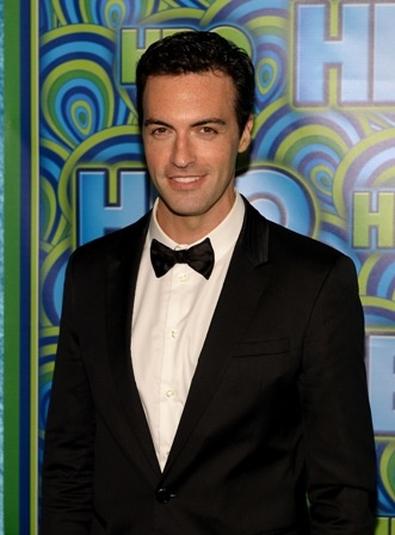 Reid Scott is taking a break from the politics of "Veep" to star as Turbo the speedy snail in Netflix's first original children's television series, "Turbo FAST." Launching Dec. 24. "Turbo FAST" follows the characters from the Dreamworks feature film "Turbo." Even though he knew producer Chris Prynoski from his work on Disney XD's "Motor City," Scott says he still had to jump through some hoops to get the role, but he likes all the possibilities auditions hold, so he doesn't really mind for the most part. "It's so fun to just slip on different hats and play different characters even if it's just for a minute." That doesn't mean he doesn't still get nervous in auditions. "But I guess I'm a little bit of an adrenaline junkie, so I kind of like that rush," he says.
Juggling two series in stark contrast to each other does present some challenges. While in Baltimore shooting "Veep," Scott will sometimes have to drive across town to record at a studio in Baltimore and switch mindsets from Dan to Turbo. "It takes a minute, because they are complete stark contrasts to one another, but I have to say it's kind of nice sometimes to wash off the grimy, Machiavellian, scheming Dan with like a nice dose of Turbo. He's so fun and light and happy and energetic and it's energizing at times." But those scheming qualities are also part of the reason Dan is so fun to play.
Scott talks about juggling the two roles and what he's learned about comedy, animation, and most importantly, teamwork.
Use the tools you have.
Creating the character of Turbo was a little easier because Scott wasn't starting from scratch. He was able to see a screening of the feature and get a feel for the attitude and style Ryan Reynolds had created for the character. "It gave me a little time to marinate in the character. The process of preparing a character [for animation] is certainly different, because it's almost easier in a way because you don't have to consider your physical appearance." Then he worked with the producers to get the tone down. "Really just sort of calibrating, almost like tuning a piano. Once you sort of lock it in and say, 'okay, these are the parameters within which the character exists' then you can move from there." Scott notes that he likes to think of himself as a physical actor, so there were tools that he couldn't use for portraying Turbo. "It is a challenge because you can't do those subtle winks and nods, but the animators are doing that for you. I think our animators are great at listening to our voice sessions and animating to our quirks."
Take risks.
Scott says one of the most challenging things about "Veep" is not cracking up on camera. "Because inevitably Matt Walsh or Julia [Louis-Dreyfus] or Tim [Simons] or Tony [Hale] will just do something—and it's always something so small, too, it's never something broad—it's always like a look or a small line delivery or a stutter. They just always get me."
Scott says he recently shot a challenging episode in which "Dan takes a dramatic turn; it was tough because while totally within his character, it was something we hadn't seen from him before." But Scott relishes those kinds of challenges, because even if they are nerve-wracking to prepare for, he says "it keeps you on your toes and it sort of renews your interest in that character and it also informs things to come afterwards. When a character takes a big turn like that, you learn so much about what this character really holds within and it gives you a whole new palette to work with after that."
Be confident.
Having a strong background in comedy, Scott has learned that one important element is to remember to always listen. "Acting is reacting. You can't react if you're not paying attention, if you're not listening. If you're making it about yourself, then you're pretty much setting yourself up to fail and you're not going to do your partner any good either." He also tries to remember that he's just the messenger for the joke. In most cases, the joke is well-crafted by the writers, so "if you're paying close attention and you're really listening and you're keeping your eyes and ears open to how it's flowing, sometimes your instincts will kick in and you'll think 'this doesn't flow right.' In which case it's important to have confidence in yourself and be able to say 'I know this character, I know this world, I know this scenario, I might actually have a better spin on how to deliver this than was written, because I'm the one in it.' Really just believing in yourself and not trying to force the joke. The joke is going to be funny no matter what, so really it's about you honoring the joke and not trying to do too much with it."
Trust your team.
Besides knowing yourself and having confidence in your set of choices for the character, Scott emphasizes having confidence in the team as well. "You've got to have confidence and trust in your cast. You have to have confidence and trust in your director, in your editor. It's such a team effort, I really think you have to pull yourself out of it and just trust. I think the number one thing you can do is just trust everyone around you."