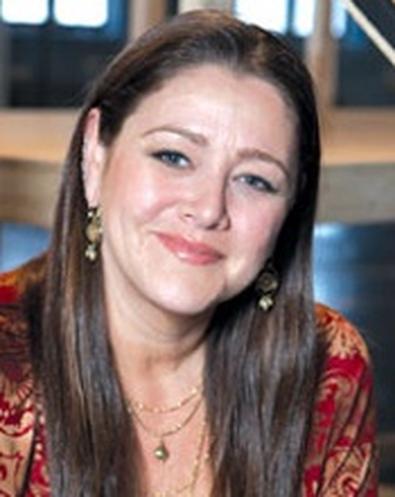 Here's one way to convey the sass of Camryn Manheim: Hosting an awards show I produced in 1996 for a monthly publication celebrating Off-Broadway, she wanted to present Mark Brokaw, who directed her that season in her solo show at the Public Theater, Wake Up, I'm Fat!, with his award personally. It was the year of the macarena and it seemed ripe for parody. So there Manheim was, on the Cherry Lane Theatre stage, doing the macarena — shoulder, shoulder, hip, hip — singing, "When it comes to actors/He's an Obi-Wan Kenobi/I, of course, should know/Since he helped me win my Obie."
Who, in 2007, could imagine Manheim — who won an Obie for Craig Lucas' Missing Persons, an Emmy and a Golden Globe for The Practice, and plays Delia, the confirmed skeptic, on CBS's Ghost Whisperer — with her hands on her swiveling butt? That's sass. And while it's been more than 10 years since her last New York stage appearance, that fearlessness is what informs her acting as the nurse in the Public Theater's Romeo and Juliet in Central Park, with fellow TV alum Lauren Ambrose of Six Feet Under starring as the young maiden Capulet.
"Theatre doesn't always coincide with a TV series, and it's hard finding a play to fit into a hiatus," Manheim says. "If you think about it, it's hard finding something to rehearse and perform and be all done and wrapped up in two and a half months. The nurse is really the only part I've ever wanted to play in Shakespeare. I just feel simpatico with her. I understand her motives. And I think they're complicated." Working with director Michael Greif, Manheim says, she has crafted a nurse unlike any other, one perhaps truer to the play: "They're usually a lot older than me, which doesn't make chronological sense: The nurse had to be young enough to breastfeed Juliet, and generally people in the 1600s didn't live past 50. So it made sense that at my age [46], I'd play the nurse. Also, now I have my own son, so that has brought depth I never could have had studying the classics at NYU. So there's no gray makeup, no gray in my hair. We've concluded that the nurse can do anything: run a household, stick up for herself — everything we know. She smokes, she drinks, she spits, she fights, she fucks; she does it all. Just like me." That's sass.
In the Belly of Kelley
For an actor commanding such industry respect, the way Manheim assesses her past is, well, very Manheimian. She doesn't refer much to her last year at NYU's Tisch School of the Arts, when a teacher's exhortation to lose weight resulted in an amphetamine habit that lost her 80 pounds and much self-esteem — facts well-trod in her book and solo show. However, Manheim does allude to the "little tornados" she no longer needs to create: "I'm not so rebellious now. I don't need to shock people like I used to. I still have 13 holes in my ear and the tattoos, but I've focused the energy I used to dance around danger and channeled it into something good." Hence the perfect segue for mentioning her political activism and her charity work on behalf of Bet Tzedek, a legal-services organization in Los Angeles.
For Manheim, success is about acquiring a healthy perspective — and what an actor does with it: "I remember going to parties where I'd meet somebody and tell them all my credits, all the things I did and planned to do, because I wanted to show them I was somebody. I'd scream and shout and do crazy things. I'd ride my motorcycle. I'd use bad language. I'm a big personality; I did not want to disappear. And I fought and screamed and kicked so people would notice me. And then a time came when I started getting more attention than I knew how to handle. It was overwhelming. I realized I was starting actually to shy away from some of it, and now that I have a son, I shy away even more. Those desires — to be respected by my peers, to be noticed, to feel worthy of this profession — were fulfilled."
Most people don't realize how close Manheim came to having none of her desires fulfilled. This is a long anecdote, but for actors it's a remarkable lesson in the proper deployment of self-assurance: "I'd just done my one-woman show to 299 people a night. I had no agent, no manager, and Marcia Gay Harden, who's a dear friend, said to her manager, 'There's this groovy girl doing a one-woman show and she's not represented. You should think about it.' Well, they didn't know me and kind of blindly showed up. And they brought this guy, Randy Stone, who was casting for 20th Century Fox. Randy said, 'I think you should meet [producer] David Kelley. He's looking for a streetwise, sassy girl to play this new character. Do you have any tape?' I'd played two lawyers, one on New York Undercover and one on Law & Order — these very tiny roles. And David said, 'No, that's not what I'm looking for. I need someone streetwise and sassy.' And Randy said, 'She is streetwise and sassy.' David said, 'She's wearing a suit and pearls." And Randy said, 'That's what the wardrobe people put her in. She's acting.'"
So Kelley, Manheim says, reluctantly agreed to a meeting — but the cost of the L.A. trip would be on her. "For someone making $400 a week to have David Kelley — I mean, I didn't know who he was. I didn't watch L.A. Law or Picket Fences or Chicago Hope; I was a New York theatre geek. I didn't have that kind of money. I had to rent a car, find a place to stay, to meet someone who I already knew didn't want me. I did it because these new people had shown interest, and I didn't want to disappoint them. I was afraid if I said I couldn't afford it, it would seem like I wasn't fighting hard enough."
Then, in L.A., Manheim took "the worst meeting I'd ever had. David's very difficult to have a meeting with. He's very wry, very dry, not a talker. And I was mortified. So the meeting's almost over, and I noticed a cribbage board. And I'm a big card player — I play poker, bridge, cribbage — and I said, 'Do you play cribbage?' It was the first time this man showed any sign of life. David stood up and said, 'I don't think you want to go there with me.' And I said, 'Wow, okay, because we could play cribbage, and I could continue to try impressing you like I'm obviously doing unsuccessfully now, and I could beat the shit out of you.' He said, 'I don't think you understand. I play the computer.' And I said, 'I don't think you understand. I play for money. So why don't we fuck this audition and I'll play you for the part?'"
And so Manheim won the cribbage game, right? No, not at all: "I said to David, 'Honestly, if I lose, you'll never see me again: no Picket Fences, no Chicago Hope, no Ally McBeal. But if I win, I walk out with the script.' And David sort of hemmed and hawed and finally said, 'I can't play you because I haven't written the script yet. But if you get out of my office, I promise to send you one as soon as it's written.' So I went home, waited for weeks and weeks, and finally my new managers sent me the script. And this woman — Ellenor on The Practice — was no longer streetwise and sassy. It was, 'This big, ballsy woman walks in and takes over.' Being myself was the way to win."
Social Security
Without that classic cribbage clash, where would Manheim be today? It seems hard not to ask. With still more Shakespeare to discuss, however, it's Manheim who brings up the famous line she uttered as she accepted her Emmy, "This is for all the fat girls!," making extra sure her exclamation point is duly noted. But contrary to the look on Manheim's face in that moment — seemingly secure, serene — her statement was not quite planned. "I was getting my hair and makeup done," she recalls, "and I asked, 'What if I said, "This is for my fat sisters"?' and everyone rolled their eyes and said it would be another Sally Field moment, that it would go down as one of those dumb things to say. But as I'm sitting in the auditorium, I thought, This is a theatre, that's a stage — how people respond is palpable. When they called my name, I felt the whole community was saying that finally here's a real person winning an award — not the popular vote, not the prettiest girl, but someone who's been at this for a long time. Before that moment, I'd get stopped on the street and people would say, 'I know you,' and I'd say, 'I don't think so,' and they would say, 'Yes, I know you — you work at the Gap.' After the nomination, I got, 'You're that girl on that show.' After I won, I got, 'You're Camryn Manheim from The Practice.' It's interesting how these markers are defining moments in terms of how other people experience you."
Experience you, say, during a five-week run of summer Shakespeare in the splendor of Central Park? Manheim isn't keen to admit being nervous about returning to the stage, but she does tell a neat anecdote about writing her bio for the program and worrying that people will know her only from her TV work, only to realize that her many pre-Practice stage roles laid the foundation for her success. And she's gratified, too, to have learned the differences between stage and screen. "On The Practice, I remember going before the judge once, and I had all my files at my waist and was kind of flipping through them," she recalls. "I said, 'We waive the reading and plead not guilty,' but I was looking at the files. When I saw the episode, it looked like I was asleep, because you didn't see the action of me flipping through the files, because my head was down. I realized that if I didn't find out what was in the shot, you weren't getting the same story I was telling.
"Whereas when you do a play," she goes on, "you have all the information. And anything that's not answered in the play you can make up. When you're in a series, you can choose your backstory, but it can also change two weeks later. On Ghost Whisperer" — about a woman, played by Jennifer Love Hewitt, who communicates with earthbound spirits — "my character's a nonbeliever, which I felt would be the most interesting choice because everyone around her is a believer." She'll learn what happens to her character when next season's scripts start rolling in later this summer.
For now, though, Manheim may have another stage project in mind: "I've got to do a Broadway show while my parents can still enjoy it. I'd like to do a musical — one that hasn't yet been written." Her expression leaves no doubt about it: Someone should write a musical for her immediately. What a sassy thing to do.