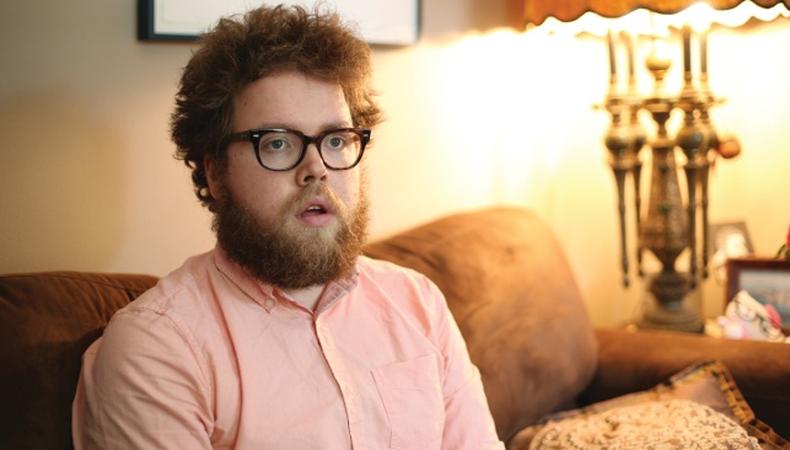 A little less than a year ago, an innocuously funny idea jumped into Augie Praley's head. After a friend had left his apartment, he spied on his toilet a droplet of water. "I thought to myself, how offensive would that be if a good friend of yours came over to your apartment and wouldn't even sit on your toilet seat?" says Praley, who promptly wrote, shot on an iPhone, and edited the first three-minute video—titled "Hover," of course—of his whimsical Web series "Augie, Alone."
"After I put that online I was like, I wonder if I can do this again tomorrow?" says the actor-writer. Making that do-it-yourself philosophy his mantra, Praley uploaded daily installments of bite-size gawkiness first to Vimeo, then to YouTube. "Augie, Alone" is now a critically acclaimed series on Thundershorts, the digital comedy hub of SnagFilms. A full-length film funded on Kickstarter is slated to premiere later this fall. Did Praley think such success was possible when the idea first struck last November?
"Absolutely not. I hear all these people say things like, 'Oh, my career started just by luck.' And I'm starting to see how that makes sense." By committing himself to a daily routine and employing jump cuts after filming each episode in one shot, he was able to produce tons of uninhibited material without excessive effort. "I love jump cuts," he confesses. "I think they add to a lot of comedy."
Praley is looking to create other outlets for his offbeat humor ("Imagine two really, really conceited 20-somethings who are also homicide detectives") and speaks enthusiastically about the blurring line between television and the Web. With high-quality cameras on most of today's phones, it's easy to venture into that world, especially when you love the creative process.
"If you're making something just to get it out there but you don't believe in it, then no one else is going to believe in it," Praley says. "It's about finding the right passion project. Obviously they're not going to be passion projects if there's no passion in them."
The videos that Praley holds the most dear are the ones that, as he says, "bare my soul to the audience without them really knowing it." In "Vines," an episode filmed in his childhood home and the tranquil woods surrounding it, Augie's enjoyment of nature is interrupted at the last minute by a continued cut of him tumbling down a hill. "For me it's like, here's this serene, private moment this guy is having—and that I, as a human being, should probably be having—and then I undercut those moments by falling," he explains. "Like, how can I fictionalize an autobiographical episode and turn it into something that's absurd and ridiculous?"
That also means "Augie, Alone" includes a few of its creator's inside jokes. Throughout the series, Praley says, "I'm always reading 'Infinite Jest' or the book that's a compendium for 'Infinite Jest'; I've never read that book. But I own three copies of it."
Like this story? See more of our Now Streaming articles here!