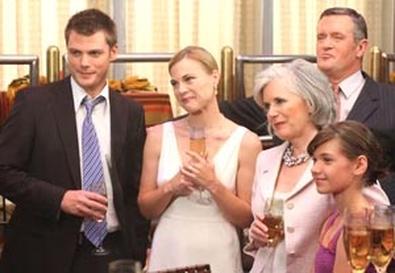 Two years ago, "Guiding Light" executive producer Ellen Wheeler gathered her cast and crew for an announcement. "We are on a plane and the engine light is on," she said. "I'm going to have to make some changes to keep this going."
And make changes she did. Wheeler and company began shooting twice a week in the village of Peapack, N.J., far from the show's Manhattan soundstage, which was renovated to accommodate a new visual style and work method. Gone were the classic three-walled sets that had to be disassembled and reassembled at high daily cost. In were hand-held cameras, tight close-ups, and an approach that had more in common with guerrilla-style indie filmmaking than with the formula that had been employed for decades across the daytime-drama landscape. It was a bold gambit to save the oldest scripted program in broadcasting—and it failed.
On Sept. 18, CBS will air the last episode of "Guiding Light." The show began its life on the radio in 1937 and moved to television in 1952. But what was arguably the first soap opera, one that hovered near the top of the daytime ratings through the '60s and '70s, fell on hard times in the last decade. This year, Nielsen measured the show's audience at 2.7 million viewers, down significantly from 5 million in 1999. While Wheeler, who took over "Guiding Light" in 2004, hoped to generate positive buzz with her new aesthetic, the results met with mixed reviews and rumbling from fans. But she had more on her mind than pleasing fans.
"From what I know, TeleNext told Ellen, 'If you can make it for X amount of dollars, you can stay on the air,' " said cast member Orlagh Cassidy, referring to the show's production company. "And so she had to make it for X amount of dollars. The truth is that she kept the show on the air."
Coast to Coast
Cassidy played Doris Wolfe, mayor of Springfield, the fictional town where "Guiding Light" takes place. But the day of the airplane speech, Cassidy was not on set. She was in another part of town shooting an episode of "Law & Order."
Fire a water gun on a New York soap-opera set and you will no doubt hit an actor with a "Law & Order" credit on his or her résumé. The multipronged NBC franchise and the soaps are arguably the two pillars of television production in the city, especially for actors. But one of those pillars is crumbling.
It began in April, when CBS canceled "Guiding Light." Then in August, ABC announced that it would move production of one of its daytime stalwarts, "All My Children," from New York to Los Angeles at the beginning of next year. That same week, CBS president Nina Tassler cast a pall on a third New York soap when she told the New York Post that "As the World Turns" was having ratings trouble and faced an uncertain future. "It is one of those things where you watch and you talk," she said. All of which means that by January, the number of soap operas shot in New York will have dropped from four to two, with one of those survivors on deathwatch.
"It's difficult news to take," said Holter Graham, New York president of the American Federation of Television and Radio Artists, which has jurisdiction over daytime dramas. "You're seeing there's a lack of health in that genre, and it's hitting New York."
But when it comes to "All My Children," Graham is at least glad to see AFTRA work stay in the AFTRA family. His Los Angeles counterpart, Ron Morgan, is thrilled to be welcoming the show to California, where an exodus of productions prompted the Legislature this year to create a new film-and-TV tax credit in the midst of the state's economic crisis.
But Morgan is troubled by the same stress fractures Graham sees in a TV genre that provides so much work to so many. "Guiding Light," for instance, employed 150 cast and crew members. It is scheduled to be replaced by a revival of the game show "Let's Make a Deal," also covered by AFTRA.
"We're happy to have the game shows bring work," Morgan said. "But if you do a game show for us, it's got your host and it's got your announcer, so it's a lot smaller, whereas a daytime drama is going to be hundreds or thousands of jobs in a year. It's a lot more members and a lot more chances."
Soap Survival
Unfortunately, the same thing that makes a daytime drama more attractive than a game show to a union makes it less attractive to a network. Soap operas ruled the airwaves at a time when more women stayed home, and those who did had only a few networks to choose from. But with working wives and cable television now near-universal realities, soaps may not draw enough viewers to justify the expense of making them.
Beth Chamberlin played Beth Raines, one of the most popular "Guiding Light" mainstays, for 20 years. She can see a time in the not-so-distant future when the daytime drama will be a thing of the past. But the soap opera, she said, will live on.
"In the next few years, there probably won't be a daytime lineup and a prime-time lineup, because so many people now record their shows with their DVRs," she said. "Ten years from now, there will be no such thing as Web programming and television programming. I suspect it will all be one."
The soap opera, with its devoted fan base, is, according to Chamberlin, uniquely positioned to survive as a genre on the platform of the future, whatever it may be. As an example, she points to her co-star Crystal Chappell, who has recruited several "Guiding Light" castmates to help her film an independent Web series titled "Venice." When the show launches, Chappell's 7,700-plus followers on Twitter will no doubt prove vital to its potential success.
But while the future of soaps may be online or on demand, the present is still, for now, on daytime TV. On Sept. 18, that present will become bleaker. But Chamberlin may not even have time to notice. She will be in Chicago that weekend attending her niece's wedding, more concerned with being an attentive aunt than looking back at a two-decade career.
"It may be very possible that when the episode actually airs that I will not be able to watch it, which is kind of a funny thing," she said. "So I'm obviously recording it."