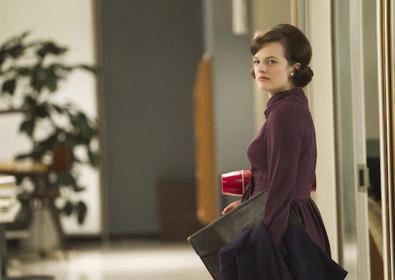 This year saw some long-running favorites close out their stories (farewell, "Mad Men"!) and some new series get axed too soon ("Hindsight," anyone?). Regardless, here are five performances from ending shows that we'll always treasure.
Josh Gad, "The Comedians"
Gad and Billy Crystal spent the first (and only) season of "The Comedians" trying not to have the show within their FX show canceled. So when FX announced that the real series was, indeed, canceled, the news felt like the meta joke taken to a logical extreme. After all, cutting close to the real-life bone was part and parcel of the show's appeal, whether the joke was on "City Slickers" or Gad's short-lived sitcom, "1600 Penn." But while Crystal's persona has been part of audience's lives for years, it's relative newcomer Gad who had the chance to gleefully dissect Hollywood narcissism, swinging for the fences as a young know-it-all trying to assert himself opposite a comedy legend. With clashing egos and opinions on everything from what constitutes an over-the-top raunchy joke to disagreements over hiring an "edgy" director, Gad served as the driving force and perceived obstacle standing between Crystal and his dream sketch series starring opposite himself. Lucky for us, we got one season of the Billy and Josh Show. —Briana Rodriguez
Sarah Goldberg, "Hindsight"
Television can break your heart, and fans of VH1's "Hindsight" had their hearts broken twice this year. The first time was in the season finale, when time-traveling Becca (Laura Ramsey) and best friend Lolly (Goldberg) ended their friendship over a guy. The second time was when VH1 followed up their renewal of the dramedy with a "Just kidding! It's canceled." Because what could be worse than having the opportunity to spend more time with the gang of characters created by Emily Fox, only to have it cruelly snatched away? And cruelest of all was the denial of a chance to again see Goldberg's Lolly, alternately daffy and delightful. The show was always strongest when it came to Becca and Lolly's friendship, and much of that was attributed to Goldberg's casual way with a joke, as well as the ability to let heartbreak suffuse her face without saying a word. Goldberg will work again (she's too good not to), but we'll never have another Lolly. —Mark Peikert
Keegan-Michael Key, "Key & Peele"
We're still bemoaning the loss of "Key & Peele." The hit Comedy Central sketch series from Key and Jordan Peele bowed out after five great seasons and 1 billion YouTube views. Previously of "Mad TV" (along with co-star Peele), Key has parlayed his own sketch show's success into supporting roles in everything from "Pitch Perfect 2" to USA's "Playing House." That's not to mention his surprise guest spot at this year's White House Correspondents' Dinner, where he reprised his role as "Key & Peele" favorite Luther, President Obama's anger translator. By riffing on everything from race relations to gender roles to "Les Misérables," Key helped elevate the sketch comedy genre above niche audiences and infiltrated the cultural consciousness. We can't wait to see him through to his next move. —Benjamin Lindsay
Mads Mikkelsen, "Hannibal"
For Fannibals, the hardest part of losing Bryan Fuller's NBC drama "Hannibal" has been accepting that Mikkelsen, who plays the titular cannibal-psychiatrist-serial killer, will no longer grace our TVs every week. The truth is, few actors could handle the role of Dr. Hannibal Lecter after Anthony Hopkins won an Oscar for portraying him in "The Silence of the Lambs"—especially not someone known largely as "that guy from 'Casino Royale.' " But the Danish-born actor took a classic and elevated it, like every dish (of human meat) Hannibal exquisitely prepared—classy, refined, and requiring the utmost technical skill. Thirty seconds of tense silence and we'd think, Uh-oh, he's about to cut someone's leg off. Again. Oh, but it's so much better: Instead of over-the-top gestures, he spoke with terrifyingly restrained power to FBI profiler Will Graham (Hugh Dancy), managing to convey pages of dialogue with no more than a twitch of the lips or the nearly imperceptible raise of an eyebrow. To pack something so robust and savory into such a delicate package took true mastery. —Rebecca Strassberg
Elisabeth Moss, "Mad Men"
Moss told Backstage that Peggy Olson never intended to "break through any glass ceiling—she just bumped her head on it." But as a character, Moss' secretary-turned-copywriter was in many ways more culturally significant than Don Draper: a nuanced depiction of everyday feminism, a symbol of the '60s working woman. And paralleling her character's ascent in a man's world was Moss, becoming a superstar in her own right thanks to "Mad Men." Decked in Janie Bryant's fabulous costumes and delivering Matthew Weiner's brilliant lines, Moss could play it all: piercing loneliness, infectious charm, frustration with that damned glass ceiling. What will resonate the longest, though, is her humor; few actors can spin a scowl or a grin into comedic gold like Moss can. Perhaps her most indelible moment came near the end, as she roller-skated through the offices of SCDP, arms swinging whimsically, a drunken smile on her face. It's the most sublime moment on a show chock-full of them. —Jack Smart
Inspired by this post? Check out our television audition listings!