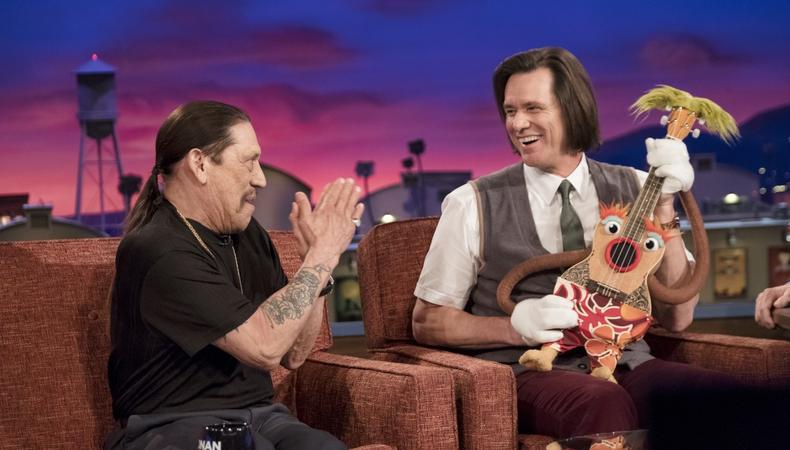 Television doesn't sleep. The sheer amount of content—over 450 scripted programs aired in the year 2017!—can prove overwhelming for even the most dedicated TV buffs. Television Academy voters make Emmy selections in August, and SAG-AFTRA members vote on SAG Awards in January, but their job requires tuning in all year long. Backstage is breaking down, month by month, the buzzy shows and performances that merit awards attention in the ever-growing landscape of the small screen. Mark your calendar and become a couch potato along with us!
Summer TV isn't the slog it used to be. But even with the ever-changing TV landscape welcoming new titles from streaming services and premium cable, September is still all about classic broadcast television.
The network giants all boast their fall premieres at the end of this month, and audiences will be excited to welcome their old favorites and check out the new programs making their debuts. This month CBS premieres the final season of comedy giant "The Big Bang Theory," and brings back Candice Bergen to reprise her legendary role in "Murphy Brown." Not to be outdone, Fox launches three new sitcoms this fall: "Rel," "The Cool Kids," and Tim Allen's former ABC comedy "Last Man Standing." ABC takes on a new sitcom from "New Girl" creator Liz Meriwether in "Single Parents," and NBC returns with its critical darling "The Good Place." Along with new comedies, audiences will be excited for the abundant number of procedurals making their way back this fall. Classics like NBC's "Law & Order: SVU" and CBS' exhaustive "NCIS" franchise will return at the end of September, along with new procedurals hoping to be the next classic crime drama, such as CBS's new Dick Wolf-produced show "FBI."
ABC
ABC's comedy programming comes back in full force Sept. 26 with new seasons of veteran favorites "The Goldbergs," "American Housewife," and "Modern Family." The comedy titans will be joined by two new shows, comedy-drama "A Million Little Things" and "Single Parents," the new comedy from "New Girl" creator Liz Meriwether and J.J. Philbin, starring Taran Killam and Leighton Meester. The next night, ABC's long-running Shonda Rhimes drama "Grey's Anatomy" comes back for its 15th season with a special two-hour premiere followed by the start of the fifth outing of Viola Davis' "How to Get Away with Murder." ABC's other medical drama "The Good Doctor" returns for its second season on the 24th.
Amazon Prime Video
Amazon adds a new comedy to its Prime Original Collection Sept. 14; "Forever" stars comedy veterans Fred Armisen and Maya Rudolph as a married couple in suburbia trying to break out of their all too pleasant routine life.
CBS
CBS premieres the last season of comedy juggernaut "The Big Bang Theory" Sept. 24, along with its spinoff "Young Sheldon," followed up by new episodes of both shows in their regular Thursday night time slots. The reboot of "Magnum P.I.," starring Jay Hernandez, makes its first appearance alongside the comedy stalwarts. In what is less a reboot than a revival, CBS brings back "Murphy Brown"; Bergen's classic sitcom returns for its 11th season 20 years after what had been the series finale back in 1998. That same night, Season 6 of the Anna Faris and Allison Janney vehicle "Mom" returns.
On Sept. 25, CBS' reliable procedural thrillers return, with "NCIS" and "NCIS: New Orleans," as well as Wolf's newest crime drama, "FBI," starring Missy Peregrym, Jeremy Sisto, and Sela Ward. Also returning this month are "S.W.A.T." on the 27th and both "Blue Bloods" and "MacGyver" on the 28th. New drama "God Friended Me" starring Brandon Micheal Hall premieres Sept. 30 along with "NCIS: Los Angeles."
FOX
Fox launches its fall lineup with returns of long-time favorites and a bevy of new programming. "The Simpsons," a show almost synonymous with the network, returns for its 30th season Sept. 30, along with "Family Guy" and "Bob's Burgers." Joining Fox's classic Sunday lineup, but debuting earlier in the month, Sept. 9, is the new sitcom "Rel," staring Lil Rel Howery of "Get Out" and "The Carmichael Show" as a single father in Chicago. Charlie Day of "It's Always Sunny in Philadelphia" (along with writer Paul Fruchbom) debut a new comedy for the network, "The Cool Kids," Sept. 28. It stars Vicki Lawrence, David Alan Grier, Leslie Jordan, and Martin Mull as residents of a retirement community navigating high school-like social situations. And the seventh season of Tim Allen's "Last Man Standing" premieres for the first time on the network after moving from ABC.
Fox's favorite drama also returns this September: Ryan Murphy's "9-1-1" launches its second season on the 23rd along with musical-drama "Star," which comes back for its third. On the 25th, supernatural drama "The Gifted" returns for its second season alongside Season 3 of crime dramedy "Lethal Weapon." Last but not least, the Lyon family returns: "Empire" Season 5 premieres Sept. 26.
FX
FX returns this September with both new and veteran programs. The latest iteration of "American Horror Story" debuts Sept. 12. The eighth season is subtitled "Apocalypse" and melds and expands the show's first and third seasons, featuring returning favorites Sarah Paulson, Jessica Lange, Kathy Bates, and Joan Collins. The cable network also debuts two new dramas: "Mr. In Between" Sept. 25 and "Sons of Anarchy" spinoff "Mayans M.C." starring J. D. Pardo, Antonio Jaramillo, Edward James Olmos, and Jacqueline Obradors Sept. 4. FX's sister network FXX welcomes back "It's Always Sunny in Philadelphia" for its belated 13th season Sept. 5.
HBO
HBO only has one premiere this month, leaving most of September to the traditional broadcast networks. "The Deuce," HBO's gritty '70s New York City drama, returns Sept. 9 for its second season starring James Franco, Maggie Gyllenhaal, Dominique Fishback, and more.
Hulu
On September 14, the controversial movie star Sean Penn makes his TV debut in "The First." Hulu's sci-fi co-production with UK's Channel 4 takes place in the near future with the first human visit to Mars.
NBC
NBC premieres multiple new dramas at the end of this month. First, the network premieres "Manifest" Sept. 24, a mystery drama that follows plane passengers who, after landing, find they've been missing for 5 years.
NBC attempts to recreate some of classic medical drama "ER's" success in the new drama, "New Amsterdam," based on NYC's Bellevue Hospital. The medical drama premieres after the return of Dan Fogelman's award-winning "This Is Us" Sept. 25. Speaking of medical series, the network has dedicated Wednesdays to a trilogy of shows based in the Windy City: Wolf's "Chicago Med," "Chicago Fire," and "Chicago P.D." all premiere on the 26th. Another of Wolf's beloved creations, "Law & Order: SVU," returns on the 27th. Emmy-nominated "The Good Place" returns for its third season, as TV legends Kristen Bell and Ted Danson star in a special one-hour episode.
'In the Envelope' Podcast: Mandy Moore & Milo Ventimiglia Build Families on 'This Is Us'
Netflix
The streaming giant has a relatively quiet month, but even a quiet month for Netflix includes multiple new shows and the return of several fan favorites. On the 7th, comedy "Atypical" returns for its second season along with the Marvel franchise "Iron Fist," while the Spanish-language drama "Cable Girls" enters its third. On the 14th, the mockumentary-style "American Vandal," the critically lauded series that pokes fun at the true crime genre, returns for its second season. Plus, "Monk" creator Andy Breckman has a new show, "The Good Cop," a procedural dromedy which stars TV veteran Tony Danza and singer Josh Groban, premiering on the 21st.
PBS
Not to miss the early fall frenzy, PBS boasts the U.S. debut of "The Miniaturist" Sept. 9, a "Masterpiece Theater" adaptation of Jessie Burton's historic novel. It also launches new seasons of fan favorite "Poldark," and the beloved "The Durrells in Corfu" premieres for U.S. audiences on the last day of the month.
Showtime
The premium network premieres the highly anticipated dramedy "Kidding" from Michel Gondry Sept. 9, starring comedy legend Jim Carrey, returning to TV for the first time since his run on the '90s sketch comedy show "In Living Color"; the two collaborated on "Eternal Sunshine of the Spotless Mind" in 2004 and the new series promises the same kind of humor and melancholy as the acclaimed film. Carrey stars as a beloved but troubled TV host, alongside Catherine Keener, Judy Greer, Frank Langella, and Justin Kirk. Showtime's fan favorite "Shameless" returns the same night for its ninth season—still, for the time being, including star Emmy Rossum.
USA
On Sept. 4 this cable network debuts its TV adaptation of a popular film series: "The Purge."
Check out Backstage's TV audition listings!