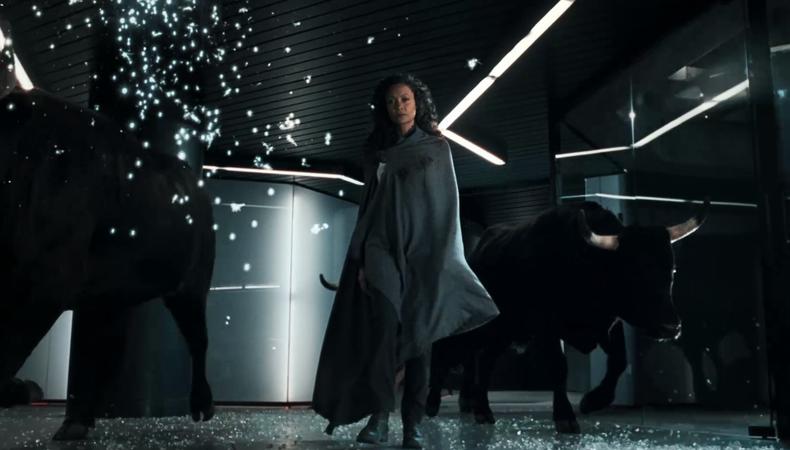 Television doesn't sleep. The sheer amount of content—455 scripted programs aired in the year 2016!—can prove overwhelming for even the most dedicated TV buffs. Television Academy voters make Emmy selections in August, and SAG-AFTRA members vote on SAG Awards in January, but their job requires tuning in all year long. Backstage is breaking down, month by month, the buzzy shows and performances that merit awards attention in the ever-growing landscape of the small screen. Mark your calendar and become a couch potato along with us!
April marks the return of some of the most heralded prestige TV to whatever device you care to use. Want to see how Elisabeth Moss follows up her Emmy-winning performance in the first season of "The Handmaid's Tale"? Well, she'll be back as Offred/June battling against the oppressively patriarchy of Gilead on Hulu. Speaking of women fighting back: We'll check in with Evan Rachel Wood's Dolores and Thandie Newton's Maeve in "Westworld." And if you want some new nuanced performances by wonderful actresses to keep you entertained, be on the lookout for Sandra Oh and Jodie Comer in the new "Killing Eve." It may be getting nicer outside, but you've got a lot of watching to do.
ABC
Steve Zahn and Sandrine Holt investigate mysterious visitors from the future who wash up on a shore in ABC's new high-concept endeavor "The Crossing" starting April 2.
Amazon
Titus Welliver is back as the eponymous detective in Amazon's "Bosch," which kicks off its fourth season April 13.
AMC
Because there can never be too many zombies, "Fear the Walking Dead" will begin slowly marching and growling April 15. Now Jenna Elfman and Garret Dillahunt are among those whacking and stabbing and shooting the creatures.
BBC America
"Killing Eve"—the new series arriving April 8 from "Fleabag" star and creator Phoebe Waller-Bridge—features Oh as an eccentric MI5 security officer tracking down a psychopathically entertaining assassin played by Comer. The script is darkly witty, and Oh and Comer push these women beyond archetypes. Shakespearean great Fiona Shaw is also on hand.
READ: Jodie Comer Proves Drama School Is Not a Requirement
Fox
Hey girl, whatcha doing? Watching the Zooey Deschanel, Jake Johnson, Max Greenfield, Lamorne Morris, and Hannah Simone close out the saga of the loftmates in the last season of "New Girl" April 10. This hilarious ensemble doesn't get enough credit for the wild chemistry they've built up over the years.
FX
The plot of Noah Hawley's "Legion" might be insanely hard to explain with all its mind-bending mutant horror. However, April 3 you can dive right back in with Dan Stevens, Rachel Keller, Jean Smart, and Aubrey Plaza.
HBO
Al Pacino is a veteran of HBO biopics and has done turns as Jack Kevorkian and Phil Spector. Now he's in the all-too-timely "Paterno" April 7. Then, April 22, the robots aka hosts are wreaking even more havoc the second time around in "Westworld." The cast's evenhanded performances made the first season so captivating—down to that bloodbath in the finale—so be sure to tune in.
Hulu
A new limited from the "National Treasure" team—deemed "National Treasure: Kiri"—starts April 4. "Happy Valley" lead Sarah Lancashire is a social worker looking for a young girl (played by Felicia Mukasa) who disappears. Later, new horrors await in Gilead for Moss in Season 2 of her ferocious, heartbreaking, eight-time Emmy-winning "The Handmaid's Tale" role April 25. The series, which now moves beyond the events of Margaret Atwood's novel, will also check in with ensemble members Ann Dowd, Alexis Bledel, Samira Wiley, and Joseph Fiennes.
IFC
It's baseball season—but why go outside when you can instead hear the iconic Hank Azaria call a game in "Brockmire" April 25?
'In the Envelope' Podcast Episode 3: Elisabeth Moss and Hank Azaria
National Geographic
Starting on April 24, Antonio Banderas is the latest "Genius," assuming the stripes of Pablo Picasso. The anthology series' first season featured Geoffrey Rush as Albert Einstein.
NBC
John Legend, Sara Bareilles, Brandon Victor Dixon, and Alice Cooper will explain what the buzz is all about Easter Sunday, April 1, when "Jesus Christ Superstar Live in Concert" hits TV screens.
Netflix
The streaming giant has a bunch of imports from outside the country arriving this month. First up, the BBC's "Troy: Fall of a City" drops April 6 with "How To Get Away with Murder" veteran Alfred Enoch among those telling that ancient story. Just a few days later, April 9, Netflix will debut its first series from the Philippines, "AMO," starring Vince Rillon. Finally, April 27, the second season of the Brazilian hit "3%" with Bianca Comparato debuts. As for homegrown fare there's "Lost In Space," the streaming service's reboot of the classic sci-fi series; Maxwell Jenkins gets to be the famous Will Robinson but this time Dr. Smith is a woman—indie star Parker Posey. The Matt Sazama– and Burk Sharpless–led series drops April 13.
Starz
If you're looking for a lovely literary adaptation with some serious pedigree there's Academy Award winner Kenneth Lonergan's take on "Howards End" based on the E.M. Forester novel (the film adaptation of which won Emma Thompson her acting Oscar) debuting stateside April 8. Hayley Atwell and Matthew Macfadyen—both period piece mainstays—star, as does the wonderful Tracey Ullman.
TBS
Tracy Morgan is back giving a funny (of course) and surprisingly touching performance in "The Last O.G.," premiering April 3. The comedy follows an ex-con who finishes up his sentence and reemerges to find Brooklyn gentrified. Meanwhile, his girlfriend—the always astoundingly hilarious Tiffany Haddish—has certainly moved on.
Want to star in a hit show? Check out Backstage's TV audition listings!