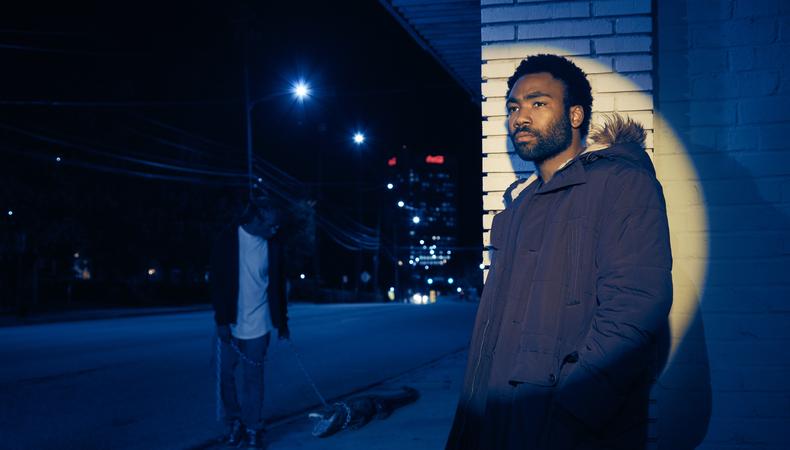 Television doesn't sleep. The sheer amount of content—455 scripted programs aired in the year 2016!—can prove overwhelming for even the most dedicated TV buffs. Television Academy voters make Emmy selections in August, and SAG-AFTRA members vote on SAG Awards in January, but their job requires tuning in all year long. Backstage is breaking down, month by month, the buzzy shows and performances that merit awards attention in the ever-growing landscape of the small screen. Mark your calendar and become a couch potato along with us!
The Winter Olympics are done, the Oscar race is nearly over, and thus it's time to dive into the heap of TV options coming our way in March.
Some of the small screen's most critically acclaimed series—including "Atlanta," "The Americans," and "Silicon Valley"—are back, plus new offerings from the Shonda Rhimes empire and theater geek catnip from Jason Katims. And we would be remiss not to mention the impending return of Roseanne Barr in the revival of "Roseanne." Take a look at everything to come.
ABC
ABC has not one but two new Shonda Rhimes-executive produced series coming in March, and while that's certainly exciting, neither is the most anticipated show arriving on the network. That would be the revival of "Roseanne" starting March 27 and featuring, of course, Barr, John Goodman, and Laurie Metcalf. Get ready for opinions on Donald Trump.
As for those Shondaland additions: Legal drama "For The People" begins March 13 with a big ensemble cast that includes Britt Robertson, Jasmin Savoy Brown, Hope Davis, Anna Deavere Smith, and a bunch of other attractive young people. Then there's "Station 19," otherwise known as the "Grey's Anatomy" spinoff, with Jaina Lee Ortiz and "Hamilton" star Okieriete Onaodowan on March 22.
On top of all of that the network has two new sitcoms with veterans of the form: Jenna Fischer in "Splitting Up Together" March 27 and Zach Braff in "Alex, Inc." March 28. Finally, you can kick off the month with some crime-solving magic in Greg Berlanti's "Deception" March 11 featuring Jack Cutmore-Scott as an actual magician who helps solve crime.
Amazon
Giovanni Ribisi is conning again in more "Sneaky Pete" March 9 alongside Marin Ireland and Margo Martindale. Then Chris Diamantopoulos is a dead dad guiding his son through "The Dangerous Book for Boys" March 30. The other adults include Erinn Hayes and Swoosie Kurtz.
AMC
Jared Harris, Ciarán Hinds, and Tobias Menzies are no stranger to period pieces, and they are back at it in the Ridley Scott-produced "The Terror" March 26. True to its name, the series is about the icy horror faced by the Royal Navy in the Northwest Passage.
CBS
Alan Cumming, formerly of "The Good Wife," reappears on CBS with March 18's "Instinct" as a CIA agent turned novelist-professor who gets roped into hunting a serial killer. Cummings' character will be broadcast drama's first gay lead.
CBS All Access
March 4 is Oscar night, but it's also the Season 2 premiere of "The Good Fight" if you want to watch some top-level acting from Christine Baranski, Cush Jumbo, Rose Leslie, and now Audra McDonald.
The CW
Lucy Hale is done avoiding the mysterious threats of "Pretty Little Liars," and the good news keeps on coming in March 7's "Life Sentence" where she's a young woman who learns she's cancer free after eight years of thinking she was going to die. The caveat is that the disease had kept her incredibly sheltered.
FX
FX kicks off the month with new episodes of Donald Glover's "Atlanta" March 1 again featuring the terrific Lakeith Stanfield, Brian Tyree Henry, and Zazie Beetz.
Later in the month, March 25, the network debuts "Trust," an exciting series from Danny Boyle about the kidnapping of John Paul Getty III, played here by Harris Dickson. It's the same territory covered by the film "All the Money in the World" with Donald Sutherland as J. Paul Getty instead of Christopher Plummer. Hilary Swank and Brendan Fraser round out the cast. Finally, on March 28, the final season of "The Americans" gets underway closing out the story of Matthew Rhys and Keri Russell's Soviet spies.
HBO
After years of bringing bizarre characters to life on "SNL," Bill Hader creates one on HBO with "Barry" March 25. The comedy follows a hitman who decides to take up acting. That same night marks the season premiere of "Silicon Valley." T.J. Miller won't be there, but Thomas Middleditch, Kumail Nanjiani, Martin Starr, and Zach Woods will be.
Hulu
Agyness Deyn and Jim Sturgess are two police officers facing the end of the world in the BBC co-production from "Luther" creator Neil Cross "Hard Sun," which is nigh March 7.
NBC
"The Mindy Project" is done, but Mindy Kaling has a new series on NBC, "Champions." Kaling guests in the March 8 pilot, but the series largely revolves around her character's ex, Anders Holm, who runs a gym in Brooklyn. Their son, J.J. Totah, comes to live with him so he can attend a performing arts school in the city. Speaking of performing arts: In "Rise," Josh Radnor is an eager drama teacher putting on a production of "Spring Awakening" alongside Rosie Perez and Auli'i Cravalho of "Moana" fame. It begins March 13.
Netflix
After her team-up with The Defenders, Krysten Ritter's "Jessica Jones" deals with her solo demons in a new season of her eponymous Marvel show March 8. The next day, Netflix has multiple new offerings: BBC limited series "Collateral" starring Carey Mulligan, plus the last hurrah of "Love" between Paul Rust and Gillian Jacobs.
March 16, the streaming services launches its next teen show, "On My Block." Set in South Central, Los Angeles, it provides breakout opportunities for the likes of Sierra Capri, Brett Gray, Jason Genao, and more. More teen fare arrives March 23 with "Alexa & Katie"—Paris Berelc and Isabel May, respectively. Also on that day, Lydia Wilson leads another BBC offering, "Requiem," and Drew Barrymore eats people in Season 2 of "Santa Clarita Diet." Last but not least, Neil Patrick Harris is back terrorizing children in the continuing "A Series of Unfortunate Events" March 30.
Sundance
James Purefoy and Michael K. Williams reprise Hap and Leonard, respectively, in "Hap and Leonard: The Two Bear Mambo," March 7.
Syfy
It's a bird! It's a plane! It's a prequel. Superman's grandfather gets his very own action series with "Krypton" March 21 as star Cameron Cuffe joins the House of El.
Want to star in a hit show? Check out Backstage's TV audition listings!