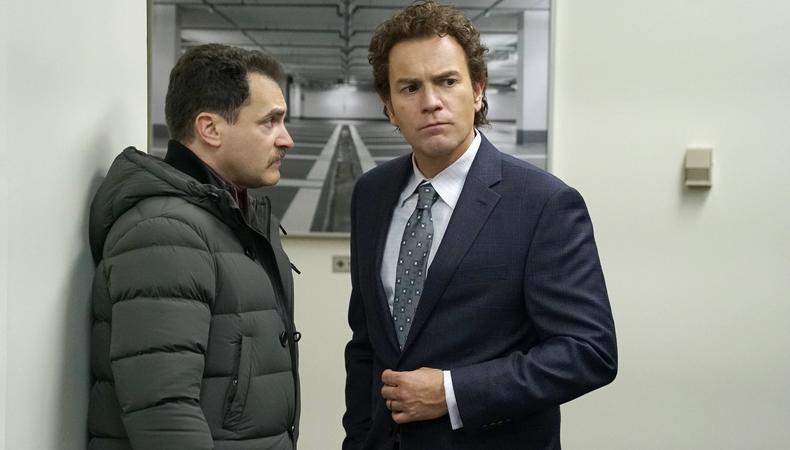 Television doesn't sleep. The sheer amount of content—455 scripted programs were aired in the year 2016!—can prove overwhelming for even the most dedicated TV buffs. And although Emmy voters must nominate in June and vote in August, their job requires tuning in all year long. Backstage is breaking down, month by month, the buzzy shows and performances that merit attention in the ever-growing landscape of the small screen. Mark your calendar and become a couch potato along with us!
Amazon
Calling all dysfunctional adults, parents, and other adults! Sharon Horgan and Rob Delaney's delightful "Catastrophe" Season 3 drops stateside April 28.
AMC
It's about that time of year for "Breaking Bad" fans to get their fix. Season 3 of "Better Call Saul," premiering April 10, will likely keep Bob Odenkirk in the running for leading drama actor at the Emmys, where he has never won for acting.
The CW
Rose McIver's brainy, delicious performance on "iZombie" may continue to elude Emmy voters, but the show returns for its third season April 4.
FX
This year's limited series and TV movie Emmy categories are even more crowded with competitors than last year's, what with "Big Little Lies," "American Crime," "Feud: Bette and Joan," and "The Night Of." Coming to complicate the race further is Noah Hawley and the third iteration of "Fargo," premiering April 19 on FX. Stars Carrie Coon, Mary Elizabeth Winstead, and Michael Stuhlbarg could all be in contention—but keep an eye on Ewan McGregor, who may have his second shot at Emmy (the film actor was once nominated for a 1997 episode of "ER") as two very weird, very different Minnesotan brothers.
HBO
Could Julia Louis-Dreyfus win a record sixth consecutive Emmy for "Veep"? The answer, as President Selina Meyer would say, is fuck yes. Season 6 of the awards behemoth will hold a mirror up to our current political climate starting April 16. On the same night, "The Leftovers" returns for its third installment, while Season 4 of the Emmy-winning "Silicon Valley" begins April 23.
Hulu
One of the spring TV season's most highly anticipated projects, "The Handmaid's Tale" arrives April 26, just in time to give Hulu a push at the 2017 Emmys. Starring Elisabeth Moss in a wonderfully calibrated performance, the dark adaptation of Margaret Atwood's disturbing dystopia will have viewers—and voters—glued to their screens. The streaming service will also be launching "Dimension 404" April 4, a sci-fi anthology starring Lea Michele, Patton Oswalt, and Megan Mullally.
Lifetime
This network broke through at major awards shows last year with "UnREAL" and could have another hit on its hands April 23 with "Mary Kills People," a Canadian dramedy starring Caroline Dhavernas as a secret practitioner of euthanasia.
NBC
There's great news coming NBC's way: "Great News," the newest project from "Unbreakable Kimmy Schmidt" 's Tina Fey, Robert Carlock, and their "30 Rock" collaborator Tracey Wigfield, begins airing April 25. Could stars Briga Heelan and Andrea Martin end up on Emmy ballots?
Netflix
Hope you're ready to boogie. "The Get Down" swings back onto our screens April 7 for its sophomore season. Meanwhile, Britt Robertson brings the story of Nasty Gal founder Sophia Amoruso to the small screen April 21 in the quirky "Girlboss." And a 10-episode extension of Justin Simien's 2014 hit movie, "Dear White People," will star Logan Browning in what is sure to be a buzzy, thought-provoking part.
PBS
One of the many hit British imports from BBC One, "Call the Midwife" brings period drama back to cable TV April 2 for its sixth season. A new season of "Doctor Who," plus its spin-off "Class," will air via BBC America April 15.
Reelz
This cable network will be kicking off the month with "The Kennedys: After Camelot," a two-part follow-up to the Emmy-winning "The Kennedys" featuring Katie Holmes' take on Jackie Kennedy Onassis.
Showtime
Five-time Emmy nominee Idris Elba may again throw his hat into the ring alongside Freida Pinto and Babou Ceesay in the new limited series "Guerilla." This story of the black activist movement in the 1970s is helmed by John Ridley of "American Crime," so you know awards voters will be paying attention come April 16.
Starz
Last but not least, Neil Gaiman's "American Gods" gets the cinematic treatment it deserves under the immensely capable guidance of Bryan Fuller of "Hannibal." Starring Ricky Whittle and Ian McShane, the contemporary fantasy series will also feature juicy guest turns from the likes of Gillian Anderson and Kristin Chenoweth. Check out the trippy opening credits below and just try to tell us you're not hooked.
Ready to hit the small screen? Check out our TV audition listings!