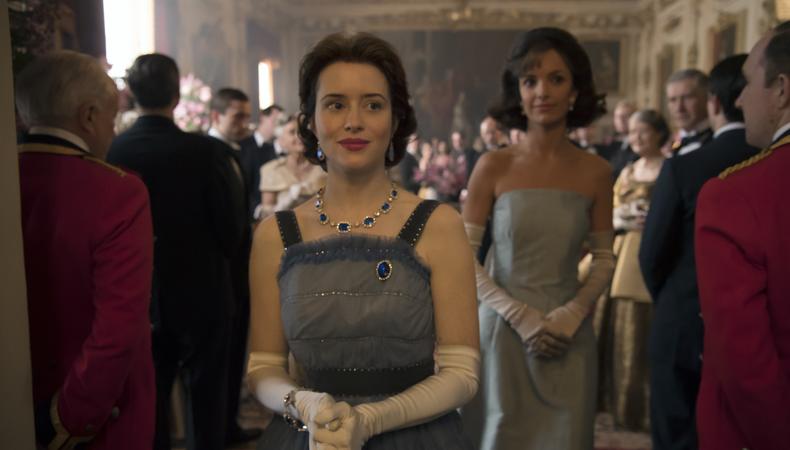 Television doesn't sleep. The sheer amount of content—455 scripted programs aired in the year 2016!—can prove overwhelming for even the most dedicated TV buffs. Television Academy voters make Emmy selections in August, and SAG-AFTRA members vote on SAG Awards in January, but their job requires tuning in all year long. Backstage is breaking down, month by month, the buzzy shows and performances that merit awards attention in the ever-growing landscape of the small screen. Mark your calendar and become a couch potato along with us!
December: When TV starts barraging you with cheesy holiday content including over-the-top specials and what appears to be an endless supply of Lifetime movies. But there are a ton of performances to keep an eye on as well, including new historical fare from HBO in tandem with BBC and starring Kit Harington. And speaking of Anglophilia, royal obsessives can tuck into another season of "The Crown" as Claire Foy has her final hurrah, plus plenty of other goodies awaiting to close out the calendar year.
ABC
Clark Gregg, Ming-Na Wen, Chloe Bennet and the rest of the "Agents of S.H.I.E.L.D." and adjacent Marvel characters are back for the show's fifth season—and eventually its 100th episode—Dec. 1.
Amazon
Now stick with me on this one. Jean-Claude Van Damme is going meta for the comedy "Jean-Claude Van Johnson" on Dec 15. He sort of plays himself: That is, an action star, but one who is also a spy. Phylicia Rashad is his agent/handler.
CBS
Carol Burnett—and presumably her treasure trove of characters including Eunice and Starlet—will celebrate a big birthday for her legendary sketch show Dec. 3 during "The Carol Burnett 50th Anniversary Special."
Fox
Instead of watching the original "A Christmas Story" on repeat like usual this holiday season, check out Maya Rudolph and Matthew Broderick in the musical version "A Christmas Story Live!" coming Dec. 17 with songs from "Dear Evan Hansen" team Justin Paul and Benj Pasek. Newbie Andy Walken is the 2017 Ralphie.
HBO
Kit Harington returns to HBO during the "Game of Thrones" off-season to dig into a bit of his family history in the three-part "Gunpowder," premiering Dec. 18. Harington plays his own relation Robert Catesby, who tried to murder King James I in 1605. Liv Tyler breaks out her "Lord of the Rings" accent to co-star, and Tom Cullen takes on the probably more recognizable role of Guy Fawkes. According to British viewers, the whole thing is extremely violent.
Hulu
Jeffrey Donovan and Isabella Rosselini's psychic story "Shut Eye" starts another season Dec. 6, now featuring the great Aasif Mandvi.
Netflix
Once again, Netflix has a long list of programming to keep you ever entertained. The month will start out with two wildly different series debuting Dec. 1. First, from Germany, the creepy-seeming missing child drama "Dark" starring Oliver Masucci and Louis Hoffman that plays with time. Then, from Chicago, Joe Swanberg's anthology series about relationships "Easy" is back, this time with the likes of Aubrey Plaza.
Should you be looking for something a little fancier, Claire Foy and Matt Smith are having marital troubles as Elizabeth II and Philip in the second season of "The Crown" Dec. 8. Enjoy their work while you can: They'll be replaced for the next chapter of the saga. (Also keep an eye on Matthew Goode to lend some smolder to the series.) On Dec. 15 you can tuck into "Wormwood," Errol Morris' intriguingly strange look at the CIA's MKUltra program. It has documentary elements but also features work from Peter Sarsgaard.
READ: The 1 Audition Trick That Landed Claire Foy Top Billing on 'The Crown'
Syfy
Christopher Meloni has an unusual sidekick—a tiny blue unicorn-pegasus-imaginary-friend voiced by Patton Oswalt—in the Syfy series "Happy!," which kicks off Dec. 6. The actor, late of "Law & Order: SVU," is on the wrong side of the law as misanthropic anti-hero Nick Sax in this graphic novel adaptation.
Want to star in a hit show? Check out Backstage's TV audition listings!