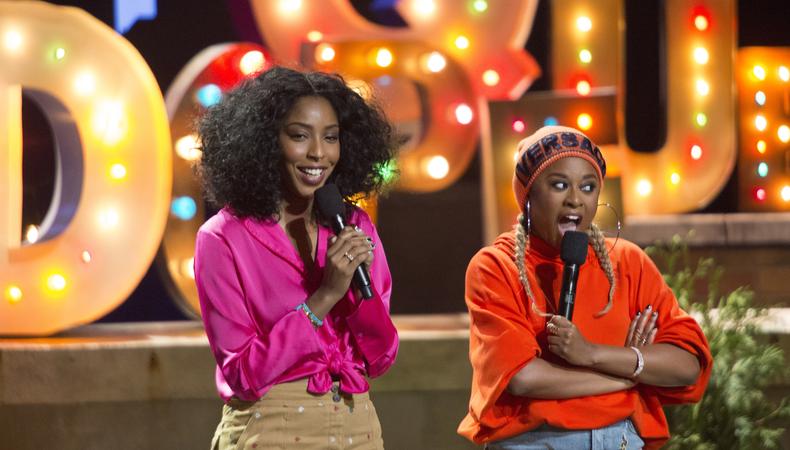 Television doesn't sleep. The sheer amount of content—455 scripted programs aired in the year 2016!—can prove overwhelming for even the most dedicated TV buffs. Television Academy voters make Emmy selections in August, and SAG-AFTRA members vote on SAG Awards in January, but their job requires tuning in all year long. Backstage is breaking down, month by month, the buzzy shows and performances that merit awards attention in the ever-growing landscape of the small screen. Mark your calendar and become a couch potato along with us!
This February, scripted series aren't really the main event when it comes to television programming. After all, NBC is airing two of the biggest sporting events: The Super Bowl and the more time-consuming Winter Olympics. (The opening ceremony of the latter will be streamed live on Feb. 9 and then broadcast in primetime that same night.)
But that doesn't mean that actors won't be doing some fine work on your screens in this short month. The Super Bowl will be followed by the biggest "This Is Us" episode yet. Meanwhile, in the streaming world you've got the return of "Mozart in the Jungle," as well as the premieres of "Altered Carbon" and "The Looming Tower." Take a break from the figure skating to check out what the likes of Gael García Bernal and Jeff Daniels are doing on the small screen.
Amazon
Stana Katic moves on from "Castle" in the new "Absentia," a gripping drama about a former FBI agent believed to be dead premiering Feb. 2. Later in the month, romance and music are in the air for the fourth season of Gael García Bernal and Lola Kirke's delightful "Mozart in the Jungle" Feb. 16.
AMC
The highly anticipated "McMafia," a British crime series about the Russian mob with David Strathairn and James Norton, comes to America Feb. 26.
CBS
Jay R. Ferguson—forever Stan from "Mad Men" in our hearts—is clean cut in the sitcom "Living Biblically," which follows a guy who tries to better himself by following the rules of the Bible. It's based on a book and starts Feb. 26.
The CW
Rose McIver is back consuming brains in the quirky dramedy "iZombie" on Feb. 26.
READ: 'iZombie' Star Rose McIver Lets Us Pick Her Brains
HBO
The hilarious rapport between Jessica Williams and Phoebe Robinson that's become a hallmark of their "2 Dope Queens" podcast gets turned into a series of specials beginning Feb. 2. Come Feb. 11 is a drama you're definitely going to want to keep your eye on: "Here and Now." It's a sprawling Alan Ball affair starring Holly Hunter and Tim Robbins as parents of a large, mostly adopted family.
Hulu
This streaming network has lined up some of the best actors around to adapt Lawrence Wright's reporting about the events that led to 9/11 in "The Looming Tower," which premieres Feb. 28. Among them? Jeff Daniels, Peter Sarsgaard, and Michael Stuhlbarg.
Lifetime
After its buzzy second season, "UnREAL" is back for its third Feb. 26, featuring Shiri Appleby and Constance Zimmer as reality show producers likely making ethically suspect decisions once again. This time, however, they'll have to deal with the show's first female suitor played by Caitlin FitzGerald (of "Masters of Sex").
NBC
The Peacock Network has the Super Bowl Feb. 4 so that's one reason to tune in this month—but really the big event is after the game when you'll finally see how Milo Ventimiglia's character dies on the SAG-winning "This Is Us." Glenn Howerton starts his new gig outside of "It's Always Sunny in Philadelphia" with the sardonic "A.P. Bio," which will air Feb. 1 before starting up again after the Winter Olympics. On Feb. 26 some of your favorites from dearly departed series—Christina Hendricks, Retta, and Mae Whitman—rob a grocery store in "Good Girls."
Netflix
Joel Kinnaman, plus James Purefoy and "Hamilton" alum Renée Elise Goldsberry are part of what Netflix presumably hopes is its next big sci-fi phenomenon, Feb. 2's "Altered Carbon." Its story takes place in a future where consciousnesses are downloaded into new bodies. For a different kind of conflict you might want to check out "Everything Sucks!" Feb. 16, which sounds like "Stranger Things" mixed with "Freaks and Geeks." It features young actors like Peyton Kennedy and Jahi Di'Allo Winston. Finally, Feb. 23 marks the arrival of "Seven Seconds," the latest from "The Killing" executive producer Veena Sud; she cast Regina King and Clare-Hope Ashitey in this anthology series dealing with the death of a black teenager in Jersey City.
Showtime
Claire Danes reprises her Emmy-winning performance for a seventh season of "Homeland" Feb. 11. For more politics, Stephen Colbert launches his animated Trump series "Our Cartoon President," featuring the voice talents of Jeff Bergman, the same night.
Want to star in a hit show? Check out Backstage's TV audition listings!