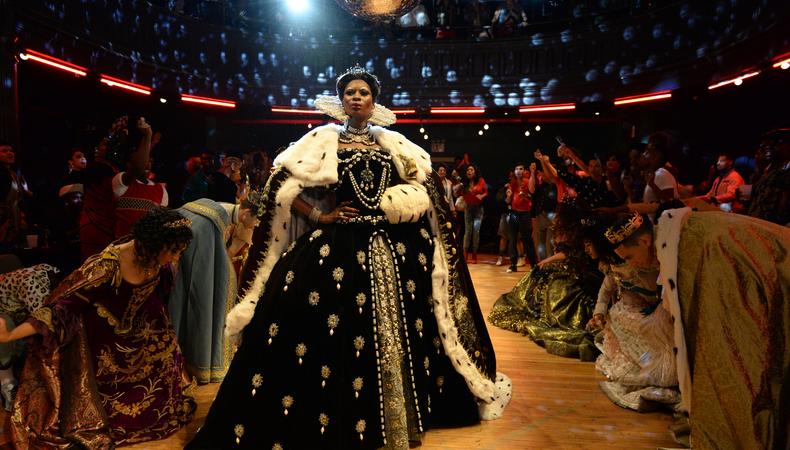 Television doesn't sleep. The sheer amount of content—over 450 scripted programs aired in the year 2017!—can prove overwhelming for even the most dedicated TV buffs. Television Academy voters make Emmy selections in August, and SAG-AFTRA members vote on SAG Awards in January, but their job requires tuning in all year long. Backstage is breaking down, month by month, the buzzy shows and performances that merit awards attention in the ever-growing landscape of the small screen. Mark your calendar and become a couch potato along with us!
June is bringing some intriguing, challenging fare to your screens along with the requisite summer froth—all the more reason to get better acquainted with your air conditioner. You've got the latest Ryan Murphy series, "Pose," an '80s-set drama headed your way with a groundbreaking cast. Meanwhile, Julianna Margulies has a new gig on AMC, Hugh Grant makes his way to TV with Amazon, and Kevin Costner is featured on Paramount. Put away that bathing suit, there's a lot to watch.
ABC
Rachel Bilson takes on an archetype that shouldn't be much of a stretch for her in "Take Two," a series from the people behind "Castle," starting June 21. The TV star plays, well, a TV star, but her character is rehabilitating her star image by teaming up with a hunky cop, Eddie Cibrian.
Amazon
Billy Bob Thornton's Golden Globe-winning performance as Billy McBride gets another spin June 15 when "Goliath" returns. Then, come June 29, we're eagerly awaiting the arrival of "A Very English Scandal," in which Hugh Grant and Ben Whishaw relay the true story of an affair turned sour.
AMC
The glitzy world of fashion publishing gets a dose of vigilante justice in "Dietland" June 4 with Joy Nash as heroine Plum Kettle; Julianna Margulies, meanwhile, is an imperious wonder as a fearsome editor. The next day Gemma Chan and the robots of "Humans" will be back, followed by Dominic Cooper and Ruth Negga of "Preacher" June 24.
AT&T/DirecTV
"Three Days of the Condor" gets a television riff called "Condor" starring Max Irons June 6, which will entice you further with turns from Brendan Fraser and Mira Sorvino, both in the midst of deserved career revivals.
CBS All Access
Jack Reynor acts out the bizarre true story of Jack Parsons, who built rockets and got involved in some freaky cult stuff, with "Strange Angel." Bella Heathcote takes on the role of his wife and Rupert Friend is the unsettling guy who moves into the neighborhood. The gorgeous-looking series streams June 14 and is directed by David Lowery of the feature "A Ghost Story."
Cinemax
Tom Burke is a J.K. Rowling hero—but not the one you think—in "C.B. Strike" come June 1; it's a small-screen adaptation of the crime series Rowling wrote using a man's name.
Comedy Central
The delightful duo of Sam Richardson and Tim Robinson are trying to sell stuff with their commercials when "Detroiters" opens its second season June 21.
Freeform
Teri Polo, Sherri Saum, and their brood on "The Fosters" say goodbye June 4. A couple of days later, June 7, the Freeform platform introduces Aubrey Joseph and Olivia Holt as "Marvel's Cloak & Dagger." Finally, Katie Stevens, Aisha Dee, and Meghann Fahy deal with the tumultuous world of New York media in the return of "The Bold Type" June 12.
FX
Ryan Murphy's latest, "Pose"—a sprawling exploration of New York in the '80s which focuses largely on ballroom culture—arrives June 3 with an impressive ensemble including five trans series regulars: Mj Rodriguez, Indya Moore, Dominique Jackson, Hailie Sahar, and Angelica Ross. Ryan Jamaal Swain comes to the city with dreams of going to dance school; Billy Porter is the ball world's elder statesman. Meanwhile, Evan Peters and James Van Der Beek play employees of someone named Donald Trump.
HBO
Alan Ruck, Kieran Culkin, Jeremy Strong, and Sarah Snook are sniping siblings trying to win favor with their media mogul father Brian Cox in "Succession" June 3.
NBC
Marlon Wayans' eponymous sitcom "Marlon" hits NBC again June 14, while a couple of days later Jennifer Lopez's cop drama "Shades of Blue" is back June 17.
Netflix
The streaming giant begins another busy month by bidding farewell to "Sense8" and its stars including Jamie Clayton, Freema Agyeman, and Doona Bae with its movie-length finale on, appropriately, June 8. Mustafa Shakir is the new baddie in "Marvel's Luke Cage" opposite hero Mike Colter June 22, while Alison Brie, Betty Gilpin, Marc Maron, and the rest of the "GLOW" wrestlers get back on the mat June 29.
READ: Mike Colter Brings 'Luke Cage' to Life
Paramount Network
Alicia Silverstone finally gets another meaty role after all these years in "American Woman"—kicking off June 7—playing a '70s Los Angeles housewife who finds a job, sex, and empowerment after splitting with her husband. Her pals include Mena Suvari and Jennifer Bartels. On June 20 Kevin Costner teams with Taylor Sheridan, the writer behind "Sicario" and "Hell or High Water," for the new drama "Yellowstone."
Showtime
Dominic West, Maura Tierney, Ruth Wilson, and Joshua Jackson are up to their sexy hijinks in "The Affair" Season 4, June 17.
TNT
Niecy Nash, Carrie Preston, Judy Reyes, and the other ladies of South Florida whip out their fabulous "Claws" again come June 10. Are you ready?
TV Land
Sutton Foster and Hilary Duff are publishing books and getting into romantic entanglements with more "Younger" when it embarks on a fifth season June 5.
USA Network
USA has a night of Alice Braga and Ryan Phillippe in "Queen of the South" and "Shooter," respectively, both June 21.
Check out Backstage's TV audition listings!