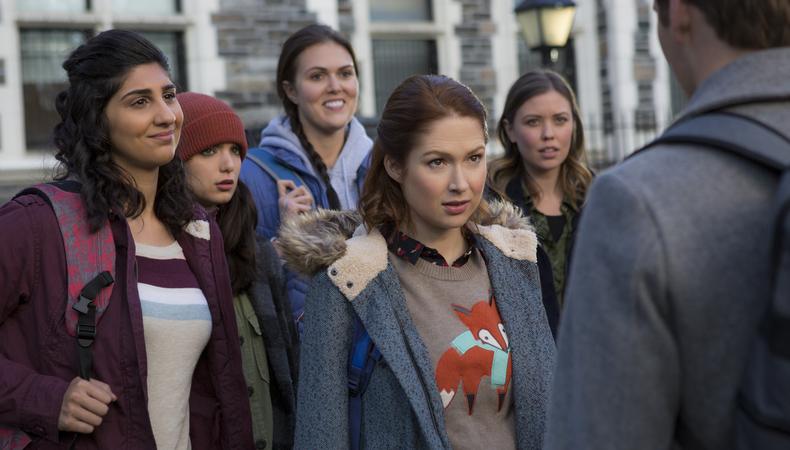 Television doesn't sleep. The sheer amount of content—455 scripted programs were aired in the year 2016!—can prove overwhelming for even the most dedicated TV buffs. And although Emmy voters must nominate in June and vote in August, their job requires tuning in all year long. Backstage is breaking down, month by month, the buzzy shows and performances that merit attention in the ever-growing landscape of the small screen.
May is a particularly crucial month for programming, as May 31, 2017 is the Television Academy's cut-off date for Emmy Awards consideration. That being said, a slew of acclaimed series, as well as some new ones, will make it in under the awards wire. Mark your calendar and become a couch potato along with us!
ABC
A new show from Shonda Rhimes should be kept on any avid TV viewer's radar. On May 29, the prolific powerhouse's newest joint venture with ABC debuts: "Still-Star Crossed" will pick up where Shakespeare's "Romeo and Juliet" leaves off, depicting the ongoing feud between the Montagues and Capulets. The seven-episode script comes from "Scandal" scribe Heather Mitchell, and will feature a cast including Anthony Head, Grant Bowler, Wade Briggs, Zuleikha Robinson, Lashana Lynch, Sterling Sulieman, and Torrance Coombs.
Amazon
In the midst of her still-booming Amazon success with "Transparent" (Season 3 will be in the running at this year's Emmys) Jill Solloway will mark her second outing on the streaming platform with "I Love Dick." Dropping in full on May 12, the series is a thoughtful and prickly on-screen adaptation of Chris Kraus' acclaimed 1997 novel, billed as an "intimate exploration of male/female relationships." Adding to the buzz is an all-star cast which includes heavy-hitters Kathryn Hahn, Kevin Bacon, and Griffin Dunne.
NBC
Jerrod Carmichael's NBC comedy based loosely on his life, "The Carmichael Show," returns to the Peacock Network for its third season on May 31. The series, in which Carmichael also stars alongside David Alan Grier and Loretta Devine, has garnered acclaim in the past for depicting discussions of weighty or controversial subjects including gun violence, the presidential election, and the allegations against Bill Cosby. Watch it!
READ: Jerrod Carmichael's 5 Tips for Performing Comedy
Netflix
May is a massive month for Netflix, which sees several of its most popular series return. Aziz Ansari and Alan Yang's Emmy-winning "Master of None" comes back with a second season on May 12; Ansari also stars and was nominated for an acting Emmy in 2016. Tina Fey and Robert Carlock's "Unbreakable Kimmy Schmidt" drops its third season the following week on May 19, featuring Emmy-nominated performances from Ellie Kemper, Tituss Burgess, and Jane Krakowski.
The sci-fi drama "Sense8" also heads back to Netflix for its anticipated second season on May 5, hosting an ensemble cast of much buzzed-about newcomers including Jamie Clayton, Tuppence Middleton, and Miguel Ángel Silvestre. Emmy nominee Kevin Spacey's President Underwood, meanwhile, will reclaim the Oval Office on May 30 when one of the platform's first hits, "House of Cards," releases its fifth season. The series also stars Robin Wright, Emmy nominated for her role, as well. Last but not least, the familial drama "Bloodline" will debut its third and final season on May 26. The Florida-set series stars Kyle Chandler, Linda Cardellini, and Ben Mendelsohn, who won an Emmy for his role in 2016.
Showtime
One of the season's most anticipated television events is the revival of "Twin Peaks," David Lynch's auteur series which originally aired for two seasons on ABC more than 25 years ago. It returns to the airwaves on May 21, this time on the cable net Showtime, and will feature nearly the entire original cast which included Kyle MacLachlan, David Duchovny, as well as Lynch himself. Additionally, the revival will feature a bevy of A-listers not seen in its original incarnation, including Laura Dern, Jennifer Jason Leigh, Naomi Watts, Michael Cera, and Amanda Seyfried.
Ready to hit the small screen? Check out our TV audition listings!