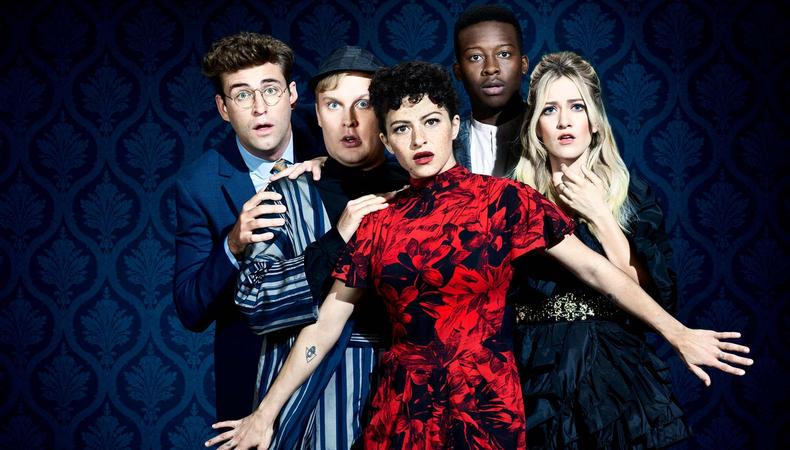 Television doesn't sleep. The sheer amount of content—455 scripted programs aired in the year 2016!—can prove overwhelming for even the most dedicated TV buffs. Television Academy voters make Emmy selections in August, and SAG-AFTRA members vote on SAG Awards in January, but their job requires tuning in all year long. Backstage is breaking down, month by month, the buzzy shows and performances that merit awards attention in the ever-growing landscape of the small screen. Mark your calendar and become a couch potato along with us!
Clear the month of November.... There's a lot to watch. Though network TV may have already debuted most of their fall shows, streaming services are releasing new material at an almost alarming rate, giving you loads to binge-watch as you binge-binge on Thanksgiving. And this, of course, presumes you've finished "Stranger Things" already.
Netflix is offering up selections featuring stars both established (Jeff Daniels) and rising (Sarah Gadon, DeWanda Wise), Amazon is introducing Rachel Brosnahan as "The Marvelous Mrs. Maisel," and Hulu has a host of superpowered teens with "Marvel's Runaways." Here are some more to keep your eye on as you settle into your couch with some turkey.
Amazon
Starting Nov. 29 Rachel Brosnahan is a fast-talking wonder in "The Marvelous Mrs. Maisel," the new series from "Gilmore Girls" creator Amy Sherman-Palladino about a Jewish housewife in the 1950s who decides to pursue a career in standup comedy. Also keep an eye on the reliably excellent Tony Shalhoub as her weary father.
CBS
Shemar Moore of "Criminal Minds" has another CBS vehicle in the "S.W.A.T." reboot, debuting Nov. 2. That night also finds Allison Janney and Anna Faris bickering again in Season 5 of "Mom."
History
Missing "Game of Thrones?" Perhaps the Nov. 29 return of "Vikings," with Katheryn Winnick and Alex Høgh Andersen, can satiate your need for a bloodthirsty epic.
Hulu
Hulu's got an eclectic lineup in November, starting first with "Future Man" on Nov. 14. In this series from Seth Rogen and Evan Goldberg, Josh Hutcherson of "Hunger Games" tests out his comedy chops as a janitor, who is called on by his favorite video game characters to help them save the world. If you've been missing "Happy Endings," you're in luck, because Eliza Coupe also appears.
A couple days later, on Nov. 16, the streaming service premieres "There's...Johnny!," a leftover from the defunct Seeso that takes you behind-the-scenes of Carson's "Tonight Show" with Jane Levy and Tony Danza. Finally, Hulu's jumping into the Marvel fray Nov. 21 with "Runaways," a delicious blend of superheroics and teen drama from "Gossip Girl" purveyors Josh Schwartz and Stephanie Savage. Ariela Barer and Gregg Sulkin are part of the titular group, while the likes of James Marsters and Ryan Sands play some bad guy parents.
National Geographic
Come Nov. 7, E.J. Bonilla, Michael Kelly, and Kate Bosworth make up part of the ensemble of the "The Long Road Home," a miniseries about the soldiers during an Iraq War battle and their families awaiting news of their fates, based on a book by Martha Raddatz.
NBC
Yaya DaCosta, S. Epatha Merkerson, Oliver Platt, and the "Chicago Med" lifesavers are at it again Nov. 21. On Nov. 24, Anna Kendrick and Justin Timberlake reprise their cartoon voices in "Trolls Holiday," an attempt to further market the neon world of last year's animated hit film "Trolls."
Netflix
And if there wasn't enough to stream on Hulu, it's an incredibly busy month at Netflix, which sees a host of high profile shows debuting their first seasons. First up on Nov. 3 is "Alias Grace," the year's second Margaret Atwood adaptation after the Emmy-dominating "The Handmaid's Tale." Sarah Gadon plays the titular character, a young woman accused of murder in the 19th century, as written by actor-turned-auteur Sarah Polley.
If you want more from film greats, check out "Godless," a western miniseries executive produced by Steven Soderbergh with Jeff Daniels, Michelle Dockery, Jack O'Connell, and Merritt Wever Nov. 22. Or there's "She's Gotta Have It," Spike Lee's TV adaptation of his own movie Nov. 23. The latter follows DeWanda Wise's Nola Darling as she juggles three lovers portrayed by Cleo Anthony, Lyriq Bent, and "Hamilton's" Anthony Ramos. Meanwhile, Jon Bernthal will be enacting vengeance in "Marvel's The Punisher" Nov. 17. Plus, there's the second season of ingenious comedian Maria Bamford's "Lady Dynamite" on Nov. 10. Get bingeing!
Showtime
Emmy Rossum and William H. Macy are on their eighth season of "Shameless," starting Nov. 5. The Gallaghers will share an evening with Frankie Shaw, who is in front of and behind the camera in her comedy "SMILF," about a young single mother in South Boston. Bonus: Shaw's mom is Rosie O'Donnell, in a dressed-down, noteworthy turn, and Connie Britton appears.
Nov. 13 will see the start of "Ill Behaviour" (a British series, hence the extra "u"). Some of the cancer comedy's stars are familiar to these shores, including "You're the Worst" actor Chris Geere and married couple Tom Riley and Lizzy Caplan.
Starz
The first season of anthology "The Girlfriend Experience" offered a breakout role for Riley Keough. In its second, beginning Nov. 5, there are even more opportunities for actors to shine because it features two separate storylines: One is a political intrigue narrative featuring Anna Friel and Louisa Krause, and the other has the great Carmen Ejogo as a former escort now in witness protection.
TBS
If you didn't get on board the inaugural outing of "Search Party" last year, you missed a real treat: A paranoid comedy-mystery hybrid about a group of Brooklyn hipsters investigating a missing acquaintance. It's back Nov. 19 doubling down on its macabre spirit. Alia Shawkat is the spiraling ringleader and John Reynolds is her beleaguered boyfriend, while John Early and Meredith Hagner turn in hilariously self-obsessed performances as their friends.
USA
Last but not least, Killian Scott and Logan Marshall-Green are at odds in Nov. 7's "Damnation," an ambitious Depression-set drama.
Check out Backstage's TV audition listings!