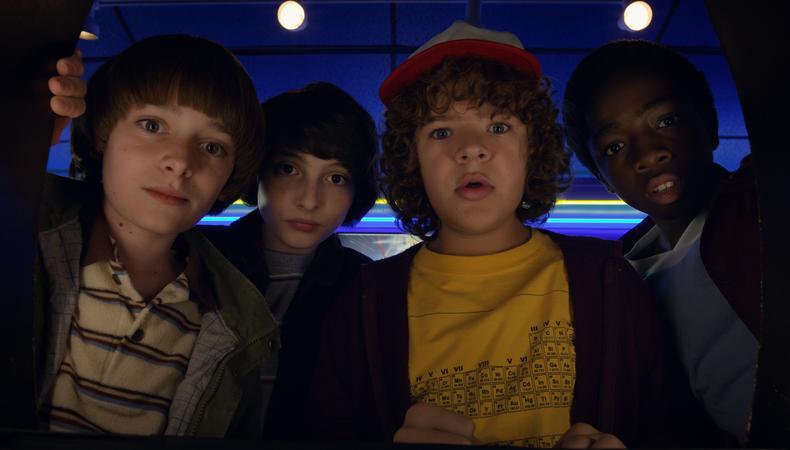 Television doesn't sleep. The sheer amount of content—455 scripted programs aired in the year 2016!—can prove overwhelming for even the most dedicated TV buffs. Television Academy voters make Emmy selections in August, and SAG-AFTRA members vote on SAG Awards in January, but their job requires tuning in all year long. Backstage is breaking down, month by month, the buzzy shows and performances that merit awards attention in the ever-growing landscape of the small screen. Mark your calendar and become a couch potato along with us!
Fall is now in full swing, Halloween is approaching, and the TV premieres just keep coming. Yes, the season is rolling on in October and that means you can sample new fare featuring the likes of Kyra Sedgwick and Jason Ritter. Or you can hunker down to check in on favorites like "Stranger Things" with Millie Bobby Brown and her pals. Here are some other small screen performances that you might be talking about all year long.
ABC
Last night the Alphabet Network launched the latest Kyra Sedgwick vehicle, "Ten Days In The Valley," a meta-crime series about the executive producer of a TV show. If that's too serious for you, "Black-ish" and "Fresh Off The Boat" are back Oct. 3 with Tracee Ellis Ross, Anthony Anderson, Constance Wu, Randall Park, and their TV families bringing the laughs. You'll also get Jeremy Bronson and Daveed Diggs' "The Mayor," featuring a charming, star-making performance from Brandon Micheal Hall, and Jason Ritter attempting to do good after getting a sign from God in "Kevin (Probably) Saves The World." Finally, prepare yourself to bid farewell to Kerry Washington, her gladiators, and Shonda Rhimes' "Scandal"; the last season gets underway Oct. 5.
LISTEN: 'In the Envelope' Podcast featuring Julia Louis-Dreyfus & Anthony Anderson
AMC
Prepare yourself. "The Walking Dead"—with Andrew Lincoln, Norman Reedus, Danai Gurira, and all those undead—bludgeons its way to its 100th episode Oct. 22.
CBS
Jeremy Piven tackles one of the goofiest concepts in recent years in this network's new crowdsourcing procedural "Wisdom Of The Crowd," which started up Oct. 1. Mark Feuerstein casts the always welcome Elliott Gould and Linda Lavin as his parents in the new sitcom "9JKL." And if you liked Jermaine Fowler's commentary during the recent Emmys ceremony, watch him sling punchlines in "Superior Donuts" Oct. 30.
The CW
This network has its whole fall lineup premiering this month. The likes of Elizabeth Gillies and Nathalie Kelly will see if they can match the high drama of Joan Collins and her ilk on the "Dynasty" reboot. That shares Oct. 11 with "Riverdale," starring KJ Apa, Cole Sprouse, Lili Reinhart, and Camila Mendes in a warped, murderous Archie universe. The reliably excellent Rachel Bloom and Gina Rodriguez assume their respective Golden Globe-winning roles in "Crazy Ex-Girlfriend" and "Jane The Virgin" once again Oct. 13. And then there are superheroes! Melissa Benoist's "Supergirl" zooms in Oct. 9, for instance. The girl of steel is paired with "Valor," featuring a different type of flying protagonist: Christina Ochoa's Army helicopter pilot.
Fox
Adam Scott and Craig Robinson are two of the most reliable supporting players in comedy and the sitcom adventure "Ghosted," which debuted Oct. 1, tests their leading man chops. Speaking of the supernatural, Amy Acker and Stephen Moyer, both veterans of spooky shows, are the powerless adults in Fox's X-Men effort, "The Gifted," beginning Oct. 2.
HBO
Hollywood's resident curmudgeon Larry David has put away the Bernie Sanders impression for now in favor of his most famous role: Himself. Yes, after a six-year absence, "Curb Your Enthusiasm" returned on Oct. 1 in cantankerous, good-taste-pushing glory.
Hulu
The first season of "Chance" flew under the radar compared to some other streaming offerings, but you can check out Hugh Laurie's neuropsychiatrist-antihero for yourself Oct. 11.
USA
Last year's Emmy winner Rami Malek will brood again in the third outing of "Mr. Robot" come Oct. 11; Bobby Cannavale is also part of its revolution.
READ: 'Big Little Lies,' 'Handmaid's Tale,' 'Veep' Win at 69th Primetime Emmy Awards
Netflix
It's another major month on Netflix. First, the streaming giant launches "Mindhunter" Oct. 13 with Jonathan Groff investigating serial killers. It's executive produced by and directed in part by David Fincher, in "Se7en" and "Zodiac" mode. (And don't forget, Fincher gave the service its first hit with "House Of Cards.") Finally, just as Halloween is approaching, Winona Ryder, David Harbour, and the "Stranger Things" kids will emerge again Oct. 27 to fight Demogorgons and whatever else is plaguing Hawkins.
Showtime
"Saturday Night Live" veteran Jay Pharaoh has his first big role outside of the venerated sketch series with Oct. 15's "White Famous," executive produced by Jamie Foxx, who cameos as an eccentric version of himself.
TNT
The talented Michelle Dockery cons her way through a second season of "Good Behavior" starting Oct. 15.
TruTV
Amy Sedaris brings lunacy to your home—in her sketch show about crafting, "At Home With Amy Sedaris," Oct. 24.
Want to star in a hit show? Check out Backstage's TV audition listings!