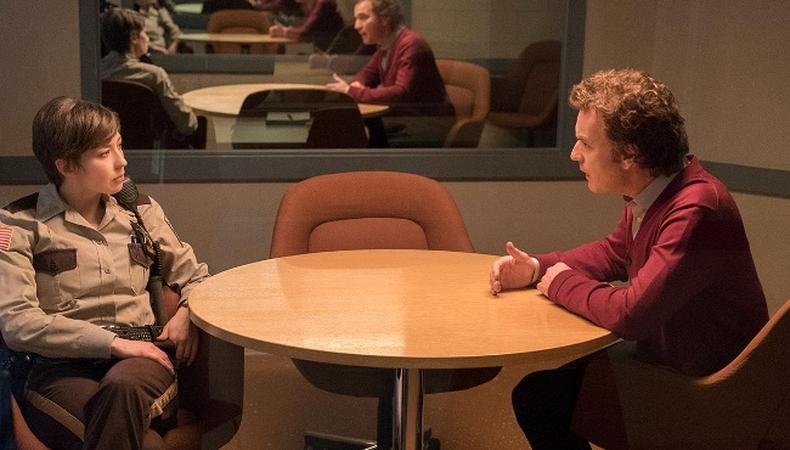 Are you as excited as we are for the 69th Emmy Awards? On Sept. 17, TV's biggest bash will recognize the best of the best, including the actors below who appeared in limited series and movies. Backstage is breaking down each nominee: why they're great, why they deserve the trophy, why we can't stop thinking about their astonishing performances. Between "Feud," "Big Little Lies," "The Night Of," and more, the stars below provided master classes in great acting. Which performance is your favorite?
OUTSTANDING LEAD ACTOR IN A LIMITED SERIES OR MOVIE
Riz Ahmed, "The Night Of"
In the year that's passed since HBO's perspiratory "The Night Of" premiered, the double-nominated Ahmed has become a bona fide star. As such, it's difficult to recall that his first real introduction to U.S. audiences was as this miniseries' ill-fated Naz. Descending with horrific rapidity into a world of drugs and violence, Ahmed portrays with chilling accuracy how easily circumstance can send a life spinning out of control.
Benedict Cumberbatch, "Sherlock"
With so many different versions of the iconic Sherlock Holmes role out there, it's hard to create an original iteration, yet Cumberbatch portrays the detective with originality to spare. A quick wit, dry humor, and the ability to spring to action at any given moment—Cumberbatch fully brings to life the beloved character.
Robert De Niro, "The Wizard of Lies"
There's a school of thought that says great screen acting means letting an audience fill in the blanks of what a performer is thinking. De Niro's Bernie Madoff is an appropriate example, given the mysteries surrounding the man responsible for history's greatest financial fraud. Is he a sadist, swindling investors because he can? Was it all just a result of an unruly bad habit? This HBO movie portrays Madoff as going through the motions, but De Niro's inscrutability is exacting.
Ewan McGregor, "Fargo"
Playing one of the offbeat Midwesterners in Noah Hawley's (and originally the Coen brothers') wackily grim cinematic universe is any actor's dream. But McGregor got to play two! As twin brothers Emmit and Ray Stussy, the actor is doubly impressive; both characters are conveyed with precise, tragicomic quirk, and any time they share a screen is a chance for McGregor to show off his astounding range.
Geoffrey Rush, "Genius"
In National Geographic Channel's first scripted series, this award-winning actor imbues Albert Einstein with a heart as well as a brain. Count on Rush to replace our mental image of the legendary scientist with not only a convincing physical transformation—that poofy hair!—but also the notion that a historical icon of academic studiousness is just a man, flaws and all.
John Turturro, "The Night Of"
As the seedy attorney who bit off more than he could chew on "The Night Of," Turturro undoubtedly gives the season's most painful to watch performance—physically. However, neither repurposing a chopstick to scratch his eczema-ravaged feet on the subway nor his formative courtroom outburst could match the emotional distress left in the wake of this career-best role.
OUTSTANDING LEAD ACTRESS IN A LIMITED SERIES OR MOVIE
Carrie Coon, "Fargo"
The long-beloved Coon led two prestige dramas this season, and while her timeless performance on "The Leftovers" will forever be underappreciated, we're glad the Television Academy honored her equally terrific work on FX's anthology series. Her Eden Valley cop Gloria Burgle begins with her life in quiet disarray, so a tangle of bizarre events following her stepfather's murder doesn't just challenge her—it obsesses her. We will never tire of seeing Coon think and react onscreen.
Felicity Huffman, "American Crime"
Playing a housewife is nothing new for Huffman, but in the third installment of ABC's "American Crime," her performance as the wife to a wealthy farm owner was anything but clichéd. Frenetic but without agency to remedy the injustices around her, the character exemplified the season's overarching theme of voicelessness. As the episodes wore on, her screams grew louder but, dismally, no one cared to hear.
Nicole Kidman, "Big Little Lies"
We can only hope Kidman continues to grace TV with her talent. In addition to bringing "Big Little Lies" to HBO as co–executive producer, Kidman's performance grounded its most powerful plot line, turning what could have been a pulpy murder mystery into a haunting meditation on sexual assault. The therapy scenes in particular, in which Celeste struggles to confront the truth of her marriage, showcase some of the finest acting of the year.
Jessica Lange, "Feud: Bette and Joan"
Watching the inimitable Lange bring Joan Crawford, the legend of Hollywood's golden age, to the small screen is just one of the plethora of joys in "Feud." She exudes yesteryear glamour, from the precisely period hair down to her lacquered nails. Most poignant of all: Her ability to portray Crawford as not just a demanding diva, but a victim of sexism and circumstance.
Susan Sarandon, "Feud: Bette and Joan"
What at first seemed a spot-on impression of the legendary Bette Davis soon gave way to full-blown, riveting embodiment of a screen icon. Sarandon complemented Davis' signature drawl and delivery with private moments of vulnerability and defeat. Her reaction to Crawford stepping up for her presumed Oscar may be the moment that makes Sarandon a first-time Emmy winner herself.
Reese Witherspoon, "Big Little Lies"
"I'm not fucking perfect!" screams Madeline Martha Mackenzie at her daughter. The line is notable not just for the way Witherspoon delivers it, her guilt and frustration finally bursting through the character's carefully cultivated persona. It's meta-commentary: Witherspoon has made a career of fastidiously flawless types, but this latest iteration confirms the actor's fearlessness. Her executive-produced miniseries will be remembered for some of the best, most empathetic acting on the small screen. You might even call it perfect.
OUTSTANDING SUPPORTING ACTOR IN A LIMITED SERIES OR MOVIE
Bill Camp, "The Night Of"
In a show filled with emblematic New York–ness, Camp delivered perhaps the most quintessentially New York performance of them all on "The Night Of," portraying restrained NYPD Detective Dennis Box. A stage veteran, Camp's significance in the HBO miniseries crescendoed with each ensuing episode, climaxing in a dramatic takedown delivered with minimalist perfection that remains salivatory.
Alfred Molina, "Feud: Bette and Joan"
Leave it to Molina to make us feel bad for the guy who first pitted his diva stars against each other. He creates a misunderstood man who knows he's better than others make him out to be. It's a tricky task in a series bent on making Hollywood's male power players the enemy, but Molina puts his trademark gravitas to effective use here.
Alexander Skarsgård, "Big Little Lies"
Skarsgård's inclusion on this year's list of Emmy nominees is not entirely unproblematic. The skill with which he conveyed domestic abuse throughout the series—its toxic yet routine horrors, its cyclical nature—makes it difficult to ever look at the Adonis-like actor in the same way. But can anyone dismiss Perry as a total monster? Among the rage, violence, and intense passion, did Skarsgård, in fact, create glimmers of good?
David Thewlis, "Fargo"
A description of Thewlis' "Fargo" character alone could make one's skin crawl: V.M. Varga is a benign British businessman until he opens his maw, revealing disfigured, plaque-ridden teeth, the result of years of bulimia. Onscreen, it's even creepier. Thewlis renders his character's most innocent comments pure evil, giving what should be a small-town corporate takeover an epic menace.
Stanley Tucci, "Feud: Bette and Joan"
Tucci is nothing if not versatile. He's known best for playing fabulous fashionista mama hens ("The Devil Wears Prada"), sociopathic killers ("The Lovely Bones"), and colorful yet sadistic TV personalities ("The Hunger Games"). But his Jack Warner requires a gruff, narcissistic machismo like we've never seen Tucci enact before—and we love it. The studio executive is a dirty rotten scoundrel to explosive comic effect, and Tucci toes that drama-satire line wondrously.
Michael K. Williams, "The Night Of"
After his seminal role as fear-striking Omar on "The Wire," Williams could have inadvertently typecast himself. But depicting the prison kingpin Freddy on "The Night Of," a character that in less competent hands could have easily dipped into the tired or archetypal, Williams mined a hidden sensitivity, delivering a performance so personal it seems to have crept into his bones.
OUTSTANDING SUPPORTING ACTRESS IN A LIMITED SERIES OR MOVIE
Judy Davis, "Feud: Bette and Joan"
We were as surprised as anyone that Ryan Murphy nabbed Davis—who has three Emmys, two Golden Globes, and two Oscar noms—to play second fiddle to Lange and Sarandon's firecracker Crawford and Davis. But as notorious gossip columnist Hedda Hopper, Davis brought her own matches. The actor's shrewd characterization of this boozy and schmoozy writer paints her as more than a sharp tongue and big hat. She made her human.
Laura Dern, "Big Little Lies"
Part of what made "Big Little Lies" such a sensation was its dark sense of humor, straddling the line between drama and camp. Nobody understood that better than Dern as the indomitable Renata Klein. Her tendency to drop the sweetly confident façade to spit scathing profanities at other alpha moms was downright alarming—and a ton of fun. More roles for this genius actor, please!
Jackie Hoffman, "Feud: Bette and Joan"
It may take Lange throwing a few things at her head for Mamacita to finally put her foot down, but Broadway vet Hoffman's performance as Joan Crawford's housekeeper and confidante is pure stoicism through and through. It wouldn't be the hilarious Hoffman, though, if she wasn't also making you laugh—which she does here more than anyone else onscreen.
Regina King, "American Crime"
In each season of "American Crime," King has played vastly disparate women (and picked up two Emmys in the process). This time around represents her most vulnerable work in the anthology. Depicting a social worker who grows attached to a teen, King, as both a mother figure and a woman desperate to become a mother herself, is tethered to her despondency. The resulting performance is devastating.
Michelle Pfeiffer, "The Wizard of Lies"
There's something faintly ridiculous about Pfeiffer's take on Ruth Madoff. As the aftermath of her husband's Ponzi scheme unfolds, she remains dazed, a little too bewildered. Sometimes it even seems Pfeiffer is positing this woman as a comedic foil, camping up her Queens accent and offsetting the seriousness of De Niro's performance. If you read too much into it—and perhaps she wants us to—it's almost as though Ruth isn't entirely innocent.
Shailene Woodley, "Big Little Lies"
Among the vast array of unforgettable images and cinematic moments of today's prestige TV is Woodley as Jane, a withdrawn but iron-willed survivor, jogging along the Monterey coastline. Glimpses of memory—a dark hotel room, a torn blue dress—flit across the screen. Then, a flash of her running off a cliff's edge. Woodley carries Jane's trauma in her entire body, and we can't help but feel its weight with her.
Ready to audition for the small screen? Check out Backstage's TV audition listings!