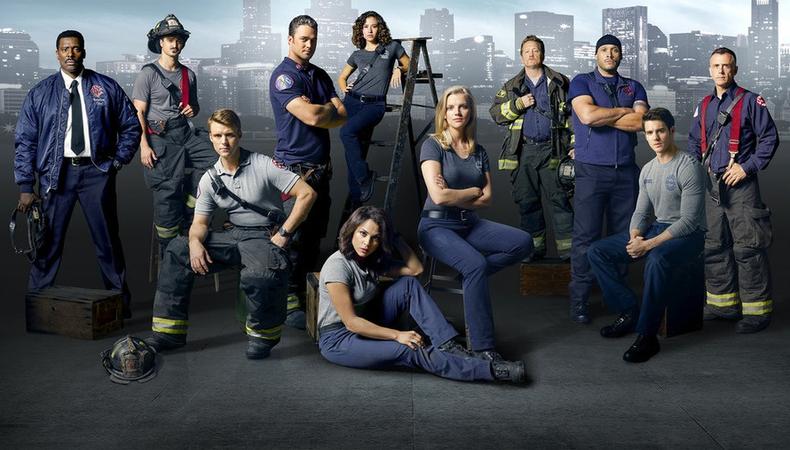 Forget Fox's "Empire." The real empire happening in Chicago is all thanks to Dick Wolf and NBC with their massive hits "Chicago Fire," "Chicago P.D.," and freshman series "Chicago Medical." All three (to be joined next season by a fourth, "Chicago Law") are doing more than offering audiences well-acted procedurals on a weekly basis. They're also transforming what it means to be an actor in the Windy City.
"I have my dream job!" stage stalwart Amy Morton crows during a day of marathon interviews for the cast and creative teams behind all three series. "Don't think I don't know how lucky I am! Plus, for the most part I get to stay indoors when they're all outside in January." Morton, a Steppenwolf member who has appeared on Broadway in "August: Osage County" and "Who's Afraid of Virginia Woolf?"—and whom Wolf refers to as "the Meryl Streep of Chicago"—relishes the opportunity both to stay put in Chicago and the relief of not performing a three-hour drama on stage every night. "I literally have a desk job!" she says. "To have a desk job and not do eight shows a week is a real blessing. Plus, it's fun!"
While Morton gives herself the chance to catch her breath after years of touring the country, former New Yorker Joe Minoso (Joe Cruz, "Chicago Fire") has embraced the opportunities of his new home.
"Chicago is an amazing incubator for actors," he says. "There's a great, accessible theater scene in this city. I think in general, actors [here] are more of cheerleaders for each other, not as combative with one another. You can get a lot of the darker side of being an actor in the L.A. scene and I wanted to develop as an actor outside of all that noise. I was born and bred as a theater actor, and I think this is the theater city. And little by little, TV things started to show up and I was very grateful."
READ: The Visceral Casting of 'Chicago Fire'
"Chicago Fire" co-star Yuri Sardarov (Otis Zvonecek), who grew up in Chicago, agrees. "I'm telling my friends who just graduated from college to move to Chicago. Just give it a chance. I've seen a lot of friends, a lot of theater people who never thought they'd do anything beyond that working steadily on TV now."
There are downsides to living and working in Chicago, of course. Almost every interview eventually comes around to the topic of the city's legendary winters. And though the actors confess that the cold can be challenging, they are also quick to point out that they are playing emergency personnel and working closely with their real-life Chicago counterparts, none of whom have the luxury of relaxing between incidents in heated trailers.
Maybe "Chicago P.D." star Brian Geraghty said it best when asked what filming in Chicago had taught him. "Don't be a pussy," he replied succinctly, an attitude exemplified by the real-life, no-nonsense Chicago cops, firefighters, and doctors who consult on the show. Chicago may be a rough-and-tumble place, but no one involved with NBC's series are shying away from that. And the shows are the better for it.
Want to score a sweet role on "Chicago Fire" or another TV show? Make sure that your reel is up to snuff with these tips!
Inspired by this post? Check out our Chicago audition listings!