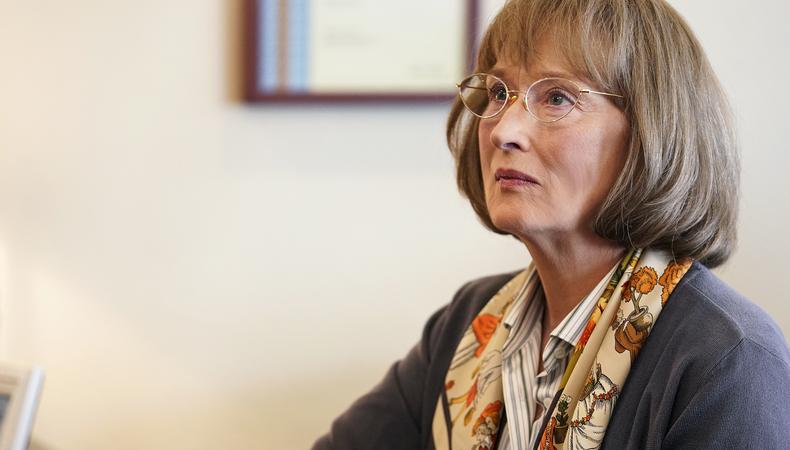 Television doesn't sleep. The sheer amount of content—over 450 scripted programs aired in the year 2017!—can prove overwhelming for even the most dedicated TV buffs. Television Academy voters make Emmy selections in August, and SAG-AFTRA members vote on SAG Awards in January, but their job requires tuning in all year long. Backstage is breaking down, month by month, the buzzy shows and performances that merit awards attention in the ever-growing landscape of the small screen. Mark your calendar and become a couch potato along with us!
June traditionally sees a lot of shows winding down or breaking for the summer hiatus—but not this year!
ABC is launching its newest primetime soap, "Grand Hotel," based on the popular Spanish series, and there are new premieres on CBS and its sister digital provider CBS All Access. Heavy-hitting streaming services compete for this month's biggest shows: Amazon debuts a new drama from a Danish writer-director; Netflix brings back sci-fi juggernaut "Black Mirror" and the continuation of "Tales of the City"; while Hulu offers Season 3 of "The Handmaid's Tale." Cable TV rings in the summer with some of the month's most anticipated launches: FX returns with critical darlings "Baskets" and "Pose"; HBO's award-winning "Big Little Lies" debuts its second season by adding Meryl Streep to the star-studded cast; and Showtime premieres "The Loudest Voice," the fictionalized story of Roger Ailes starring Russell Crowe.
ABC
On June 17 "Grand Hotel" premieres, produced by Eva Longoria; the primetime soap is based on the Spanish series "Gran Hotel." On the 20th, just in time for the summer, "Reef Break" premieres; ABC's newest procedural features Poppy Montgomery on a Pacific Island.
Amazon Prime Video
On the 14th, Amazon launches new drama "Too Old to Die Young," directed by Danish filmmaker Nicolas Winding Refn. The 10 episode series, co-written by Refn and comic book writer Ed Brubaker, follows a police officer (played by Miles Teller) across the Los Angeles crime world. It co-stars John Hawkes, Billy Baldwin, and Jena Malone. That same day, "Absentia" returns for its second season.
AMC
The cable network starts off the month with the fifth season of apocalyptic zombie drama "Fear the Walking Dead," prequel and sister series to "The Walking Dead," on June 2nd. That same night, their newest horror drama premieres: "NOS4A2," based on the Joe Hill novel of the same name, featuring Zachary Quinto as a vampire feeding off of the souls of children. Ashleigh Cummings stars as the new show's protagonist.
BBC America
The fifth season of beloved crime procedural "Luther," starring Idris Elba, returns on the 2nd.
CBS
The second season of "Instinct" debuts on the 30th. Based on James Patterson's novel "Murder Games," the police procedural stars Alan Cumming as Dr. Dylan Reinhart, a writer, academic, and former CIA member whose books are being used as a blueprint by a serial killer. On CBS' digital wing, CBS All Access, "Strange Angel" also returns for its second season.
Cinemax
On the 14th, this network debuts its newest: "Jett," an action thriller starring Carla Gugino.
FX
Season 2 of "Pose" premieres on the 2nd; the drama series created by Ryan Murphy, Brad Falchuk, and Steven Canals focuses on New York's ballroom culture in the late '80s. The ensemble cast, led by MJ Rodriguez, Indya Moore, Dominique Jackson, and Billy Porter, will also feature Sandra Bernhard as a regular this season, and Patti LuPone as a guest star. The beloved clown comedy "Baskets" returns on the 13th for its fourth season, starring Zach Galifianakis, Martha Kelly, and Louie Anderson. And the third and final season of comic book-based "Legion," starring Dan Stevens, Aubrey Plaza, and more, will air on the 24th.
HBO
Season 2 of "Big Little Lies" premieres on the 9th. The critically acclaimed mystery series from director Jean-Marc Vallée and writer David E. Kelley, based on Liane Moriarty's novel of the same name, won eight Emmys, four Golden Globes, and two Screen Actors Guild Awards when it was eligible in limited series categories; executive producer-stars Reese Witherspoon and Nicole Kidman, plus Laura Dern, Zoë Kravitz, Shailene Woodley, and now Streep, will all compete in drama races at the 2020 Emmys.
On the 14th, Fred Armisen's "Los Espookys" premieres: a Spanish-language, occult-inspired comedy starring Ana Fabrega, Julio Torres, Cassandra Ciangherotti, and Bernardo Velasco, with Armisen appearing as a recurring guest star. Drake-produced high school drama "Euphoria" premieres on the 16th, featuring Zendaya, rapper Brian Bradley, Maude Apatow, Storm Reid, and Eric Dane. The premium channel also premieres BBC production "Years and Years" on the 24th, which stars Emma Thompson, Anne Reid, Rory Kinnear, Russell Tovey, and Jessica Hynes.
Hulu
The third season of producer-star Elisabeth Moss' critically acclaimed dystopian series "The Handmaid's Tale" premieres on the 5th, with Christopher Meloni and Elizabeth Reaser joining this season's cast, and Bradley Whitford bumped up to a series regular. On the 17th, "Das Boot" premieres, a sequel to the 1981 film of the same name. The miniseries follows a German U-Boat crew along with Allied forces and members of the French resistance, and stars Vicky Krieps, Lizzy Caplan, Tom Wlaschiha, James D'Arcy, and August Wittgenstein.
Lifetime
On June 2nd, Lifetime premieres its newest dramedy, "American Princess," starring Georgia Flood as a young woman who runs away from her wedding to join the Renaissance Faire. It comes from famed producer Jenji Kohan, who has been behind "Weeds," "GLOW", and "Orange Is the New Black."
Netflix
Science fiction anthology series "Black Mirror" returns for its fifth season, consisting of three episodes, on June 5th. Created by Charlie Booker, the critically acclaimed U.K. series has been nominated for a whopping 83 awards so far, and this season will feature Anthony Mackie, Miley Cyrus, Yahya Abdul-Mateen II, Topher Grace, Damson Idris, Andrew Scott, Nicole Beharie, Pom Klementieff, Angourie Rice, Madison Davenport, and Ludi Lin.
On the 7th, the miniseries "Armistead Maupin's Tales of the City" premieres. Netflix's iteration continues the previous TV adaptations (one in 1993 from PBS and two from Showtime in 1998 and 2001, respectively). The original stars, Laura Linney, Olympia Dukakis, Paul Gross, and Barbara Garrick, will be joined by new additions Ellen Page, Murray Bartlett, Charlie Barnett, and more. Kiefer Sutherland's "Designated Survivor" moves over from ABC for its third season, also airing on the 7th. Marvel's Krysten Ritter starrer "Jessica Jones" returns for its third and final season on the 14th. Joining Netflix from Starz, Season 3 of BBC-produced anthology series "The Missing" premieres on the 17th. (In other countries the show was aired as the spinoff "Baptiste.") And finally, closing out the month, the streaming service debuts its latest sitcom, "Mr. Iglesias," a high school-based sitcom featuring comedian Gabriel Iglesias.
Showtime
The newest from the premium channel, "City on a Hill," launches June 16. The crime drama from Ben Affleck takes place in Boston in the 1990s and stars Kevin Bacon, Sarah Shahi, Jonathan Tucker, Kevin Dunn, Mark O'Brien, Jill Hennessy, and Lauren E. Banks, with Tom Fontana serving as showrunner. On the 30th, "The Loudest Voice" premieres, based on Gabriel Sherman's book about Fox News Channel president Roger Ailes, "The Loudest Voice in the Room." This fictionalized account stars Crowe as Ailes, plus an all-star cast including Naomi Watts, Seth MacFarlane, Sienna Miller, Simon McBurney, Annabelle Wallis, and Aleksa Palladino.
Starz
At the end of the month Starz premieres its newest series: "The Rook." The show is based on the Daniel O'Malley novel of the same name, and was originally adapted by Stephanie Meyer of the "Twilight" series, who stepped away due to creative differences. The sci-fi spy thriller stars Emma Greenwell, Joely Richardson, Olivia Munn, Adrian Lester, and James D'Arcy.