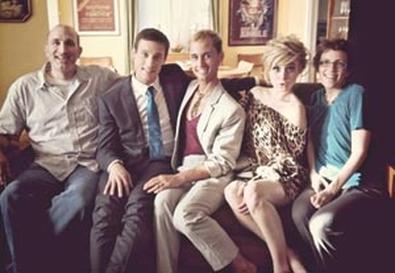 For their day jobs,
Jane Espenson
and Jeff Greenstein bring hit ABC series to life—Espenson as a writer-producer on the new arrival "Once Upon a Time" and Greenstein as a director on the stalwart "Desperate Housewives." So what would entice these two to work on a webseries whose 11-episode budget probably equals less than the tab for one day's catering on their network shows? Creative freedom and the talent of a man named
Cheeks
.
Cheeks, aka Brad Bell, writes with Espenson and stars in the webseries "
Husbands
," a comical look at what happens when a famous actor (Cheeks) wakes up in Vegas married to an openly gay baseball player (Sean Hemeon). The result is 11 short, funny, well-produced episodes that could rival many network sitcoms for laughs per second. Back Stage spoke with the trio about their collaboration.
Back Stage: How did you become involved with this project?Jane Espenson:
We met through social media, actually. I saw Cheeks' material on his YouTube channel (GoCheeksGo), and I wanted to meet him. I found him via Twitter and a mutual friend. We were friends for a while and were basically keeping track of what the other person was doing. When Cheeks started tentatively working on a web project with my friend Alessandra Torresani ("Caprica"), I ended up getting involved. The project evolved into what we now know as "Husbands: The Series."
What I love about the project is that it's both really timely and grounded in the marriage equality discussion, and it's also just flat-out character-based humor. It was one of those situations where the combination of elements just felt totally right. Cheeks wrote the first draft incredibly quickly, and that's always a good sign—if something is off about a concept, it often sort of blocks itself by becoming difficult to write. This was like a good pancake; it just slid off the pan all golden.
Jeff Greenstein:
Jane Espenson and I have been friends for many years, so when either of us has something new in the works, we always ask the other one to read it. I read an early draft of "Husbands," thought it was hilarious, and gave Jane and Cheeks some notes. Then I read the next draft and offered a few more thoughts. Then, over a dish of spicy fries at our favorite Burbank rib joint, Jane asked me to direct it. Of course!
Back Stage: What was the appeal of doing something on such a smaller scale than a weekly TV series?Greenstein:
Total creative control, being accountable to no one but ourselves, getting to make exactly the show we wanted to make. I believe that the shoestringiness of a small-scale production always tends to bring out one's creativity.
Espenson:
In general, it's the speed and flexibility and control. It went very quickly from concept to release, and we were able to make adjustments on the fly without worrying about any bosses above us. It also really fosters a sense of teamwork when you're working in such a small group. Everyone is really motivated to be creative. I loved the feel of it.
Back Stage: Jane, do you find you write differently—perhaps more freely—for online content? Are there things you've always wanted to do that you now have the opportunity to because of the platform?Espenson:
In a way it's a little freer, because we could do things like swear and not worry about whether or not our content was too edgy. But it's also a little more constrained, because you can't afford to change locations or add other actors to a scene. Looking forward, now that I've experienced this, I imagine that I will do more writing for the web—some content is just perfect for this forum.
Back Stage: And how are you balancing your workload while writing for the new hit, "Once Upon a Time"?Espenson:
It was a little tight during the time we were actively shooting "Husbands." I was literally writing on set. But that phase of the work is done, so it's not too much work now. It's just about perfect, in fact.
Back Stage: How involved are you both with the running of the series?
Espenson:
All three of us were very involved. There are decisions to be made at every step of the process, and we tried really hard to reach a decision all three of us were happy with at each point. Casting, shooting, cutting, releasing, promoting—these are all complicated, and we were all up to our elbows. We were also lucky to have a great crew that made it all so much easier.
Greenstein:
As an executive producer, I help out with everything but the writing, and I even help out a tiny bit with that—the final line of the penultimate episode was mine. But my primary responsibility is as director, which means it's my responsibility to bring to life the wonderful story the writers have given me.
Cheeks:
From creation to writing, producing, and distribution, Jane, Jeff, and I really had a hand in every decision. We went through the proper channels for casting and put breakdowns out to agencies. Some actors were submitted by their agents, some submitted on their own, and some actors were recommendations from casting directors. The casting process was long and arduous, but I guess every casting is that way. Our last scheduled audition was Sean Hemeon, who was every bit exactly what we were looking for. He nailed it.

Back Stage: How did you go about casting the show?
Greenstein:
Cheeks and Alessandra were already in place. For Brady, we put out a breakdown and received several hundred responses. But the big break came when Scott Genkinger, the casting director at "Desperate Housewives," my day job, recommended we take a look at Sean Hemeon. Jane and Cheeks and I auditioned him and, mere seconds after he walked out of the room, agreed he'd nailed it. Sean's just gotten better and better ever since.
Espenson:
It was an impossible role. He had to be believable as a pro ballplayer, and as a guy who only recently came out. He had to be funny and have good chemistry with Cheeks. Sean is perfect. The scene we had him read became Episode 4 of the series; you can see it along with all the rest of the episodes at HusbandsTheSeries.com. It's the proposal scene, and he just nailed it—ardent, then defeated, then romantic, then funny. We are very lucky.
Back Stage: Cheeks, how important do you think it is for an actor to create their own work or content?Cheeks:
I think it's imperative for a number of reasons. Not only can you build your own reel and showcase what it is you do best; you can also create a brand, an audience, a fan following. I think this is an important advantage. An actor that will bring eyes to a project is an asset to the production team. If a director is deciding between you and another actor, the fact that you will put his project in front of thousands of people simply by being attached might just be what wins you the role. It also opens new doors to new people. YouTube is how I met Jane, and that kind of business and personal connection is a large part of why I put myself on YouTube in the first place. Having my work online has brought many a connection, job offer, and audition opportunities.
Watch the first episode below.