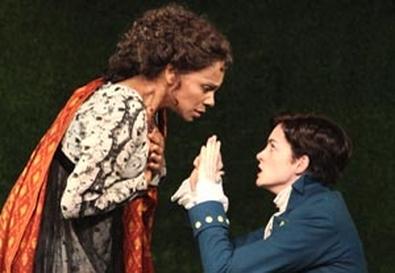 "If music be the food of love, play on." Director Daniel Sullivan takes the first line of
Twelfth Night
seriously by infusing his delightful production of Shakespeare's oft-produced classic with as many gorgeous notes as possible. The rich score, by the songwriting and producing team known as Hem, saturates this merry comedy of sexual confusion and mistaken identity with the intoxication of romance.
That element is at the forefront here, rather than the slapstick shenanigans of the clowns—or "the lighter people," as the pompous servant Malvolio calls them. Sir Toby Belch, a Falstaff-like reveler, and his crew of zanies usually upstage the amorous adventures of Orsino, a lovesick count; Olivia, the elegant and disdainful object of his affection; and Viola, a shipwrecked maiden disguised as the male Cesario, who woos Olivia on Orsino's behalf. Raúl Esparza, Audra McDonald, and Anne Hathaway convey such depth in these roles that they are unquestionably the center of the production, while the more obviously comic characters are rightfully in support.
In most productions, Orsino pops in at the beginning to set the scene, then we forget about him until the unraveling of the tangled plot threads in the final scene. Esparza is so intense in his unrequited ardor that Orsino's passion engulfs the stage. He's also delightfully befuddled when Viola reveals her true identity and her attraction to him. As Viola, Hathaway demonstrates she is one of our most promising young actors. Not content to rest on her film stardom, she bravely takes on one of the Bard's trickier heroines. She must be convincing simultaneously as a callow boy, a smitten girl, and a mourning sister who believes her twin brother has drowned. Hathaway pulls off this triple challenge with flair, plus she displays a fine singing voice. I can hardly wait to see her tackle Judy Garland in the upcoming musical bio.
Audra McDonald shines the brightest in this comic constellation. This four-time Tony winner is so specific in her acting choices and so immediate in her reactions that you can feel Olivia's growing passion for the cross-dressing Viola. McDonald is like a thermometer registering growing heat: At first Olivia is icily haughty, then gradually warmer as her reserve melts. When she declares her feelings for the messenger, the mercury almost rises out of McDonald's head.
Rather than stealing the spotlight, Sir Toby and crew are charming entertainers who romp on stage while the lovers get a rest. Jay O. Sanders is a barrel of jollity as the besotted knight. Julie White is dryly witty as the maid Maria, his companion in cutting up. Hamish Linklater gets maximum mileage out of the asinine Sir Andrew Aguecheek by remembering he's a human being and not just a punch line. The same can be said for Michael Cumpsty's haughty Malvolio. David Pittu's Feste is a riotous musical commentator on the mad goings-on. Kudos also to Stark Sands' Sebastian, Jon Patrick Walker's Fabian, and Charles Borland's Antonio.
John Lee Beatty's sylvan-glade set, Jane Greenwood's colorful 18th-century costumes, and Peter Kaczorowski's poetic lighting enhance the beautifully bucolic Central Park environment for one of the best productions of
Twelfth Night
I've ever seen.
Presented by the Public Theater at the Delacorte Theater, Central Park
(
enter at Fifth Avenue and 79th Street or Central Park West and 81st Street
),
NYC. June 25
–
July 12. Tue
.–
Sun
.,
8 p.m
. (
No performance Sat
.,
July 4
;
additional performance Mon
.,
July 6
.) (
212
)
967-7555 or www.publictheater.org. Casting by Jordan Thaler and Heidi Griffiths
.