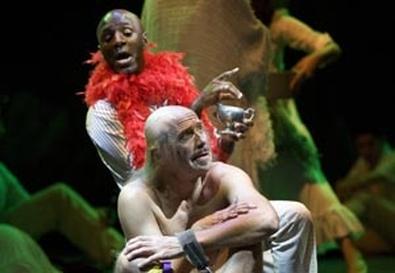 Some productions are born great, some achieve greatness, and some have greatness thrust upon 'em. All are the case in this enchanting revival of Shakespeare's evergreen romantic comedy, which director Julia Rodriguez-Elliott, an adroit design team, and a supremely engaging cast imbue with buoyant wit and classical poise.
By transposing Illyria to pre-revolutionary Cuba while shrewdly trimming and reordering scenes, Rodriguez-Elliott's seamless staging gives a fair and outward character to the proceedings. Like designer Kurt Boetcher's set of moving window-shaded towers, palm-verdant floor, and smartly chosen furniture, Rodriguez-Elliott sustains a most demure travel of regard for both the storytelling and the audience.
Costumer Angela Balogh Calin's eclectic wardrobe—white, black, and red elegance fortified with allusions to Cuban icons such as Desi Arnaz and Amelia Peláez—is one narrative asset. Ken Booth's lush lighting is another, particularly the specials that accompany key asides, and Doug Newell and the Zipline Sound crew land every aural cue, with zesty music choices for the interstitial dances.
However, what makes this "Twelfth Night" soar is the disciplined gusto of its ensemble. Angela Gulner invests Viola with a conversational directness that shifts to melting uncertainty when her Cesario disguise gets her in gender-confused waters. It's a wonderful turn, subtly multivalent, and she and Max Rosenak's vital, deftly timed Sebastian resemble each other. Robertson Dean makes a preternaturally eloquent Orsino, from first "If music be the food of love" in a bathtub to his tickling consternation as things get beyond complicated. Abby Craden similarly has a field day as Olivia, every line revealing a new character shading, richly hilarious as her initial mourning gives way to libidinous desire.
Anthony Mark Barrow's loose-limbed Feste is as assured as Deborah Strang's full-throttle Maria is delicious. Apollo Dukakis' grandly eccentric Sir Toby Belch, Jeremy Rabb's deliriously posturing Sir Andrew Aguecheek, and Steve Weingartner's dryly gimlet-eyed Antonio are emblematic of the festive foolery displayed by the entire roster. As a Malvolio pitched riotously between Peter Cushing and a bald-pated cockatoo, Geoff Elliott nearly steals the show, his grimacing efforts to smile on reading the forged letter alone worth admission. Thus goes this memorable rethink, which, like the company's gorgeous new Pasadena venue, is, to borrow once more from the Bard, high fantastic.
Presented by and at A Noise Within, 3352 E. Foothill Blvd., Pasadena. Oct. 29-Dec. 16. Variable schedule. (626) 356-3100. www.anoisewithin.org.