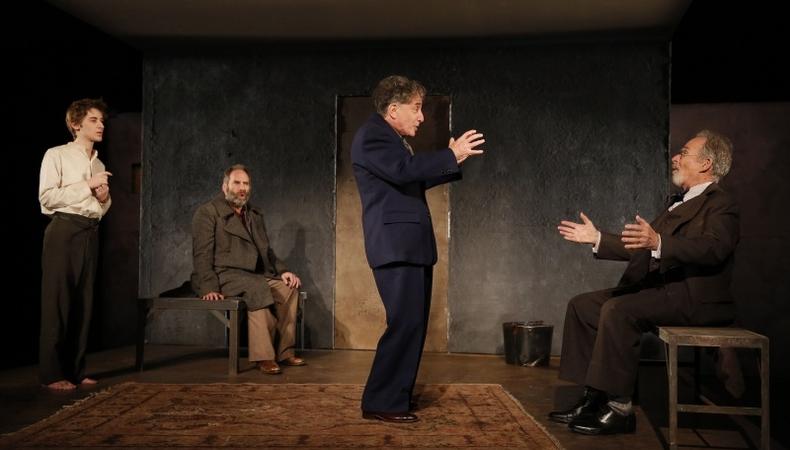 Fiction writer Nathan Englander makes an auspicious stage debut with his play "The Twenty-Seventh Man" at the Public Theater. Derived from his short story of the same name and based on real events, this harrowing, compact work is set in a Soviet prison and examines the power of literature and community to transcend tyranny. In 1952 the secret police of the brutal Stalinist regime have rounded up 26 prominent Jewish writers for alleged crimes against the state. Three of the most eminent share a cell: the distinguished Zunser, who gave up writing when his wife died; party loyalist Korinsky, astonished that he has been imprisoned after towing the Communist line for decades; and hedonist Bretzky, who has avoided politics in his lush poetry and lifestyle.
A fourth is dragged in, the 27th man of the title, the unpublished and youthful Pelovits. As this terrified quartet tries to figure out why the unknown Pelovits has been arrested along with such influential figures, they debate the importance of maintaining the Yiddish language and what it means to be Jewish and a writer. Englander could have edited a few of the longer speeches, but his flavorful dialogue captures the give-and-take of brisk intellectual banter as well as the desperation of brilliant men trapped by the forces of crushing totalitarianism.
Director Barry Edelstein perfectly balances a growing sense of menace with leavening lightness. The atmosphere he creates is indeed horrifying, but there's just enough humor to make it bearable. Michael McGarty's bleak stone set and Russell H. Champa's unrelenting lighting create the right grim environment. There's an impressive final effect involving the set's massive back wall that is literally shattering.
Ron Rifkin subtly imparts Zunser's struggle to maintain a calm exterior despite the writer's inner turmoil. The actor is particularly effective when Zunser must restrain himself as the hulking guard viciously beats Pelovits. You can almost feel the rage bubbling up and then forcibly pushed back down as Zunser realizes that if he interferes, he risks death. Chip Zien is equally adept at conveying Korinsky's battle to keep his faith in the party despite being persecuted by his beloved Stalin. Daniel Oreskes combines lusty bonhomie and passionate sorrow in his Bretzky. The ubiquitous Byron Jennings is chillingly cool as the relentless agent in charge. The only weak link in this estimable ensemble is Noah Robbins, as the pathetic Pelovits. He comes across as a whiny kid rather than a suffering artist. The actor is also burdened with Englander's windiest passages, and he fails to make them soar. But the rest of the company makes this new play a piercing and memorable experience.
Presented by and at the Public Theater, 425 Lafayette St., NYC. Nov. 18–Dec. 9. (212) 967-7555 or www.publictheater.org. Casting by Jordan Thaler and Heidi Griffiths.
Critic's Grade: B+