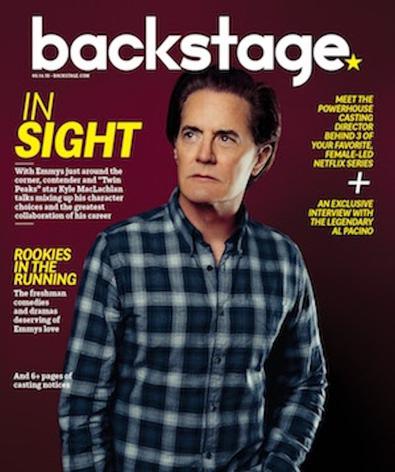 "I always wanted to be James Bond, but I don't think that's going to happen," Kyle MacLachlan confesses, laughing. He's talking about dream roles, and although he's dismissive of this particular notion, he'd actually make a remarkable 007. His ability to play the Eagle Scout with a shard of ice in his heart—unflappable, steadfast, deeply charming and yet, somehow, off—is one of his greatest assets. But it's by no means all he has going for him.
For instance—fun facts for your next trivia night—he also once made and voiced a YouTube series with his wife, Desiree Gruber, about their pet dogs, Mookie and Sam; he owns his own winery, Pursued by Bear; and he has a bustling social media presence.
The man keeps busy.
"I've been really lucky," he says about his career's evolution, "or maybe I've been just open to playing different types of characters in different venues: from four-camera, half-hour comedy to improv on 'Portlandia' to crazy 'Desperate Housewives,' different kinds of comedies, 'Sex and the City'—I've done all sorts of things just because I've been open to it. And they were also projects that I thought were worthwhile."
The role he's arguably best known for—certainly the one with the greatest cult following—is that of FBI Special Agent Dale Cooper, the character that catapulted MacLachlan into mainstream consciousness over 25 years ago during the initial two seasons of David Lynch and Mark Frost's "Twin Peaks." In that first run, the TV show was a dizzying blend of surreal soap opera and murder mystery, with the irresistible dead girl—blonde, beautiful, brutally killed—at its heart. Supernatural elements abounded; it ushered in the era of must-see TV simply because if viewers didn't catch an episode on the night it aired, it would be impossible to recap just what the hell had happened. "I think David Lynch was one of those guys who saw television and didn't push it aside," explains MacLachlan. "He said, 'This is an interesting medium to work in. I wonder what I can do here.' He embraced it as an opportunity to try something different, and that first time around, it really worked with 'Twin Peaks,' and it made other auteur directors take note."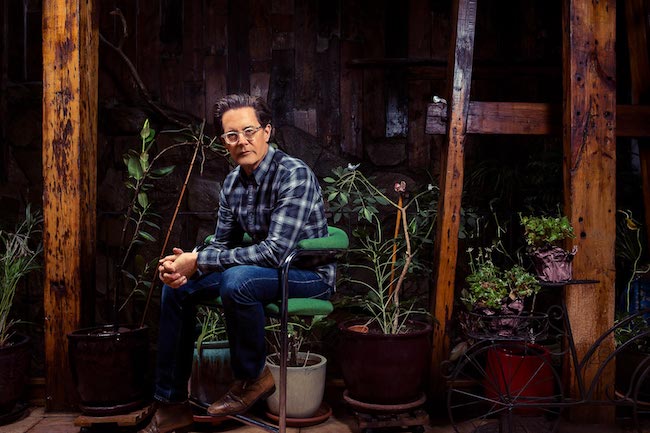 Showtime's 2017 revival, "Twin Peaks: The Return," sees MacLachlan playing Cooper as well as multiple doppelgangers. Running amok across the vastness of the United States, he manifests as pure evil in the case of Mr. C, or lamblike innocence in the guise of the hapless Dougie Jones. "[Kyle] can find a way to play almost any character and make it real," Lynch tells Backstage over email. "He's capable of a wide range of emotion."
For MacLachlan, the wider the range of characters, the more varied the challenges. "Rarely would I have gotten a chance to play the kind of darkness that was in Mr. C," he admits. "Those roles usually go to other actors.... I don't know whether I would have been capable of doing that 10 years ago. I think things come when you're ready."
The wide-eyed Dougie, MacLachlan says, required something different of his skill set: "Stillness and trust. It takes a lot of courage to be still," he says. "I got a lot of my courage from David. He said, 'You gotta just stay with it.' Because the tendency is to move the scene along, you feel that impulse. But he said, 'Resist that impulse and just create your own reality.' And so I did."
"Twin Peaks" is a show that traffics in the metaphysical, transcending space, time, and the laws of nature—but MacLachlan used his own realities to ground his performance. "What happens when I start to work on a role is it gets into my body and I transform somehow, I don't really know how—physically? My thought process is different and rhythms become different. I just trusted whatever transformation was happening, knowing that if it needed to be refined slightly, David would help sculpt it.... It was really a mix of having the outside parts of the character, of Mr. C, let's say, the dark colors and the hair and the look and the face and all that. I would watch as the transformation would take place in the makeup chair and the wardrobe and that would just put me in that state that he needed to be in.... When I finally got to the Dale Cooper character, which wasn't until the 16th hour, he came back," MacLachlan says, snapping his fingers, "just like that."
MacLachlan's success playing the series' various characters is a direct result of his working relationship with Lynch, which began with 1984's sci-fi extravaganza "Dune," followed by modern classic "Blue Velvet," in which he played a boy-next-door gone off the rails. "Kyle," Lynch says, "is family to me. Our relationship is based on deep love.... We have a certain way of working, but it's indescribable. It's very abstract."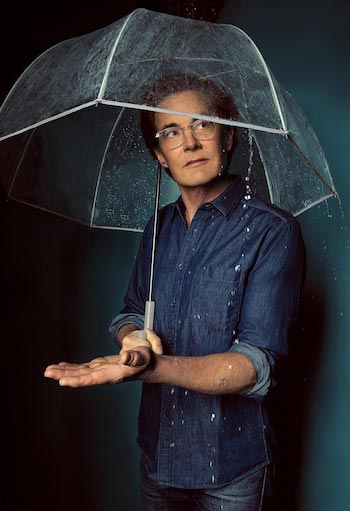 It's a creative relationship built on a trust of the other's instincts. "We intuitively know what each other does and maybe what the expectations are, as well, which comes with time. Just [from] working together so frequently," says MacLachlan. "Particularly with 'Twin Peaks,' I trust his eye. If it's not exactly what he needs, he'll tell me, and if it is, he won't say anything and we'll be fine. I don't spend a lot of time questioning or worrying about whether he got what he needed, so that takes the pressure off."
Long before he developed this level of comfort with a legendary auteur, a young MacLachlan embarked upon his professional actor training at the University of Washington. "They wore me down. They tear you apart and then they build you back up again, but I didn't really know what I was being built into.... I've had a tremendous amount of luck, but I was also prepared. [School] made me feel like I was invincible. I hadn't been knocked down too much yet."
That training, delivered with a repertory model in mind, gave MacLachlan the courage and tools he needed to believe in his ability to play the different roles required. It made it possible to take risks while still feeling like the armor of his theater training was there—or, better yet, not even knowing he was wearing armor at all.
"Theater requires you to maintain your equilibrium and be aware of your physicality and your sleep and your health," he says. "Anyone who works on Broadway understands that. And it's true in film, too. It's a different kind of demand. It's a slow boil, and you have to turn it up when you need to turn it up and then turn it back down again, but it has to always be simmering, somehow. Simmering better than boiling, simmering all the time."
Theater was where MacLachlan began, and he still finds it exhilarating—whether in London or New York—to take a part in a play and be part of the community that comes with it. "You just feel like you're part of something. Wherever you go, people know—any restaurant you walk into or people on the street or friends that come to see you or reading Backstage, it's just this wonderful sense of community that you don't necessarily have in film and television, especially in L.A."
Community, he emphasizes, is vital for an actor's growth. Find a group that shares the same passion you do and identify "the creative people" doing work that interests you. "Go see what it is and have that inspire you to work a little harder, or to persevere. Or to get an idea and do something with someone. Take any opportunity, no matter how small it might appear or obscure it might be. Just work and do the thing you do so that you stay creative and you stay pertinent, stay alive, stay relevant. And that doesn't have to be on Broadway. You can be relevant in a lot of different ways in your world."
It's sound advice from someone who's maintained longevity in a cutthroat industry. But staying present has had an equal hand in keeping MacLachlan in this business.
"I never looked forward," he says. "I didn't even know how you made a living at it. I just liked it, so I wanted to do it. I didn't even know how I was going to survive; I just figured I'd figure it out. And I still love it. Maybe even more, because I think I'm better now. My preparation and my process has been refined. It's my own."
---
Damn Fine Audition Advice
After decades as a working actor, MacLachlan still uses an acting coach.
His dedication to the craft ensures he's never glossing over the "work" of his performances, and the same applies to his audition process: "Sometimes there's [a role] that comes along and I'm like, 'I'd really like to fight for this,' " he says. "I will use that as a chance to just be the character. I'll work on the scenes as if I'm going to shoot. And then I go to audition as if I'm shooting. I go in like, 'Oh, this is my performance.' I'll do what I want to do and then feel like I did my role, I played it. On to the next thing. Even if I don't get it, it's like, 'No, I did the work, I studied, I memorized it, I did the process.'
"Auditioning is really tricky. So much about it has to do with your attitude going in as an actor. You have to believe that you are the person for the role, that what you're doing is your interpretation of what's happening, right or wrong. Have a strong point of view. If they don't get you, well, that's their problem. Really strongly believe in yourself as much as you can." Make time to learn and time to take care of yourself, he adds. If your body is a tool you're using for your job, well, "You gotta keep it as healthy and as good-looking as you can, I think."
Looking to get cast? Apply to casting calls on Backstage.
Photographed at 170 Eldridge St in NYC, courtesy Douglas Elliman, by Emily Assiran on April 6; Groomed by Jillian Halouska