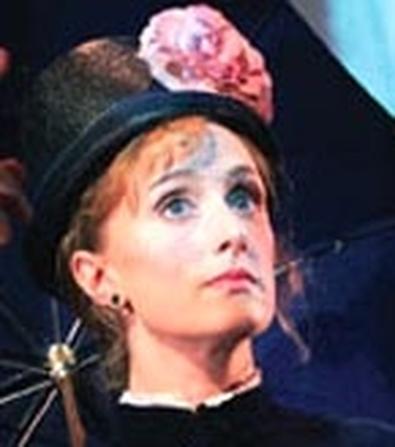 "We feel like we're bringing it home," says British actor Daniel Evans of Sunday in the Park With George, the 1984 Stephen Sondheim-James Lapine Pulitzer Prize-winning musical that Roundabout Theatre Company is reviving on Broadway, opening Feb. 21.
Directed by Sam Buntrock, the production originated at London's intimate Menier Chocolate Factory in 2006 before moving to the West End. Evans, in the title role, and Jenna Russell, playing Dot in Act 1 and Marie in Act 2, won Olivier Awards — the equivalent of Tonys — for their work. Both grasp how profound the memories are of Sunday's original stars, Mandy Patinkin and Bernadette Peters. "We have great respect for it and them, but we have to throw it around," Evans says.
Sunday explores the life of Georges Seurat, the French neoimpressionist painter whose fascination with the ability of the eye, instead of the brush, to fuse color led to his creation of pointillism. Act 1 finds George developing his masterwork, A Sunday Afternoon on the Island of La Grande Jatte. To expedite the story, the authors devised a fictional character, the aforementioned Dot, as George's mistress. Act 1 climaxes with the characters forming a tableau replicating Seurat's finished painting. Act 2 leaps a century ahead as George's fictional great-grandson, also an artist named George, struggles to forge a style of his own. His 98-year-old grandmother, Marie — the illegitimate child of the earlier George and Dot — can help him if only he'll listen.
"We started in London at this tiny theatre with 150 seats," says Evans, who has acted in the U.K. since age 18 and been on Broadway once before, in the Royal Shakespeare Company's A Midsummer Night's Dream in 1996, as Lysander. "It was sort of a — I don't want to say a joke, but a madcap idea of putting Sunday on with no money, no wing space, and a ceiling so low you couldn't fly anything." Buntrock, he says, "was an animator in a different life, and he came up with the idea that to re-create the painting, you could use digital technology." Thus Evans has had the bizarre experience of acting and singing while a video of himself plays on a screen.
Distinguishing their performances from those of Patinkin, Peters, and the many other actors who have played George and Dot was essential, they say. "Initial rehearsals were difficult because I had to ban myself from hearing the original recording," says Evans. "I'd no interest in impersonating Mandy Patinkin. This is my response to these parts. It's Jenna's response. Hopefully, that's what people enjoy."
Adds Russell, who joined the Sunday cast midway through its London runs, "I suppose my fear of looking at the DVD is I might see some fabulous comedy business I have to steal or a moment I've not done. Also, we're still discovering stuff, because we've been playing at this for a long time. Just today we did our first run-through, which was highly emotional. We're singing 'Move On,' and I thought, If this room was with the people we normally have in rehearsal — this time, the authors were there — I would have had a few tears."
Canvassing Characters
Evans and Russell seem so intertwined, on and off stage, they often finish each other's sentences or offer gentle yet intuitive analyses of each other's thoughts. As Russell discusses her acting choices, Evans nods. At the appropriate moment, his hand on her arm, he says, "What's glorious about Jenna is all her naughtiness, her sense of fun, her emotional connection to the role, her seriousness — it all comes through." They giggle, and Russell nods in kind.
Then Russell continues: "Stephen Sondheim told me how his characters sing is how they speak, and I think Sunday is a really good illustration of someone's mental state of mind." In the opening (and title) number, for example, Dot, posing for George, resists being stationary. "There she is, still, yet her mind is racing," Russell says. "She feels her sweat; she has a cheeky, laughing-at-herself moment; she has these beautiful, lyrical bits on how wonderful George is, then her brain races to something else. There's a lot of the child in Dot. And I've always thought her role is to love George a hundred million billion percent. Marie's job is to love George for all his mistakes, to want what's best for him. I think Dot's like a firefly: She's all over the place. But when called upon, she's a great, strong, extraordinary woman. Like everyone, she wants someone to love her, to give her a hug, tell her she's gorgeous."
That is what the Act 1 George, obsessed with his work, cannot do. Thus, the actors say, their performances pivot at times on a tension they relish. Playing a distant figure, Evans says, is perhaps his hardest task. "George can be cold," he says. "One of my challenges is playing someone seemingly disconnected so that the audience can empathize, so they think, 'Oh, I understand George. I hate him for not giving Dot what she needs, but I understand him a little.' We all can understand obsession, addiction. I also think George can be warm and funny, generous, naughty, and dirty. I think he and Dot have an amazing private life together. I think they have a wonderful sexual relationship." "When she can peel him away from his painting," Russell says.
"And once he starts," Evans continues, "what happens for me is the warmth gets transferred to the painting. It gets all the warmth and passion, which Dot thinks is cold. He doesn't think he's cold. I think he thinks it's hard for him to say, 'I love you; I need you.'"
"And that drives her mental," Russell says.
"It drives him mental," Evans adds. "When we were singing 'We Do Not Belong Together,' I agree with almost everything she sings. George and Dot should have belonged together, yet he can't bring himself to say, 'Don't go.' The painting is a sort of reparation. In the painting, she's in the shade; she has a hat and a parasol. He takes care of her in the painting, which becomes world-famous. I think of that when we perform. George can't express his love, but he can in his art."
Making the Connection
Russell has thought a lot about Act 2 of Sunday, which many critics consider a slog. She agrees that the narrative is less linear: Whereas Act 1 concerns Seurat's need to finish his masterwork, Act 2 concerns the latter-day George's inability to define his aesthetic voice. Introducing new, contemporary characters, she says, makes the actors' jobs harder.
"As at the end of Act 1, you have the lovely painting, all the people up there in their lovely outfits, and they go off suddenly, and it's all a bit cold," Russell says. "It's, Who are these new people? What about these characters we've spent all this time with, that we're in love with? It takes a good five minutes where you feel the audience going, 'No, stay in the 19th century.' But they warm up." After George sings "Putting It Together," she says, Sunday "starts to shrink, in a way; the writing becomes beautiful, honest, and moving. Soon it's really just George and Marie, then just George after she dies."
"Act 2 George is the other side of the coin," adds Evans. "James Lapine said that in Act 1, George knows himself, but no one else understands him. In Act 2, everyone understands George but himself. I think that's right. The modern George is a brilliant artist who sold out; he's repeating the same old shit. Marie says he has a connection with his great-grandfather, a great artist he's cynical about. Then he has an epiphany where he reconnects with his past. He realizes what he must do as artist, yes, but also what he must do as a person."
Bio Briefs
Evans, who was born in Wales, won his first Olivier Award in 2001 for playing Charley Kringas in the London production of Sondheim's Merrily We Roll Along
Evans' other credits include U.K. productions of Henry V, Cardiff East, Peter Pan, Candide, Grand Hotel, The Merchant of Venice, and Troilus and Cressida
Russell's credits include three productions at London's Bridewell Theatre (On a Clear Day You Can See Forever, Hello Again, and The Cutting Edge), playing Sarah Brown in the 2005 West End revival of Guys and Dolls, and Born and Bred and Doctor Who on TV
Sunday in the Park With George runs Jan. 25-April 27 at Studio 54, 254 W. 54th St., NYC. Tickets: (212) 719-1300 or www.roundabouttheatre.org.