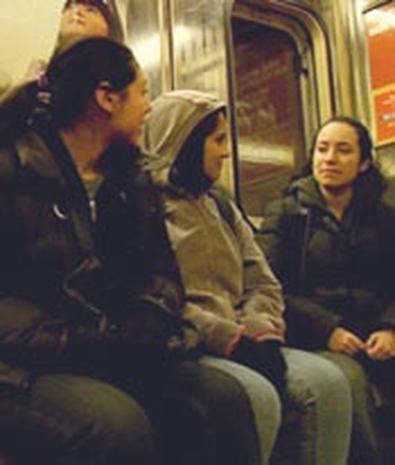 There it is again -- that name. It seems every time you audition, the list of other actors up for the same role always includes your doppelgänger. Directors and producers say you remind them of him or her. And when you don't get the role, invariably you hear it went to, well, you know.
As much as you try to stand out among your many fellow actors, there always will be at least one or two whose looks, voice, or personality resembles yours. The bad news is that they tend to be your competition. The good news is that they don't have to be your enemy.
Back Stage spoke with three pairs of actors often considered for the same parts. The twosomes have forged friendships. They've even managed to appear together in a variety of productions.
Malone but Not Alone
For Beth Malone it started to get downright eerie. After moving to Los Angeles seven years ago, she started auditioning for -- and winning -- plenty of choice musical theatre gigs. But she often received strange calls from people who wondered how she could be in Southern California and Milwaukee at the same time or why she was scheduled for an audition and never showed.
Finally, she realized she wasn't the area's only Malone with a strong voice and sharp comedic timing. "Everyone got me confused with Bets [Malone] because she had been around for a long time and because our names are so similar," Beth says. Bets adds, "They even put my name on a flier once for a show Beth was in, because they assumed it must be me."
Two of the more dominant figures in West Coast theatre, Beth and Bets have each played Evita, Adelaide in Guys and Dolls, Sally Bowles in Cabaret, and Ado Annie in Oklahoma!, to name several. The first time the pair wound up in callbacks together was for a production of Grease. "Glenn Casale was the director, and he brought us in the room at the same time," Bets says. "I'm not even sure if he was considering both of us or if he wanted to prove that we were two different people." Beth was cast as Marty but ended up not doing the part.
Bets continues, "Then I ran into Tom McCoy a year later, and he accused me of dropping out of one of his shows. I had to say, 'Uh, no, that was Beth.' "Beth beat Bets out that time, but both actors say they never feel animosity toward each other. "We always see each other at the callbacks, and I'm happy if she gets it. That means the part was for her, and some other part will be for me," Bets says.
"And it's not just us," Beth says. "We're always seeing Misty Cotton and Julie Dixon Jackson and a few others. It's not that we're all the same. Even Bets and I have different styles. But this is a small world."
Beth recalls a conversation with a woman in Colorado, where Beth started her career. "It turned out she was always going out for roles that I ended up getting," she says. "I was completely oblivious about it. But I think it's defeating to look at what the other person is getting." Both Malones point to preparation and knowledge as keys to getting noticed. "Now there is this generation of Rent kids who have never seen Music Man or don't know Oklahoma!," Beth says. "To make it in this business, you have to know it all."
After years of going for the same parts, the two finally co-starred in the Reprise! Broadway's Best production of Babes in Arms in 2003, and they shared the stage in The Marvelous Wonderettes, also in 2003. "I guess the easiest way to tell us apart is if there's any story with scandal about a Malone, then it's me," Beth jokes.
Earley and Often Engel
When there's need for a leading man who can sing, David Engel and Kevin Earley can usually expect a call. Both have spent time on Broadway, but in the last several years they have become mainstays in California theatres. Though they have auditioned for the same parts, neither thinks they are much alike. "David can dance better," Earley says. "Kevin is more of a legitimate singer," Engel insists.
"We both have talent, but I think what we most have in common is a strong work ethic," Earley continues. "My mom was an artistic director, and I know that what she looked for in a résumé was someone who worked multiple times in the same places and not just once, because that means you are respected and they want you back. David and I work hard, and we put that hard work on the stage."
The hard work comes before being cast, the actors explain. It comes during the audition, even when they don't think they have a chance of getting the part. "You are never just auditioning for that show," Earley explains. "You are there to make an impression, so that if you aren't right for that part, they will call you the next time." Engel adds, "I once went in for a part I was all wrong for, but I was offered something else right there in the room."
If the same someone is beating you out for roles, Earley suggests, don't be afraid to make bold and unique choices during auditions that will help you stand out. "And if you're younger and the parts are going to more-experienced actors, just be aware that as time goes on they will move on to older parts and make room for new talent," Engel says. "I'm fortunate to play a lot of leading-man roles, but I won't be forever. If you work hard, you can move up the list."
After crisscrossing the country to work in the top regional theatres but never crossing paths, Earley and Engel finally wound up in the same show at the same time: There was room for both in Can-Can, which played this summer at the Pasadena Playhouse.
Too Close for the Chorus
Curiosity and fascination gave way to a bit of paranoia after two actors had been aware, for more than a year, of "the other Tatiana." Tatiana Suarez-Pico and Tatiana Dellepiane were told the other was Latina, of Colombian heritage, and that they looked alike. "I kept going to auditions and seeing S on the list, only she would have already been there," Dellepiane says. The women refer to each other by last initial. "I kept thinking, 'When am I going to meet this girl?' I started to do research on her, but I couldn't find her picture. So she was this mystery for a long time."
"It wasn't until D decided to create this Latina network for actresses that I had my chance," Suarez-Pico recalls. "I sent in my résumé and headshot, and finally we were able to meet." The two, both New Yorkers, became fast friends, despite finding that the scarcity of Latina roles meant they would consistently be at the same auditions.
Each has lost out to the other. Their most recent competition was for the lead in El Otro Lado, a film written and directed by Roberto Bentivegna, which Suarez-Pico landed. "I got a smaller role in the film," Dellepiane says. "I decided that because S was in it I would do it." "She was gracious to be in it," Suarez-Pico adds. "It made the film even more fun because we got to work together."
The Tatianas credit their friendship with helping their careers. "I wish there were more roles for Latinas out there so there aren't 30 of us auditioning for the same ones," Suarez-Pico says. "But a way to help, along with creating parts ourselves, is to create a strong network and to be supportive. I find if you get to know the person who is always auditioning for the same part as you that it makes the process easier, because you want your friends to succeed, just as they want you to do well."
"What's important is that you strive for excellence," Dellepiane concludes. "Find out what makes you different, and don't waste time being envious. Keep in mind that your time is going to come."