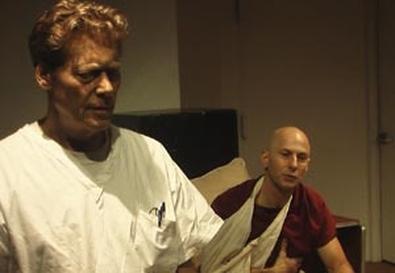 I haven't the foggiest idea of what author-actor Peter Welch thinks he's up to with his two-hander "Two Alone/Too Together." The only thing I am sure of is that, as Noël Coward once sang, 90 minutes can be a long, long time.
A bandaged Jude Donnelly (Welch) lies propped up in what appears to be a hospital bed, attended by Stephen Essay (Stephen Dym), who initially claims to be his nurse. Donnelly (who Stephen refuses to call by his first name in order to keep a professional distance) crashed his car in a suicide attempt, or so he tells Stephen. The unhappy patient is desperate not to be left alone, and Stephen obliges. There is solemn talk about "stating brutal truth" and "getting down to the core of things," and Donnelly is so fond of the sentiment "Neutrality is equal to death" that he says it twice. Donnelly is obsessed with the idea of role playing as a means to psychological health, but Stephen keeps refusing to indulge him. The ostensibly heterosexual Donnelly also has a disturbing and bewildering willingness to be anally penetrated by the gay Stephen in order to be emotionally "unblocked."
At one point Stephen abruptly turns on Donnelly and says that rather than being in a hospital, they are in a gutted abandoned basement, where the unbalanced Stephen plans to torment him. Then, just as abruptly, he drops this tactic and returns to claiming to be Donnelly's nurse in a hospital. Both men lie constantly, changing their stories on a whim, so that it's impossible to believe anything they say. Nevertheless, mental healing eventually arrives, and I kid you not, when they duet tunelessly on the theme song from "The Carol Burnett Show."
Neither actor can make any sense out of this ridiculous cat-and-mouse game, nor can director Vincent Scott. For most of the evening, I entertained myself by speculating on whether Welch is a Thomas Hardy fan and so took his character's name from that writer's "Jude the Obscure," which Welch's play certainly is.
Self-presented in association with Accidental Repertory Theater as part of the New York International Fringe Festival at the Players Theatre, 115 MacDougal St., NYC. Aug. 14–28. Remaining performances: Sat., Aug. 20, 7 p.m.; Sun., Aug. 21, 2:15 p.m.; Sun., Aug. 28, 2 p.m. (866) 468-7619 or www.fringenyc.org.