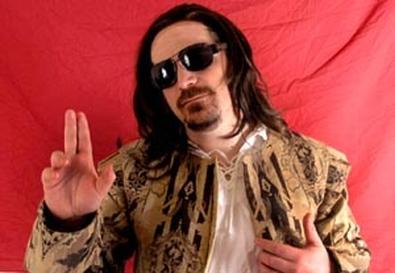 "Whither the money, Lebowski?" a hoodlum screams, holding the man's goateed face in the toilet. Breathless, the dude turns. "Thou err'st; no man calls me Lebowski," he replies in a high-pitched nasal whine. "I am The
Knave,
man."
Hearing that exchange, you think you may have crossed some cosmic Rubicon. Actually, you're safe; you're just sitting in the theater watching a play parodying a Coen Brothers' movie, in which the lead character goes bowling, smokes pot, drinks White Russians, and sounds like Jeff Bridges, except that all the original dialogue has been replaced by Shakespearean iambic pentameter. Yes, that about covers it.
Aside from its Elizabethan trappings, "Two Gentlemen of Lebowski" is an extremely faithful adaptation of the 1998 cult film "The Big Lebowski," about a stoner-bowler who accidentally gets involved in a phony kidnapping. In this version, 'The Dude' becomes 'The Knave'; otherwise, the two stories would line up side by side.
Author Adam Bertocci posted the play on the Internet two months ago and offered it free to anyone who wanted to produce it. Director Frank Cwiklik took the challenge and has done a solid job in matching the pacing and tone of the original while adding bits of Shakespearean wit along the way.
The cast is terrific, managing to comically echo the film while still bringing something new to the table. As The Knave, Josh Mertz does a spot-on riff of Bridges' character, capturing everything from his looseness to his unique line deliveries. Equally tight is Bob Laine as Sir Walter, matching the intensity of John Goodman's psychotic war vet. The dream sequences (choreographed by Becky Byers) are delightful.
The main problem is also the play's main asset: People who love the film—especially those devotees who attend Lebowskifest—are likely to love the way the production tweaks the original. But viewers who are unfamiliar with or don't like the original may be a little confused as to what everyone is laughing about.
Even so, as the man says, "Thou know'st. The Knave abideth."
Presented by DMTheatrics' American Shakespeare Factory in association with Horse Trade Theater Group at the Kraine Theater, 85 E. Fourth St
.,
NYC. March 19
–
April 4. Schedule varies
. (
212
)
868-4444 or www.smarttix.com
.