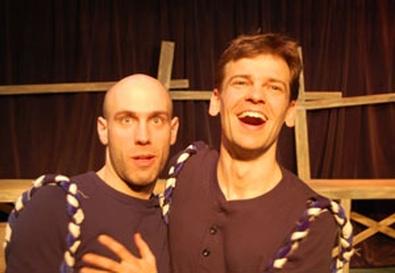 Director Diana Buirski and a dedicated company of nine actors take on that Shakespeare rarity "The Two Noble Kinsmen" with unbridled gusto. Paying scant attention to the play's dark underpinnings, they have put together a lighthearted romp—with more than a dollop of singing and dancing—that despite uneven performances wins you over.
Generally acknowledged these days as a collaboration between Shakespeare and Jacobean playwright John Fletcher, the play contains some of the densest poetry in any of the Bard's works, representing the final postscript to his nonpareil career. It's when this poetry is delivered that things falter, but much of it has been excised from this production, which clocks in at a brisk two hours or so, including intermission.
Borrowed from Chaucer, the plot deals with two Theban knights, Palamon and Arcite, whose close friendship is upended when both fall in love with Emilia, sister of Hippolyta and bride of Theseus, duke of Athens, Yes, it's the same Theseus who appears in "A Midsummer Night's Dream," as we're told in the infectious country-western ballad that opens the show, introducing the characters. (Neither Shakespeare nor Fletcher wrote the song.)
The production is studded with such inspired high jinks. Palamon and Arcite are played with zesty humor by Scott Raker and Jacques Roy; they give the dialogue between these bosom pals the hip, bantering quality of a buddy film. Their duel, which climaxes the show's first half, is a gymnastic treat (Jordan Reeves and Craig Wesley Divino did the fight choreography). Reeves also gets laughs playing a self-important Theseus and as one of the bumbling Athenian rustics who occasionally turn up in the script. Among other characterizations, Kimiye Corwin brings appealing winsomeness and depth to the Athenian woman whose unrequited love for Palamon drives her mad, and Zachary Fine is surprisingly funny as Pirithous, Theseus' overly empathetic and emotional aide-de-camp.
The costumes, by Lydia Joy Frantz and James King, best described as contemporary utilitarian, are cleverly designed to help keep the various characters straight, as several actors play multiple roles.

Presented by the Guerrilla Shakespeare Project at Medicine Show Theatre, 549 W. 52nd St., NYC. Jan. 7–17. Thu., 7:30 p.m.; Fri. and Sat., 8 p.m.; Sun., 3 p.m. (212) 868-4444 or www.smarttix.com.