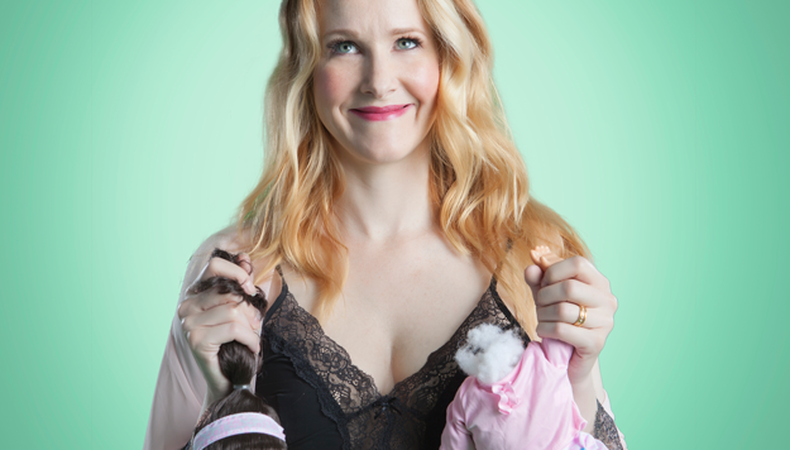 Katie Finneran has still not seen the Broadway revival of "Evita," and she's feeling guilty. Never mind that she landed the role of sozzled orphanage mistress Miss Hannigan in the upcoming "Annie" revival when she was seven months pregnant; gave birth in June, leaving her a 2-year-old and an infant at home; and started rehearsals for "Annie" in August. She's still disappointed in herself.
"I have to go see it," she says, because the choreographer is her friend Rob Ashford, who directed her to Tony-winning glory in the 2010 "Promises, Promises" revival. (She previously won a Tony for "Noises Off" in 2002.) "I always make a point to see someone that I've worked with in a show."
Loyalty, often in short supply in show business, has been good for Finneran. Bright-eyed and on time for her photo shoot, she gives everyone a kiss on the cheek and a smile. Because her makeup artist had train trouble, Finneran starts getting ready on her own without complaint, prompting the photographer—who knows a thing or two about celebrities—to tell her that such a grounded attitude is refreshing in someone who has achieved her success. She brushes him off, saying, "I know how lucky I am. It's so much fun!" If she was at tech rehearsal late last night at the Palace Theatre—where "Annie" will open Nov. 8—or awake with her baby, it doesn't show.
Finneran uses the word "fun" frequently, mostly in conjunction with "mean," as in, "It's just so much fun to be mean to those tiny little girls." She's referring to playing Hannigan, of course, a part she confesses to have assumed would go to "a famous person."
Set during the Great Depression, "Annie" is the iconic musical about the redheaded orphan who lives a hard-knock life in an orphanage helmed by the child-hating Hannigan before ending up adopted by the wealthy Daddy Warbucks.
"I had an immediate interest in doing it," Finneran says of the revival, which is directed by Tony winner James Lapine. "I thought it was really interesting to have a 41-year-old woman in that period wind up in the job at the orphanage. I think that Hannigan always saw herself as a big burlesque star and just was never very talented."
Even though Finneran calls playing the villain "delicious," she has unintentionally frightened the young actors who play the orphans. "We've been testing different looks, and I came down the stairs and they were actually terrified," she says. "And they were not sure if it was me or not. And the youngest kept going, 'Is that really you Katie? Is that really you? Are you really you?' I was like, 'It's me—it's Katie. I love you and I'm here and it's OK.' "
Finneran is calm, but those who have preceded her in the role—Dorothy Loudon, Carol Burnett, and Kathy Bates—are icons. "It's completely intimidating because they're such great performances," Finneran says. "I keep trying to think, How am I going to be different? But truthfully, as long as you serve the script and the music, I think the similarities are just fine. And I'll steal from all of them."
But according to Anthony Warlow, the Australian opera star who is making his Broadway debut as Daddy Warbucks in the production, while Finneran may be stealing, she's also breaking ground.
"A lot of actors, particularly in classic theater, sometimes come into spaces, and they are like, 'I'm being employed to do this. I can't muck up,' " Warlow says, adding that he wishes he had more stage time with Finneran. (The two like to joke that their characters should run off together.) "And I think the good actors are the ones who allow moments to not work because in that not working, you discover something that you may never have discovered had you not allowed yourself to go there. And that's the way Katie works."
This process of discovery is more familiar for Finneran than working in front of the camera. After winning the Tony in 2002, she tested the television waters with the quickly canceled "Bram and Alice." She also made a stab at a series after "Promises," when she starred on the 2011 Fox sitcom "I Hate My Teenage Daughter"—which got the ax after eight episodes. "I'm more comfortable on the stage," she says. "I love doing TV and film, but I sort of know how to tell a story better on the stage than I do anywhere else."
The stage is where she started, after all. Growing up in Miami, she chose to pursue an acting career at age 5 when she made her theatrical debut in a Christmas pageant.
"The first time I performed, I went, 'Oh this will be my life; I understand this now,' " she remembers of her childhood. "It was a very calm thing, and it's never, ever wavered, whether I had to nanny or be a waitress or clean things or whatever. I just always knew that I was an actress and that I would always be an actress."
Success didn't come easy. When she first moved to New York, Finneran shared an audition dress with her friend Andrea Burns, and on days when both had important auditions, they would change in the Times Square McDonald's. Finneran worked countless day jobs, from cleaning floors to doing laundry to waitressing in "every restaurant." "I got fired a lot," she says with a laugh. "I was not very good with wine. I worked at Tavern on the Green. That was my first job because I thought it was glamorous, where all the fancy people went. And I spilled four bloody marys on a very famous opera star.
"Nothing was ever too terrible to not keep going," she continues. "Even if I was a waitress for over a year, I was still an actor. I was just trying to pay the bills. It was very discouraging; hard things always are. I saw every audition as a job, and did I give a good performance? And really every single audition makes a career because those people that you're auditioning for, you'll audition for them again, and they'll remember you."
Finneran doesn't have to audition as much nowadays, but she says she loves it, even though it makes her "want to hurl." "I want you to be happy you chose me," she says. "I want you to see what I'm going to bring to the table."
And the world is waiting with bated breath to see what she brings to the table in "Annie." "I simply adore her and can't wait to see her chew the scenery again," says "Promises" co-star Sean Hayes, who Finneran called "the best scene partner in the world" in her 2010 Tony speech. In the same moment she also addressed the "kids at home watching," telling them to "focus on what you love" and "don't listen to anybody else." For Backstage readers, Finneran delivers more wisdom.
"You're probably reading this and going, 'Ugh, how am I going to pay my rent? How am I going to keep going? How am I going to get that job?' " she says. "Just keep appreciating all the things that you love about the theater…and just keep going forward, and one of these days, it'll be your turn."