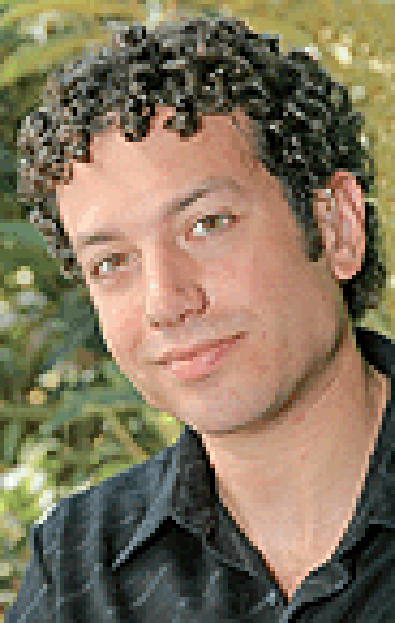 Tyrone Giordano discovered acting only five years ago, yet he has already built a resume that even the most veteran of performers would envy. It includes the lead role in a hit musical, a stint on Broadway, and a national tour. Now the handsome young actor has landed a dream role: playing the son of Diane Keaton and Craig T. Nelson in a high-profile holiday movie, The Family Stone. As Thad, the Stone's deaf son, Giordano's onscreen siblings include Luke Wilson, Dermot Mulroney, and Rachel McAdams. Thad's deafness isn't much of an issue in the story; more dramatic tension comes from his character's homosexuality than from his hearing. It's one of many pleasant surprises in the sweet and endearing second feature from writer-director Thomas Bezucha. But perhaps the biggest revelation is how well this unknown blends into this cast of greats, delivering a sweet and savvy performance.
Giordano, who is deaf in real life, became interested in acting at age 23, when he was hired to do audience interpretation for a production of The Miracle Worker at the Arena Stage in Washington, D.C. "There were five deaf members of a chorus, along with three hearing members, and we would sign the lines back and forth as we were performing them," explains Giordano. "There were moments when I was watching the actors, screaming to myself, 'I want to be on that stage!' That's when I knew I'd been bit by the acting bug, and if I could figure out a way to make a living from this, I'd be the happiest man on earth."
At the urging of noted deaf performer Bernard Bragg, whom he met at Gallaudet University, Giordano enrolled in Deaf West Theatre's summer school program in 2001. The Los Angeles-based program instructs actors in the business of acting, as well as on developing their talent. "You learn how to do well at auditions, how to meet with a casting director, stuff like that," says Giordano. "I had to see if I had what it took." When Deaf West announced auditions for the musical Big River, Giordano decided to try out for the lead role of Huckleberry Finn. "I figured it couldn't hurt," he says. "But I didn't think I would make it. I was up against seasoned actors who had been doing this for years." Not only did he land the part but the show also became a hit, eventually moving from the 99-Seat Deaf West Theatre to the 750-seat Mark Taper Forum, then on to Broadway and a national tour. Having lived with the character for four years, Giordano admits to mixed feelings about finally parting ways with Huck. "I'm ready to move on to other stuff," he notes. "I'm happy Big River had the life it did, and I was happy to have the opportunity to do the same character again and again because I learned about how to perform onstage. I think that's the best class you can have."
Giordano was on tour in January when he first heard about The Family Stone being cast. "There was an email circulating in the deaf community, and word gets around fast," he says. "It said they were casting a movie with Diane Keaton, and there was a deaf role. I want to work, so of course I auditioned." Giordano credits his manager, Sid Craig, with helping him pursue the role. "Sid has represented deaf actors in the past, and he's one of the few people in the industry who sees the actor first, not the 'disability'-I'm not crazy about that word," says Giordano, adding, "But he's great at seeing beyond that." After an initial audition, Giordano was brought in to meet with Bezucha and had a strong feeling he would land the role. "The moment we met, I felt we clicked," he notes. "It was destiny."
Giordano made his film debut in last year's A Lot Like Love with Ashton Kutcher, but he says he was still unprepared for taking on such a pivotal role in Stone. "I didn't know if I could keep up with these people," he confesses. "I was so intimidated, but we ended up getting along so well." The actor is now busy promoting the film and, in his own words, "collecting unemployment checks" until more opportunities arise--which is almost a certainty once audiences see his charismatic turn in Stone. And while he may be fairly new to the business, he has a clear outlook on his calling. "There's a difference between show art and show business," he points out. "You can be very successful as an artist and not make a single penny. That's where you find the separation between the people who want to act for money and those who act because they're artists. I think it's good to find out which group you're in."