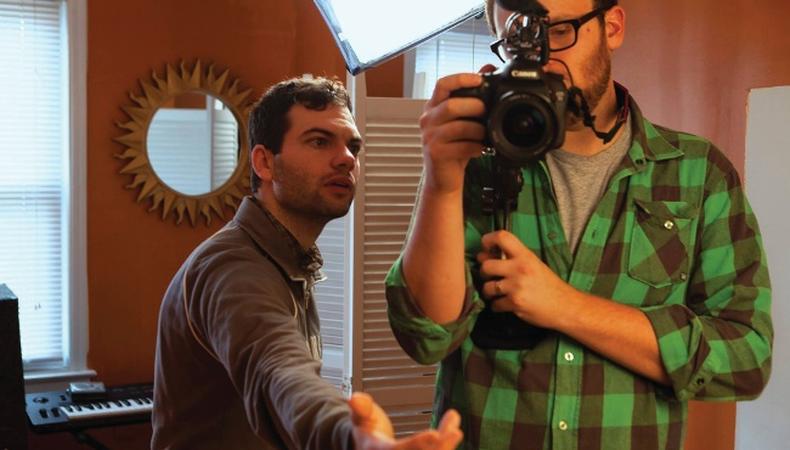 After stepping into a UCB improv class five years ago, creative director for UCB Comedy Todd Bieber oversees the daily video production of comedy content.
What do you do at UCB Comedy?
 I am the creative director of the UCB film and TV department. I do video and Web content; anything recorded on camera, that's me. That puts me in charge of developing new content with partners. We have original Web series and pilots that we create, and we have nine teams that I oversee that create original content. We release a video every day on our YouTube channel.
How does one become a part of UCB?
We're a training facility, so there's sketch and improv training here for actors and writers. You go through our training program and you learn the UCB voice, and then you get onstage and hopefully you start developing video content with us. We've had people go on "SNL" and "The Daily Show"—UCB people are everywhere. We wanted to develop a place to nurture that growth. In a lot of ways, we're an incubator for talent.
What's coming up for UCB?
We're going to start, in 2015, to have production classes—basically show how to direct and edit comedy. But you can't just take a class and be eligible—you have to have gone through our training program and then you become part of the UCB community and then you are eligible to become a team member.
What do you like about UCB?
It's such a great environment. I started taking classes five years ago; I stepped into the room with a bunch of people new to comedy or relatively new to comedy, or New York or L.A., even, and I got to be friends with them and over time we became performers or filmmakers and we got to be the new voice of a UCB generation. The people that succeed here are looking for community as much as comedy experience.
What tips do you have for those looking to create their own content?
Surround yourself with people who inspire you and who'll push you to make inspiring stuff. Having a community of good people is great. Also, be willing to fail big—go do something that's ambitious and be OK with it if it doesn't succeed in the way you want. It's all about building and learning from the last. If you tried and learn, it's not a failure. If you're creating video content—specifically, if you want to write—get to be good friends with someone who wants to direct. Be friends with someone who wants to edit so you're all working together toward one common thing but all keep your individual things. If you want to act, make friends with people who want to make videos. If you only hang with writers, you're never going to get your content made. Collaborate with people who have different skills than you.
Like this post? Check out more of our Inside Jobs!