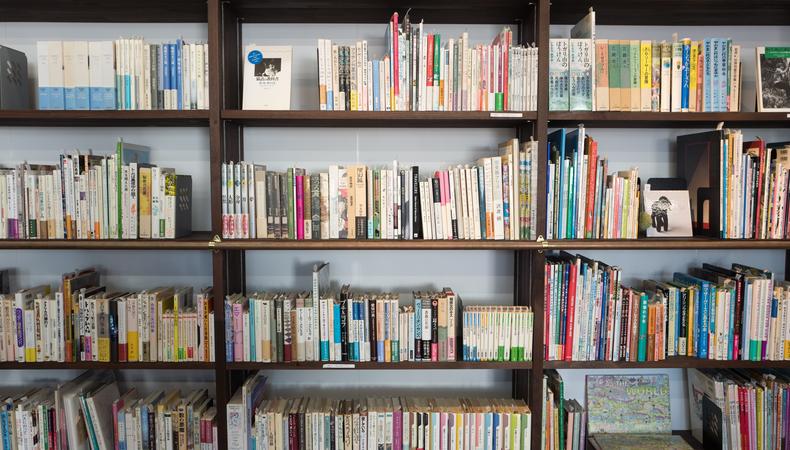 As actors, we must continue to expand our own collection of plays and acting books. The right collection enables us to revisit material, help us find scenes and monologues, and be a source of inspiration when we're lost and need a couple of key ideas or quotes to get us to that next breakthrough. A library—or even just a modest collection of books—is a symbol of community, a coming together of ideas.
To help get you started, here is a list of some of my favorite acting texts and plays that have helped me:
"Impro: Improvisation and the Theatre" by Keith Johnstone
This book is a brilliant resource for actors, teachers, improvisers and directors alike. It's full of wisdom, encouragement, and some of the most profound ideas on the subject I have read.
"Truth: Personas, Needs, and Flaws in the Art of Building Actors and Creating Characters" by Susan Batson
I was lucky enough to do three months at the Susan Batson studio a few years back. Once a week, she would come in and do a class with us from 6 p.m. on a Sunday to the early hours of the next day. It was a wild, thought-provoking, reformative time for me and looking back, incredibly important work. This book is great for analysis, building a character and cutting to the core of what makes a character tick. As far as the American tradition goes, Susan's influences are people like Uta Hagan, Herbert Berghof, Harold Clurman and Lee Strasberg, and she carries on that tradition. This book is easy to understand, at times inspiring and a good start for someone wanting to understand this type of work.
"Year of the King: An Actor's Diary and Sketchbook" by Antony Sher
This is another brilliant bit of writing. A diary chronicling the development of a character by Actor Antony Sher, who played Richard III in 1985 in what has become a legendary performance. Again, inspiring, because he very much takes the opposite approach to someone like Susan Batson. He begins by drawing his character and developing from the outside in. It's useful to think that we can approach a job in a variety of different ways.
"Save the Cat!" by Blake Snyder
This one is about writing and it's the simplicity and clarity that make it such a powerful tool. Snyder has a brilliant way of breaking down structure and story, and throughout his writing, he gives us an incredibly valuable how-to guide that will keep you in good stead throughout your career. It's specifically about screenwriting but the concepts have helped me in all of my work.
READ: 6 Books Every Actor Should Have on the Shelf
"Making Movies" by Sydney Lumet
A brilliant book that covers most major elements that go into filmmaking from the director's perspective. It's an informative, entertaining page-turner and even though the technology has changed since it was written, it's still an incredibly relevant and vital perspective. Actors will find this useful as it provides a great overview of the entire filmmaking machine and clearly defines the different roles and responsibilities within filmmaking.
As for plays every actor should have on his or her shelf, I've chosen mostly classical and American texts that are often referred to in pop culture and modern writing. It's important for us to be familiar with these works: they're timeless and constantly referred to. They also provide great examples of story and character arc, and understanding these works will help the reader in developing their own material. Follow your nose, but these are a good start:
William Shakespeare, all of it
"The Rover" by Aphra Behn
"The Seagull," "The Cherry Orchid," "Uncle Vanya," and "The Three Sisters" by Anton Chekhov
"Hedda Gabler" and "A Dolls House" by Henrik Ibsen
"The Importance of Being Earnest" by Oscar Wilde
"Mother Courage and Her Children" by Bertolt Brecht
"Tartuffe" by Moliere
Anything by August Strindberg but especially "Miss Julie"
"Long Days Journey into Night" by Eugene O'Neill
"Fences" by August Wilson
Anything by Arthur Miller but especially "Death of a Salesman"
"Angels in America" by Tony Kushner
"Beyond Therapy" by Christopher Durang
"The Glass Menagerie" and "A Streetcar Named Desire" by Tennessee Williams
"Glengarry Glen Ross" by David Mamet
"No Exit" by Jean-Paul Sartre
"Under Milkwood" by Dylan Thomas
"This is Our Youth" by Kenneth Lonergan
"Translations" by Brien Friel
"Waiting for Godot" by Samuel Beckett
"True West" by Sam Sheppard
"Pygmalion" by George Bernard Shaw
Happy reading and happy new year!
Originally from New Zealand, Jamie is an actor, director, and acting coach. As an actor, his TV and film credits include "Underbelly Land of the Long Green Cloud," "Crushed," "Westside," "Anzac Girls," and much more. Currently a member of the faculty at Theatre of Arts in Hollywood, Jamie has also coached and directed for Actors Centre Australia, NIDA, Griffin Theatre Company, North Shore Drama, Ensemble Theatre and CCMT. Jamie trained at NIDA and has privately coached many actors in acting, audition prep, text analysis, showreel production, new media writing, on-camera, and voiceover. For more information about Jamie, visit his website: www.jamieirvineactor.com.
Get all of your writing questions answered by peers and experts on the Backstage Community forums!
The views expressed in this article are solely that of the individual(s) providing them,
and do not necessarily reflect the opinions of Backstage or its staff.