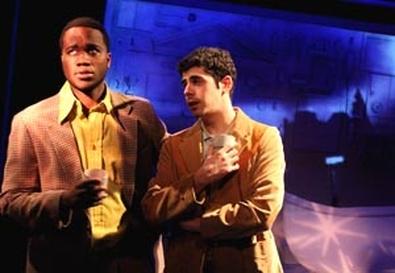 Larry Kunofsky's "The Un-Marrying Project" is a play with good intentions, about a set of couples with even better intentions. While we know where a road paved with such intentions generally leads us, here instead we eventually end up in a sort of theatrical limbo after taking a helluva long time to get there.
While Kunofsky may know the importance of being earnest, the result of this earnestness is an untidy, meandering work that cries out for an editor. The play is based on an unlikely premise: As a public protest about marriage equality, five married couples will divorce and not remarry until marriage is legal for everyone. With such a premise, this moral fable requires a fast-moving, satirical style that's rarely ever glimpsed here.
The play's central conceit is that these five couples are part of a documentary film being made by an unmarried couple, Simon (Nic Grelli) and Kim (Jolly Abraham). The couples offering their help signify as stereotypes-on-parade. First is an elderly Westchester couple, Mr. and Mrs. Kramm (Bill Weeden and Katie Atcheson), who have a lost or dead son. The others include a young Modern Orthodox couple, Effie (Brian Miskell) and Zippy (Diana Oh), and their rabbi (Weeden); a male married pair, Janos (Abraham Amkpa) and Andy (Miskell); a female married couple, Maggie (Atcheson) and Wendy (Oh), and finally a marriage of a belligerent Peter (Amkpa) and a submissive Hope (Atcheson).
Making guest appearances are Susan Sarandon (Atcheson) and Tim Robbins (Amkpa), the only satiric touch in a sea of solemnity. We're asked to observe how these couples cope with the unmarried state, including the documentary makers.
Despite the presence on stage of a large gray bathtub, things get pretty messy for all concerned. In fact, the single tidy thing existing here is the inventive scenic design by Tim McMath: a floor that's slightly askew plus a gray back wall, with "Laugh-In" style openings, on which the play's many props, all of them gray, are hung. Aiding this is an askew frame on which Daniel Heffernan's strolling video messages furnish information and happy distraction. One brief final message—Does Not Compute!—might stand as a suitable summing-up for the evening.
The hardworking cast, under Rachel Eckerling's direction, provides the only other fun here as they enthusiastically breathe life into the paper-thin characters. All do well, especially the versatile Atcheson and appealing Oh, whose lesbian couple provides the best company on this overlong journey.
Presented by Purple Rep at the Paradise Factory, 64 E. Fourth St., NYC. April 9–30. Schedule varies. (800) 838-3006 or www.brownpapertickets.com.