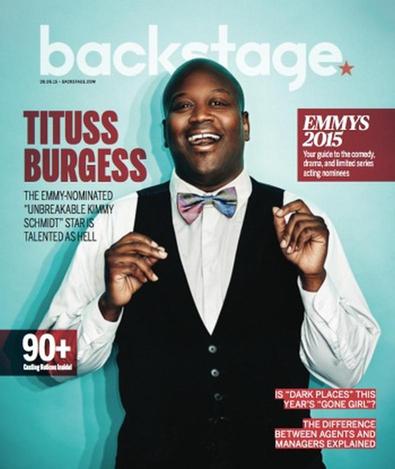 There's a moment in an early episode of Netflix's "Unbreakable Kimmy Schmidt" that encapsulates what it's like to be a struggling actor in New York City. Titus Andromedon, desperate for stardom—or at the very least, attention—is belting a song from "The Lion King" in a dingy audition room to a stony-faced producer. He sounds fabulous but looks ridiculous; draped in leopard print, face awash in makeup, he hoists young Simba grandiosely before him. And then, because this is a Tina Fey and Robert Carlock comedy, you notice the scene's funniest detail: He's holding aloft an actual tabby cat.
Tituss Burgess, the actor who plays this hapless would-be star, is more than just an 's' removed from the character. For one, Burgess has Broadway bona fides to spare, giving scene-stealing performances in the 2009 revival of "Guys and Dolls" and as Sebastian the crab in "The Little Mermaid." For another, he's quieter and more grounded in person. And his reputation is catching up with his talent in more ways than one, with an Emmy nomination this year for outstanding supporting actor in a comedy series.
But Burgess did indeed audition multiple times for Broadway's "The Lion King" and knows all too well the painful realities of the working thespian. "I would fly to New York [from North Carolina] for these open calls," he confesses, seated in a café in Midtown Manhattan. "Such. A waste. Of money."
Fey, who gave Burgess his first onscreen role as the flamboyant D'Fwan on "30 Rock," created the character of Titus with him in mind. "So much of his backdrop, his points of reference, are from my life and from a life in theater," Burgess says. "It's certainly not hard to find him and to recall the very real struggles. He is a heavy black man with a very high voice, and he's gay, and the market is flooded, and he hasn't done a ton of parts—and he has talent."
Or, as Titus puts it in Episode 4, "Look at me! Talented, dashing...transcending! But no career, no agent...and just the one sock."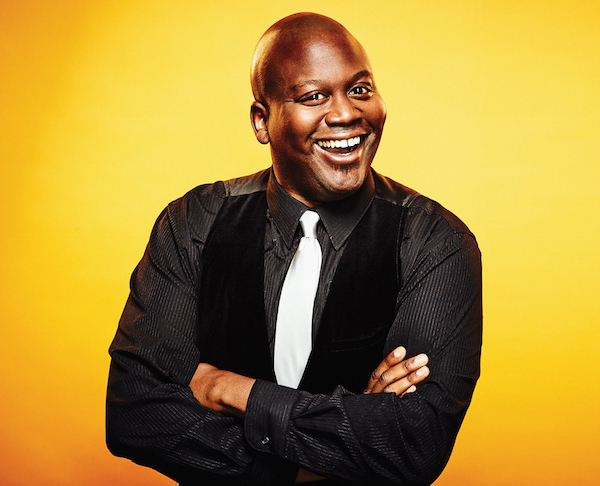 Playing Titus, in fact, takes its toll on Burgess. "I'm so glad there are only 13 episodes," he admits. As with Ellie Kemper's Kimmy, Jane Krakowski's Jacqueline, and many of the colorful characters on "Unbreakable," Titus' behavior is delightful and absurd but comes from a place of true anxiety. In Burgess' case, it's a reminder of the emotional low points in his career. "I can't live in it for very long. It's a lot."
There's a curious detail about those "Lion King" auditions, however: Burgess never told Fey about his failed open calls. Nor did he ever mention he once lived, like Titus, on the bottom floor of a crummy Harlem apartment. Through some mystical, star-aligning process, Fey wrote a part for Burgess with an almost disturbing resemblance to his past.
"I have no idea," he says of the bizarre coincidence. "My hand to God, I have no idea. I've never asked. Tina and I talk about many, many things but personal information like that, no.... I'm convinced she has my apartment bugged and she's been watching me for years!"
And although this meteoric rise in his career hasn't played out in the way he imagined—"I never on my vision board put an Emmy Award nomination," he says, because theater had always been the focus—it makes perfect sense to Burgess, cosmically speaking. "Watching it be assembled in such a majestic way was eerie," he says, remembering what happened after his final day of filming "30 Rock," when Alec Baldwin called him one of the top five scene partners he'd ever worked with.
"I went home. I was living on 47th Street between Eighth and Ninth. And I remember I got on my knees and I prayed. I said to the universe, 'This is what just occurred, this is what I've been doing, this is how it feels. Would you please award me the honor of continuing this type of work?' "

Cut to a few years later, and booking the role of a lifetime. On his first day of shooting "Unbreakable," Burgess had to report to his trailer at, of all places, West 47th Street. "I could've walked out of my old apartment on 47th Street and right into my trailer," he says, shaking his head in awe. "So this was always going to be. It's impossible to explain. It's beautiful."
How can early-career actors replicate such a phenomenon? For starters, it might help to take a page out of Burgess' book when it comes to auditions.
"I know myself very, very well. And I love performing and I love telling stories. My thought process has always been, I'm excited to show you what my version of this story would look like. You're going to be able to get a little condensed show. That took the pressure off getting the job.... I call my performances exorcisms. I'm always working something out of my system."
Even though Titus was a tailor-made part, Burgess still had to audition for the show's producers—but he wasn't worried. "My anxieties were never about performing," he explains. "They were about other things that had nothing to do with my career. Safety was in opening my mouth and making noise." Auditions, he explains, are nothing more than an opportunity "to go in and transfer some energy. It's like a yawn. I start yawning, everybody yawns."
Harnessing the universe's power and booking the dream role has a lot to do with that transfer of energy. Be clear and specific, Burgess says, and don't get the ego involved. "My desire for that type of work was not so I could be lauded or critically hailed—I wasn't thinking about that. I just wanted the damn job."
As the Emmys approach and "Unbreakable" begins filming Season 2 later this month, Burgess isn't taking a second of this experience for granted. He remains as open-hearted and grateful as ever, and keeps thinking back on that miracle on 47th Street. "Ask, be specific, and then release it," he advises. "Because in some way, its energetic equivalent will be given to you. That's what's happening to me. I really believe that."
---
I ❤ New York
The Emmy ceremony takes place Sept. 20, and for Burgess, the reality hasn't quite set in. "I hope we win," he says of the show's nomination for best comedy. (For his category he's submitted the episode featuring "Peeno Noir," the hit viral song full of rhyming lyrics Burgess improvised himself.) But when asked about the possibility of meeting his biggest acting crush, Robin Wright, he says, "I hadn't even registered the fact I was going to meet her.
"Perhaps when I get there and I'm sitting down that'll be a real thing, but for right now it doesn't feel real." A lot of that has to do with continuing to live in New York City, he says, where life is pretty much the same as ever. Well, except for the growing number of offers for roles, both onscreen and onstage. And the fans who keep stopping him to ask for selfies.
"I love you, I love you, I love you. Can I take a picture real quick?" asks one, and Burgess patiently smiles for the camera. "Congratulations on the nomination!" shouts another from across the street.
Then, like something out of "Unbreakable Kimmy Schmidt," a man strolls past, carefully balancing a tall stack of cardboard on his head. Burgess bursts out laughing.
"I love New York. He's just going about, everyone's fine with it. Oh, I love it so much! Lunatics, just chilling out with us."
Want to read more? Check out our Backstage covers here!