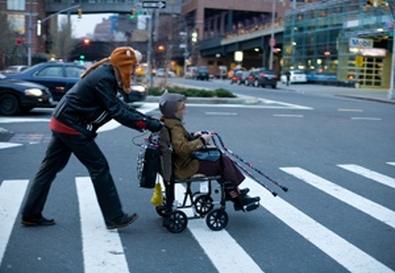 As summer begins, the most daring new work onstage is happening far south of the theater district. Head to the East Village, Lower East Side, Clinton Hill and Bushwick and take in a festival where the stages themselves are storefronts, street corners, and docked ships. From June 29-July 29, the place to be is undergroundzero.
Undergroundzero is a celebration of independent theater with an array of performances, art exhibits, lectures, and parties throughout downtown Manhattan and Brooklyn.
The motive behind undergroundzero is to achieve what founder and artistic director Paul Bargetto calls "radical acts of generosity." To create "a shared platform for our work" where artists support one another and, in turn, inspire a similar feeling of generosity from their audiences. One component of this ethos is to give the artists full autonomy over their work.
"I don't create themes for the festival or mandate what the artists do," Bargetto says. "It has always been artist-driven."
Here's a taste of what to look forward to at the festival this year.

Theater On The Move
"Little West 12th Night" (Photo by Rick Kim)
Seating is overrated. This year's festival will include a mobile theatrical experience entitled
"Little West 12th Night"
– a clever convergence of Shakespeare's "Twelfth Night" and Little West 12th Street in the Meatpacking District. Created in collaboration with Conni's Avant Garde Restaurant, the walking theater production traverses the west side neighborhood, utilizing every backdrop from boutique hotels to warehouses. "We tried to imagine who the characters [of "Twelfth Night"] would be were they inhabitants of NYC's Meatpacking District in 2012," says Peter Lettre, who wrote the script.
Four of the play's main characters lead separate tours through the neighborhood, intersecting with the other characters unexpectedly. As Lettre says, "The meatpacking district is a place in transition, with extreme opulence set against a recent industrial past. Depending on your tour guide, you might find out where you can still rent a room by the hour, learn how a cow is slaughtered, or have a drink in a bar that once housed the infamous Mineshaft S&M club."
Site-Specific Venue
You may remember "Titanic" as a Broadway show (oh, and also a film). But writer and performer Al Ramos was convinced he "could write a better musical." At special performances of
"Titanic! A Folk Rock Opera"
aboard the Frying Pan, a lightship docked near Chelsea Piers, Ramos and creative partner Stefan Zorich recreate the story of Captain E.J. Smith and First Officer William Murdoch. Ramos explains that Captain Smith's presence on the Titanic was unplanned. "He had retired and was tossed this voyage as a gesture of gratitude for years of service," Ramos says. "It is all tragedy and irony within tragedy." Performances will occur at both the Frying Pan and the Living Theatre, but the ship is sure to create a more poignant setting. "The rusted interior [of the Frying Pan] is the perfect environment," says Ramos. It brings "eerie feelings of being on the sunken Titanic."
Theater at Street Level
"Baal" (Photo by Nick Kostner)


"Baal,"
the first play of Bertolt Brecht, will be remounted for the festival in a new performance space called Jack in Brooklyn's Clinton Hill. Jack is "a storefront garage space, with a lot of street visibility," notes director Alec Duffy. "I wanted to inaugurate the space with 'Baal' because it has a lot of fire to it, which is what I think we'll need to draw passersby not accustomed to attending theater. It'll be a loud and lewd show. We hope to have people poking their heads in and maybe deciding to stay a while to check out what's going on." To facilitate an easy flow of new spectators, each performance of "Baal" is "pay what you can".
The Spectator as Artist
"...But the Next Morning"
If what you love about independent theater is the opportunity for viewers to take part in the performance, check out
"…But the Next Morning,"
a multimedia performance at an arts space in Bushwick. According to the artist, Doris Mirescu, this piece explores "how actors enter a character." Through the use of video and movement, "the spectator's sense of perception is challenged" until ultimately, "the spectator becomes an actor."
Or look into
"Habits of Imagination,"
an outdoor installation that uses live radio as a medium for audience interaction. Directed by Shannon Sindelar, the installations will enable viewers to take part in interviews which transfer to "a live content feed." As Sindelar remarks, the interviews are "unique to each performance", which continually makes the work new and changing. Most importantly, "an audience can take away its own contributions."
Convergence of Genres
"Trace of Purple Sadness"
Video and dance share a choreographic chemistry in
"Trace of Purple Sadness."
In this performance, "light becomes visual music in active relationship with the dance," according to creator Ximena Garnica who is part of the creative duo LEIMAY. Garnica adds, "Both dance and video are in constant organic play, sometimes one follows the other and sometimes one goes against the other. The bodies of the artists themselves are what consolidate the experience."
For more information on the festival, visit http://undergroundzeronyc.org/2012-festival.