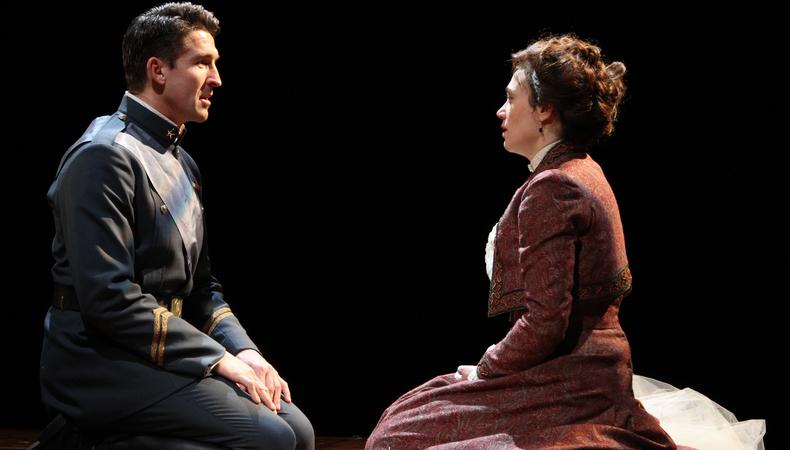 The merry, equally matched skirmishes of wit fought by Beatrice and Benedick on the rocky road to romance have made "Much Ado About Nothing" one of Shakespeare's most popular comedies. There's also, of course, the near-tragic plot involving Beatrice's virtuous cousin Hero, brutally and wrongfully accused of being a wanton by her fiancé Claudio just before their wedding, balanced by the comedy of the constable Dogberry and his bungling crew of policeman who unwittingly bring to light the villainous plot against Hero. But it's Beatrice and Benedick and their reluctance to fall into each other's arms that give the Bard's classic its enduring vivacity.
However, in this handsome but uneven production from the invaluable Theatre for a New Audience, it's Benedick who takes the day in a high-voltage, joyful performance by Jonathan Cake. His Benedick is a robust, hunky soldier, playfully bestowing kisses on servant girls and roguishly flirting with ladies in the audience, but he's uncertain and vulnerable when it comes to analyzing his own romantic feelings toward love, marriage, and most particularly Beatrice. He's nimble one moment, clownish the next. He falls clumsily from a tree when eavesdropping on a conversation concerning Beatrice's hidden love for him, slithers along the ground so as not to be seen, then later glides precariously above the stage on a swing and cunningly takes the whole audience into his confidence while soliloquizing. It's a big, entertaining turn that needs an equally strong Beatrice. But in this staging by Arin Arbus, whose earlier Shakespearean mountings for the company have been met with considerable acclaim, Beatrice becomes almost a supporting player. Maggie Siff gives the character a tempered, self-assured intelligence, but the lovelorn yet desirable woman beneath the shell is barely there, if at all. There's plenty of sarcasm but no sizzle.
Arbus, to be sure, has given the production some highly affecting non-Benedick moments. The quick knife to the heart of Don Pedro, the prince of Aragon (Graham Winton), when Beatrice rejects his impulsive marriage proposal, is surprisingly devastating. The rage of Hero's father, Leonato (Robert Langdon Lloyd), when confronted with the accusations against her chastity, seems to shake every nerve in his body. As the vocabulary-challenged Dogberry, John Christopher Jones provides a modulated but character-driven taste of frivolity, and Matthew Amendt and Michelle Beck make the tribulations of Claudio and Hero credible.
The physical production, while not elaborate, is a pleasure to watch. Constance Hoffman's costumes, nicely mixing military uniforms with civilian garb, provide a colorful rendering of the look of the early 20th century in socially stratified Sicily. Riccardo Hernandez's set creates an elegant if minimalist landscape, lushly lit by Donald Holder.
Despite its imbalance, there's nothing slipshod about the show. "Much Ado About Nothing" gives further evidence of what's kept the 33-year-old company, with its dedication to Shakespeare and other classic dramatists, on the map as it prepares to move into its brand-new 299-seat theater in Brooklyn come fall.
Presented by Theatre for a New Audience at the Duke on 42nd Street, 229 W. 42nd St., NYC. Feb. 17–March 24. (646) 223-3010 or www.dukeon42nd.org. Casting by Deborah Brown.
Critic's Score: B