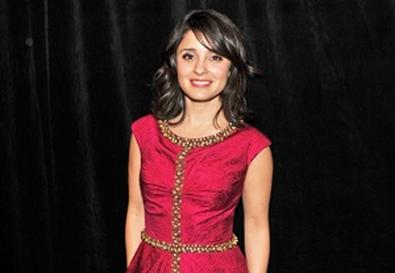 Shiri Appleby began her acting career at the tender age of 3, starring in cheery commercials for breakfast cereals and fast-food chains. By the time she graduated high school, she'd added dozens of TV guest gigs and a few series regular turns to her résumé. And yet, fame didn't really hit until Appleby was a sophomore at the University of Southern California and nabbed the lead role in sci-fi teen soap "Roswell." Her performance as Liz Parker, a strong-willed human in love with an alien, garnered her legions of fans over the show's three seasons.
Since then, she has appeared on ABC's now-canceled "Six Degrees," the final season of monster hit "ER," and Mike Nichols' critically acclaimed drama "Charlie Wilson's War." Now she's returning to the land of teen-centric television—but this time, she's the mom. On the CW's "Life Unexpected," Appleby portrays Cate, a neurotic radio host who's finally getting to know the daughter she put up for adoption 15 years ago (Brittany Robertson). Recently, Appleby chatted with Back Stage about pilots, auditioning, and when it's right to really fight for a role.
Back Stage
: You've been through the pilot testing process many times. Does it ever get easier?
Shiri Appleby
: It's definitely awkward. Like, I wore a blazer to the ["Life Unexpected"] studio test—which the character wears quite a bit on the show—and the studio asked me not to wear a blazer next time, because they wanted to make sure that the network would find me sexy. [Laughs.] At the network test, I did the scenes, and then they came out and handed me another scene, because the audition scenes were all the dramatic scenes. So I had to go into someone's office for five minutes and prepare something to show that I could be lighter. It's nerve-racking, but I think you know when you're going to get the part. You know when you connect to the material. When I was reading for this role, I knew I had connected, so I felt safe.
Back Stage
: You've been acting for a long time. Where were you in your career when you got "Roswell"?
Appleby
: I had dropped out of school because I was paying for college myself and it was quite a bit of money. I got a pilot that got picked up, and I got fired. All I wanted to do was work, and I got fired. They hired a blond girl who was much more womanly looking than I was, especially at 19. So I went back to school, but when I went back to school, I was really dead-set, with a clear focus that I had to get a show. During that sophomore year Christmas break, I shot the pilot for "Roswell." I finished sophomore year, and three days later, we found out the show got picked up.
Back Stage
: What was that audition process like?
Appleby
: The casting director refused to see me. Didn't think I was talented. She pre-read me, but only as a favor to my agent, so she didn't pay any attention. I got terrible feedback. And then, I've never done this before, but a friend of mine knew the director, David Nutter, and he gave David Nutter my picture and résumé. David Nutter brought me in. A few weeks later, they called back and said they wanted to see me again. I auditioned four times for other roles until they let me audition for Liz. I think I ended up auditioning seven or eight times before I screen-tested. It was a long road.
Back Stage
: And when the show ended, did you have a tough time getting people to see you as anything other than Liz?
Appleby
: After you get off a show, it's really hard. "Roswell" was really dramatic, and you hear over and over again, "She's not funny." So my agent, Lorrie Bartlett, would always say, "Yes, she is, pre-read her." I was like, "I'm not gonna have an ego about this; if somebody doesn't want to see me, I'll make a tape. If someone will pre-read me, I'll pre-read." I think my career started to take a turn when I decided to move to New York. The day I moved to New York, Mike Nichols offered me the role in "Charlie Wilson's War," and a few days later I got the part on "Six Degrees." I think it's a matter of, after you get off a show, you just have to check your ego at the door and prove to people that you can do other things than what they've been watching you do for the past few years
Back Stage
: You mentioned feeling an instant connection to Cate on "Life Unexpected." Did you also feel that way with Liz and other parts you've landed?
Appleby
: [With Liz], I knew it. You sit on the floor of your apartment and you're reading a show and you're like, "I know this person." When someone says, "She's not the role," I've definitely learned over the years to let go and not push so hard. But at the same time, if I know I'm right, I'll say, "I understand she says I'm not right; send me the material. I'll make a tape." You don't want to create negativity about not being seen. I'd rather just take it into my own hands.