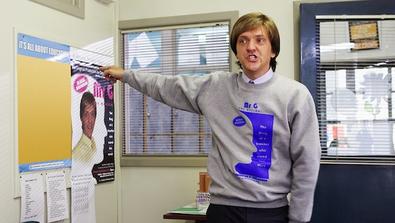 In honor of those hard-working (real-life) acting teachers who inspired, challenged, and motivated us all, here are 11 fictional acting teachers we cannot forget!
Claude Dumet from "Wet Hot American Summer: First Day of Camp"
While not a teacher per se, John Slattery's hilarious theatrical director spices up Netflix's "Wet Hot American Summer" prequel series with his un-camp-like approach to the theater. While holding auditions to replace the (inexplicably expelled) leads in the camp production, Claude declares to a 16-year-old wannabe "The truth stings...like salt in an open wound. You're an abomination!" Um. Maybe we'll seek our theatrical educations outside of Camp Firewood.
Alex Welles from "Welcome Back, Kotter"
It might not be his best-known role, but two-time Oscar nominee ("Ghosts of Mississippi," "Salvador") James Woods was comically memorable as Alex Welles in the pilot episode of this 1970s sitcom. Mr. Welles was the (you guessed it) overly dramatic drama and debate teacher at the fictional James Buchanan High, whose impressive (if snobby) debate team goes up against Kotter's infamous Sweathogs.
Zandra from "Will and Grace"
Eileen Brennan was beyond hysterical as Jack's over-the-top acting teacher in six episodes of the popular sitcom. An old-school dame of the theater with a decidedly dramatic edge, Zandra was known her for hilarious (and harsh) commentary: "Oh, is that what that smell is? You stink." Ouch, Zandra. Ouch.
Mr. Farrell from "Fame"
Talk about typecasting! Actor Jim Moody was a real-life drama teacher at NYC's Fiorello H. LaGuardia High School when he was recruited to play Mr. Farrell in the 1980 film "Fame." The movie follows several students through auditions, four years of classes, and more at their (mostly) fictional performing arts high school.
Ashley Spitzer from "Complete Works"
Vicki Lewis is spot on—and completely hilarious—as a flighty acting teacher in this actor-centric Hulu series about a collegiate Shakespeare competition. "Complete Works" is filled to the brim with wacky theatrical characters, but Lewis' overly emotional, hippy-dippy guest teacher has got to be one of our favorites. "So, when you are there, you are really, really, really there. Yes? And that...is when you know."
Corky St. Clair from "Waiting for Guffman"
How could we forget this legendary mockumentary performance from Christopher Guest as small town dramat Corky St. Clair? For all his flaws (and there are a few), we love Corky for his theatricality, heart, and dance moves. Though he once taught drama at the local high school, his main gig is as founding director (dare we say dictator?) of the Blaine Community Players.
Will Schuester from "Glee"
Though Matthew Morrison's song-and-dance-man was actually a spanish teacher at the fictional McKinley High School, his role as glee club director (and mentor to students like Lea Michele's Rachel and Cory Monteith's Finn) was the heart upon which the hit Fox show was founded. "It's not the broken dreams that break us. It's the ones we don't dare to dream."
Miss Cinoman from "The Goldbergs"
This middle school drama teacher on Adam F. Goldberg's popular sitcom—played by a recurring (and always funny) Ana Gasteyer—is based on Goldberg's real-life teacher, playwright Susan Cinoman. Goldberg claims Cinoman inspired him to write, even from a young age, but that he had less luck securing roles in school plays. In an example of life imitating art, controversy erupts in Miss Cinoman's debut tv episode after a young Adam is denied the lead role in "Jesus Christ Superstar."
Mr. G from "Summer Heights High"
Chris Lilley is a master character actor, and on "Summer Heights High" he played three different characters at the titular high school. His high-strung drama teacher, Mr. G, was beyond passionate about theater, equal parts brutally honest and naive, and probably just not talented enough to be teaching drama to anyone. But if there's a lesson for actors in watching Mr. G, it's that if you're confident in yourself, you can do anything.
Carl Kapinas from "The English Teacher"
Nathan Lane as a high school drama teacher? Yes, please! Lane plays Mr. Kapinas in this 2013 romcom co-starring Julianne Moore, Greg Kinnear, and Michael Angarano, about a young playwright returning home after years of failure in New York. When english teacher Linda (played by Moore) convinces Angarano's Jason to mount his dark new play at the local high school, Lane's flamboyant (but loveable) theater teacher takes the reins as director.
Bill Rago from "Renaissance Man"
Danny Devito starred in this 1994 comedy about an unemployed former executive assigned to teach english to a group of U.S. Army cadets. Reluctant at first and struggling to connect in the classroom, Rago uses Shakespeare's works to reach his rowdy students. A classroom reading of "Hamlet" soon follows, and the power of language takes over. Rago's introduction of "Henry V" leads to one of the film's best scenes: an exhausted private reciting the famous St. Crispin Day Speech in the midst of a high-intensity field training drill.
Inspired by this post? Check out our television audition listings!