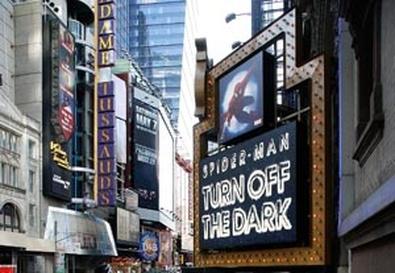 The Stage Directors and Choreographers Society
announced today that it has filed an arbitration claim against the producers of "
Spider-Man: Turn Off the Dark
" on behalf of the Broadway musical's former director, Julie Taymor. The union claimed that Taymor is due royalties for her work on the show. A spokesperson for the production declined to comment.
"Taymor has given nine years of her life to this project," SDC executive director Laura Penn said in a written statement. "The producer has absolutely no right, legally and ethically, to withhold royalties that are due to her. In fact, the right to use her work, on Broadway or anywhere else, is dependent upon the payment of royalties."
Penn told the website The Daily Beast, as reported in a story posted last week, that Taymor was paid $125,000 five years ago for her work on "Spider-Man" but has received no payment since. Taymor was fired in March from the much-maligned musical. Following numerous delays, seven months of previews, workplace injuries to four actors, and multiple script and production changes, the show will officially open June 14.