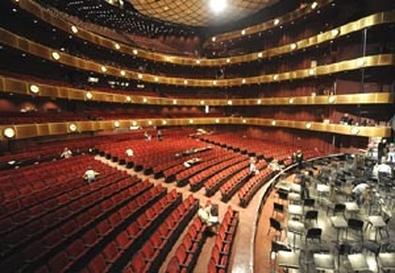 The union representing singers and production personnel at New York City Opera has declared that a strike beginning April 30 "seems a virtual certainty" if no agreement is reached by April 29.
That's the day that the current agreement between the American Guild of Musical Artists and the company expires. According to AGMA, New York City Opera failed to meet a contractual obligation to engage the guild in negotiations prior to Feb. 15, eventually scheduling talks to begin April 4. AGMA claims that the company then cancelled the April 4 talks three days prior, saying that a budget had not yet been set for the upcoming season. No new negotiation dates have been scheduled.
"Regrettably, it became obvious to us that NYCO is merely stalling the negotiating process," said AGMA executive director Alan Gordon. "Our members in City Opera's chorus and production department have devoted their entire professional careers to City Opera, have already made tremendous financial sacrifices to help City Opera survive its fiscal problems, but at some point enough is simply enough."
Gordon went on to criticize the company's artistic vision as one that "demonstrably doesn't find favor with ticket buyers" and said that the company "will exist on a going-forward basis under an AGMA contract that protects its performing artists, or it won't exist at all."
Gordon also sent a letter today to representatives of the principal performers in New York City Opera's upcoming production—"Séance on a Wet Afternoon," which is scheduled to run April 19–May 1 at Lincoln Center's David H. Koch Theater—informing them of the possibility of a work stoppage.
"NYCO's postponement of announcing its next season until sometime in mid-May makes the likelihood of concluding a new agreement that protects the jobs, wages, and working conditions of AGMA members working for NYCO before April 29 remote," Gordon wrote. "Consequently, please advise your respective clients that a work stoppage on April 30 if no agreement is reached by April 29 seems a virtual certainty."
A representative of New York City Opera declined to comment.