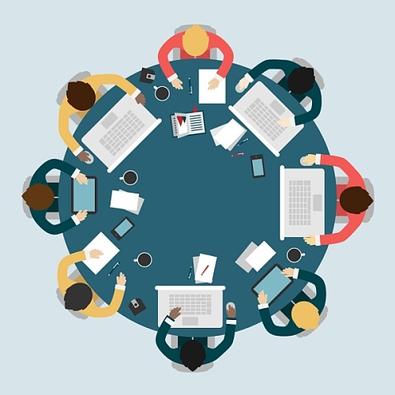 The following is a partial list of unions, guilds, associations, and entertainment-industry organizations of interest to actors, performers, and media professionals.
To find the full details about all of these organizations and many more, check out Call Sheet's Professional Organizations database, where you can search for organizations based on organization-type, keyword, location, and what areas of the industry they support.
Once you've located an organization you're interested in, you can then use the Call Sheet database to easily view more details about them. Plus, the database also includes convenient directories of casting directors, agents, managers, production companies, and more.
Entertainment-Industry Unions & Professional Organizations:
Academy of Motion Picture Arts and Sciences (AMPAS)
Academy of Television Arts & Sciences
Actors' Equity Association (AEA)
The Actors Fund
Alliance for Women in Media
Alliance of Motion Pictures & Television Producers (AMPTP)
American Association of Independent Music (A2IM)
American Cinema Editors, Inc. (ACE)
American Cinematheque at the Egyptian & Aero Theatres
American Guild of Musical Artists (AGMA)
American Guild of Variety Artists (AGVA)
American Humane Association Film & TV Unit
American Screenwriters Association (ASA)
American Society of Cinematographers (ASC)
American Society of Composers, Authors & Publishers (ASCAP)
American Society of Young Musicians (ASYM)
Art Directors Guild & Scenic, Title, and Graphic Artists
The Association of Celebrity Personal Assistants
Association of Independent Commercial Producers (AICP)
Association of Talent Agents (ATA)
BMI
California Arts Council (CAC)
CineStory
Commercial Casting Directors Association (CCDA)
Costume Designers Guild (CDG)
Directors Guild of America (DGA)
Doculink
Film Festival Group
Film Independent
Filmmakers Alliance (FA)
Hispanic Organization of Latin Actors (HOLA)
Hollywood Foreign Press Association (HFPA)
Hollywood Radio & Television Society (HRTS)
Horror Writers Association
The HUMANITAS Prize
Independent Film & Television Alliance (IFTA)
Independent Filmmaker's Project (IFP)
International Alliance of Theatrical Stage Employees (IATSE)
International Documentary Association
Location Managers Guild of America
Motion Picture Association of America (MPAA)
Motion Picture Editors Guild
Multicultural Motion Picture Association (MMPA)
Music Video Production Association (MVPA)
National Academy of Recording Arts & Sciences (NARAS)
National Association of Broadcast Employees and Technicians (NABET-CWA)
National Association of Latino Independent Producers (NALIP)
National Conference of Personal Managers (NCOPM)
National Council of La Raza (NCLR)
New York Women in Film & Television
The Norman Lear Center
The Organization of Black Screenwriters (OBS)
PEN
Producers Guild of America (PGA)
SAG-AFTRA
Scriptwriters Network
Society of Camera Operators (SOC)
Stage Directors & Choreographers Society (SDC)
Talent Managers Association (TMA)
The Black Filmmaker Foundation (BFF)
Women In Film (WIF)
Writers Guild of America (WGA)
Quickly browse through Call Sheet's searchable database of Professional Organizations to find key details, links, contact information, and more for all of the top entertainment-industry unions and support organizations.
---
Subscribe to Call Sheet today. Check out the Call Sheet database online at Backstage.com/CallSheet. Or download the latest Digital Edition of Call Sheet and entertainment-industry mailing labels.