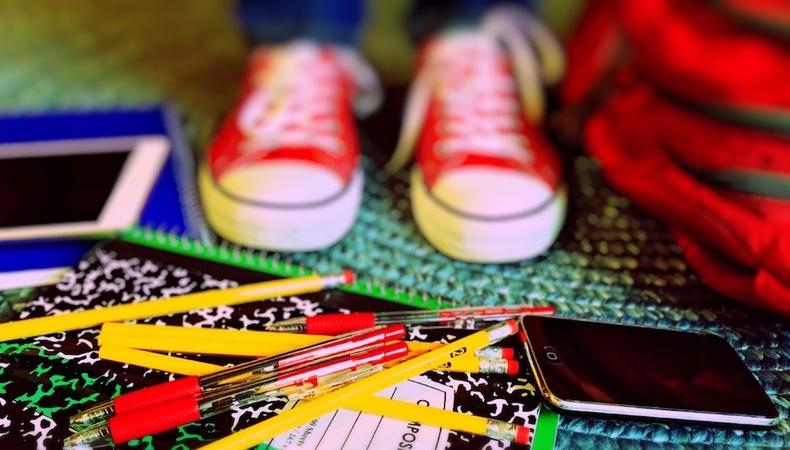 Raising a child to adulthood successfully is already quite a challenge for most parents, but what if your kid has a budding entertainment career in the works, too? What's the best way to support the dream while making sure your child is prepared for a future that may not necessarily include top billing?
Fitting in high school, acting classes, auditions, training, and performing would be a tall order for many adults, much less child and teen actors. But young actors (and siblings) Adam, Cara, and Eric Beigel have been able to juggle and manage their educational and career goals in Hollywood while simultaneously keeping up with other students their age. How do they do it? A solid work ethic, balance, and lot of flexibility go a long way towards making the grade.
How to manage your child actor.
Find a balance.
Think about a student in a traditional school: leave the house at eight in the morning and with activities like sports, theater, and other extracurricular activities, the student might not be home until 5 p.m. or 6 p.m. Then there's homework, studying, and preparing for the next day's demands. That's a lot of responsibility for a 12- or 13-year-old kid. Being a student is a full-time job. Now add an actual full-time job like acting to the mix.
"Juggling school and acting takes a lot of work," says 16-year-old Adam Beigel. "Just being a teenager is a lot of work itself." Adam and his siblings—Cara Beigel, 14, and Eric Beigel, 12—are all working actors and full-time students at an online private school.
"Being in an online school lets me do my schoolwork no matter where I am and allows me to work on the weekends or late at night, which is a luxury that I wouldn't have if I went to public school," Adam explained. "I can work on my school in my trailer on set, in my designated school time, and before or after I'm on set."
Establish self-discipline.
Online school offers flexibility, which is nice—but with flexibility comes responsibility. It can be easier to de-prioritize your studies when there are a thousand cool things happening all around you (like, for instance, a movie set).
"When you are a teen actor and in an online high school, you have to be self-motivated and disciplined," Adam said. "You have to memorize scenes with choices that are different from the guy standing next to you when you go into the audition room, but you also have to study for your history exam that you have coming up. There's no bell that sounds to tell you that it's time to move on to the next subject. You just have to just do it. It's really a matter of prioritizing. You have to be dedicated to both your acting career and your academics."
Adam's pro tips include hacking time management: when the moment strikes, you have to make decisions that will open up more time for you in the future.
Embrace flexibility.
Cara has found success with similar tactics as brother Adam. Cara keeps a list of her school work with her at all times and is ready to knock out her assignments at any given moment, even while stuck in Los Angeles traffic.
"I fit in my school wherever I can," Cara said. "I have to get all my lessons for the week done by Sunday at 9 p.m. Sometimes that means working at night or all weekend, and sometimes it means I get up early and get school done before my acting day starts. Sometimes I have to say no to my friends or to other activities because I have to get my school work done or rehearse my scenes."
What to know about money management for your child actor.
Welcome parental support.
With early mornings and late nights a reality for many young actors, responsible stage parents know how to spot signs of fatigue, stress, and burnout. Think it's frustrating to work your hardest only to hear "no" again and again? Now imagine you're 13 years old.
As a 12-year-old, Eric has already experienced his fair share of rejection. He has advice to share that is quite mature: "You get so much rejection and discouragement that it's easy to just drop out and be done. But if you don't give up, it could all pay off with just one 'yes.' The one 'accept' will make it all worth it, a million times over."
While the life of a child actor can be complicated, it's a life that young pros like the Beigels love. It's an experience like no other and the pay-off, in those moments when it arrives, is so very sweet.
"One of my favorite sayings in Hollywood is that for every opportunity, there are 3,000 submissions, 300 auditions, 10 callbacks and one job," Adam said. "While it's hard [to be] told no so many times in this industry, one yes is the equivalent to a million no's. A 'yes' can be so epic, because it isn't something that you can book every single day."
The views expressed in this article are solely that of the individual(s) providing them,
and do not necessarily reflect the opinions of Backstage or its staff.