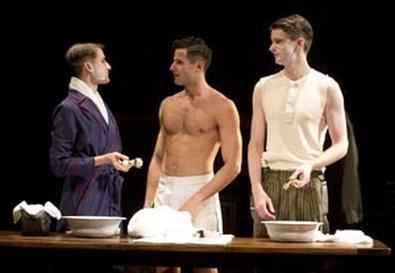 Harvard University's ugly and hysterical purge of gay male students, conducted in 1920 by means of a secret court and then suppressed for more than 80 years, is a fascinating if horrifying story. Following Stan Richardson's imaginatively theatrical "Veritas," seen in last year's New York International Fringe Festival, comes Classic Stage Company's production of "Unnatural Acts," conceived and directed by Tony Speciale and written communally by members of the Plastic Theatre. Flecked with nonnaturalistic moments of physical theater that culminate in a stunningly effective climax, "Unnatural Acts" tells its tale with discipline and focus, packing the same mighty punch as Richardson's play.

Harvard student Cyril Wilcox's suicide sets the events in motion. Wilcox had been part of a small group of gay men, mostly sophomores, who convened and partied in the rooms of Ernest Roberts, a privileged, congenitally reckless congressman's son. Included in the group are Wilcox's tutor, the boyish Harold Saxton; senior Eugene Cummings, Wilcox's boyhood friend; the romantically pledged couple Keith Smerage, an aspiring actor, and Nathaniel Wollf, a premed senior; the jealous and nerdy Stanley Gilkey; the introverted Donald Clark, an assistant classics professor; and the waspish and swishy Edward Say. Hanging around the group's edges are Say's former and current roommates: Kenneth Day, a hunky track star who has discovered that he enjoys the occasional blowjob, and the conservative and innocent Joseph Lumbard, whose admiration for Day may or may not be sexual.

Incriminatingly chatty letters from Roberts and Saxton found in Wilcox's bedroom after his death are brought to the attention of the Harvard authorities. Pressure is first put on Day. Once he admits to the sexual acts, he names Roberts as the perpetrator while insisting on his own heterosexuality. The virulent homophobia of the day allows the secret court to proceed with a ruthless lack of scruples, and the young men never stand a chance. Roberts understands this and gives everything away to save himself. After that, it's like shooting fish in a barrel. Cummings makes a frantic trip home to try to get Wilcox's older brother to step in and stop things, only to discover that Lester Wilcox is a raging homophobe who is pressuring Harvard to act. It's a devastating (and beautifully positioned) scene that generates the show's final and immensely moving coup de théâtre.

The exemplary 11-person cast is led by Nick Westrate, superb as Roberts, a fascinating mixture of rebellious hedonism, pragmatic cynicism, and a startlingly butch effeminacy. Brad Koed gives Cummings an appealing decency and spirit that crumble appallingly in Cummings' confrontation with Roderick Hill's practically possessed Lester. Frank De Julio and Joe Curnutte make a golden couple as Smerage and Wollf, touching in their obvious affection, then both deeply wounded as the macho senior sells out the sensitive sophomore in a desperate attempt to save his degree. Handsome Roe Hartrampf's Day is both an enticing sex object and a genial fellow whose uncharacteristic moment of guilty cruelty registers with particular force. Max Jenkins plays the weaselly Gilkey with a fascinating touch of constantly suppressed hysteria. Will Rogers' Lumbard seems to have his nose perpetually but involuntarily pressed to the glass. Though nailing every bon mot with style, Jess Burkle doesn't neglect Say's fragile sense of self. Jerry Marsini and Devin Norik inhabit the less colorful Clark and Saxton with authority.

Walt Spangler's appropriately expressionistic set is dominated by a looming, crowded bookcase wrapped improbably around a fireplace, a bookcase that Justin Townsend craftily backlights from time to time to great effect. Andrea Lauer's well-observed costumes help mightily in creating the necessary period atmosphere.

The repertory has proved large enough to contain two "Wild Party" musicals, so hopefully it can accommodate both "Veritas" and "Unnatural Acts." Each is special in its own way in telling a story that urgently needs to be known.

Presented by and at Classic Stage Company, 136 E. 13th St., NYC. June 23–July 31. Tue.–Sat., 8 p.m.; Sat. and Sun., 2 p.m. (212) 352-3101, (866) 811-4111, www.theatermania.com, or www.classicstage.org. Casting by Calleri Casting.