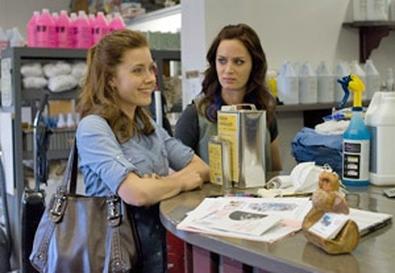 Almost every year, it seems there are complaints about it being a bad year for women's roles. For some reason, that buzz is especially loud for 2009, as critics are making their year-end lists and finding the women's categories falling short.
At which point, I have to feel some empathy for actors like Jess Weixler—who poured her heart and soul into the small indie romance "Peter and Vandy"—and it makes me wonder what more critics could want. Weixler commands the screen in the film, which focuses almost entirely on the two title characters. She's in every scene, playing a range of emotions, from repressed anger to deep infatuation. It's a terrific role and she doesn't miss a beat. Yet her name doesn't appear on any year-end critic's lists.
The same can be said of Sophie Okonedo, a previous Oscar nominee for "Hotel Rwanda," who earned raves for her turn as a black woman born to white parents in apartheid-era South Africa in "Skin." Okonedo has earned some of the best reviews of her career for the film that Entertainment Weekly called a "tragic, enraging, and uplifting tale."
And "The Stoning of Soraya M." featured not one but two engaging turns by female actors: Mozhan Marnò as the title character, who is framed for adultery by her husband, and Shohreh Aghdashloo as her fierce aunt, who tries to get Soraya's story out to the world. Both women lend a gravitas and dignity to their parts, in a film that is admittedly a tough sell. It helps that director and co-writer Cyrus Nowrasteh wisely chose to tell the story as a thriller. In the film, an American journalist (played by James Caviezel) breaks down in an Iranian village and is told the story of Soraya's tragic death. He then must escape from the town with his audiotapes, something the village elders will do anything to stop. Both "Skin" and "Soraya M." offered meaty roles for their female actors and also deal with subject matter that is generally considered attractive to awards voters. Yet these performances have barely registered in the awards race.
And sometimes the most intriguing performances can be found in movies that people wouldn't generally consider Oscar bait. One of the most engaging onscreen turns of the year is Zooey Deschanel's as the title character in the romantic comedy "(500) Days of Summer." Playing the object of Tom's (Joseph Gordon-Levitt) obsession, Deschanel has to play an almost impossible ideal. She has to convince us that men find her so desirable, sales increased substantially the year she worked at an ice cream parlor. That she's worth all the mooning Tom does over her throughout the film. And because the role is played by a bright, beautiful, intelligent actor like Deschanel…it works. Though Summer is seen through Tom's eyes, Deschanel manages to create a full-bodied, three-dimensional character. Even when Summer breaks Tom's heart, we can't hate her—as much as we may want to. It takes a special talent to pull off such a character, and Deschanel makes it look deceptively easy.
Another film that received little attention despite starring two of the best young female actors working today is "Sunshine Cleaning." Amy Adams and Emily Blunt play sisters who start a new business cleaning grisly crime scenes. I'm not sure why this funny, original film failed to connect with audiences, but Adams and Blunt are terrific. Adams makes her character—a single mother having an affair with a married man—all too relatable. In one pivotal scene, she explains how she has come to be empowered by her job, and you can see confidence creep into her face as she speaks. As her screwup of a sister, Blunt complements Adams in every way.
In supporting roles, attention tends to be paid to flashy scene-stealers—to which I have no objection. (You will never hear me complain about Judi Dench's Oscar for 12 minutes of screen time in "Shakespeare in Love.") But there are several performances that define the true meaning of "supporting." Not surprisingly, all the actors are playing wives.
In "District 9," poor Wikus (Sharlto Copely) just wants to get back to his wife, Tania, played by Vanessa Heywood. One of the many brilliant moves by "District 9" writers Neill Blomkamp and Terri Tatchell is that, despite the fact that Wikus is a bumbling idiot, his wife is madly in love with him. The two absolutely adore each other, and when he goes on the run (as a result of exposure to an alien virus that begins to mutate him), you root for them to be reunited. Heywood has two phone-call scenes with Copely that are particularly heartbreaking: first when Tania tells her husband she can't support him, and second when she changes her mind and says she still loves him. It is some of the most romantic work seen on screen all year, and Heywood is remarkable. She is equally good in the early docu-style scenes, in which Tania directly addresses the camera and talks about their life together, and little emotions begin to betray her. Their story is the heart of the film, and it's no coincidence that the movie ends on an image that lets the audience know they still love each other.
The other two wives are played by the same actor. Matt Damon has rightfully won raves for his portrayal of real-life whistleblower Mark Whitacre in "The Informant!" Damon is hilarious as a man who wants to be James Bond, even though he's an agricultural executive living in Illinois. But as the good woman behind the man, Melanie Lynskey brings her usually sweet savvy to the role of Ginger, Mark's loving and supportive wife. Damon and Lynskey have some fun with the naïveté of their suburban characters but portray them with true affection, never condescending. Ginger even buys into Mark's crazy schemes, believing that people are out to get him and expressing disdain for those who refuse to believe him. Yet when the last of his lies is exposed and Mark is still trying to spin his wheels, Ginger brings it all to a halt simply by saying, "Stop it, Mark." In that one moment, you see just how complex this woman is.
Lynskey pulls a similar feat as a loving wife and mother in Sam Mendes' "Away We Go." The film tells of a couple, Burt and Verona (John Krasinski and Maya Rudolph), who are expecting their first child and go on a road trip to decide where to put down roots. On the way, they encounter three couples who make them re-examine their own relationship. The first two couples purposely border on caricature—a loudmouthed pair in Arizona and a hippie duo in Madison, Wis. Then Burt and Verona visit their friends Tom and Munch in Montreal. Played by Chris Messina and Lynskey, they radiate warmth and love in stark contrast to the prior couples. But it's soon revealed that Munch, who wants nothing more than to be a mother, cannot have children of her own. Lynskey's expression as Munch tries to be happy for her pregnant friend is heartbreaking. Even tougher is a later scene in which Munch performs a sad pole dance in a club as Tom reveals that she has just suffered her fifth miscarriage. Without any words, Lynskey is utterly devastating.
Of course, the year isn't over yet. There still remain to be seen performances by the likes of Blunt ("Young Victoria"), Brenda Blethyn (said to be phenomenal in "London River"), and the cast of the musical "Nine." Given such performances, along with the actors mentioned in these pages, it might not be such a bad year for women after all.