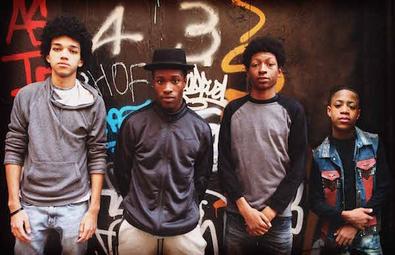 So you've finished watching the third season of "Orange Is the New Black" and need a distraction from your obsession with Litchfield Penitentiary's newest inmate Ruby Rose? Aside from the shows Netflix will be rolling out soon, including "Wet Hot American Summer: First Day of Camp" (July 17), "Narcos," and Marvel's "Jessica Jones" starring Krysten Ritter, here are 11 other titles the streaming giant has in development.
Aziz Ansari's Comedy Series
Here's what we know: Netflix has ordered 10 episodes of a half-hour sitcom starring Ansari, who co-created the series. It's filming in New York, and co-stars include H. Jon Benjamin ("Archer," "Bob's Burgers"), Eric Wareheim of comedy duo Tim and Eric, and others. "Parks and Recreation" fans rejoice!
"F Is For Family"
This six-episode animated series starring comedian Bill Burr will follow Burr as Frank Murphy, Laura Dern as his wife Sue, and Justin Long as their oldest son Kevin. The show will center on this lower middle-class family living in the 1970s, and is based on Burr's childhood.
"Flaked"
This Will Arnett-starring comedy is centered on a self-appointed guru in Venice, Calif., who falls for the object of his best friend's affection. This isn't the first time the former "Arrested Development" actor has teamed up with Netflix; Arnett voices the titular character in "BoJack Horseman." "Flaked" will be eight episodes and will premiere in 2016.
"Fuller House"
For most '90s kids, the announcement of this "Full House" reboot was pretty exciting. The 13-episode sitcom will center on a single Stephanie Tanner, a widowed/pregnant DJ Tanner-Fuller, and a divorced Kimmy Gibbler as they move in together to start a new life. All of the original cast members will be reprising their roles (including appearances by Bob Saget and John Stamos), with the exception of Mary-Kate and Ashley Olsen. The show is set to premiere in 2016. Maybe we'll find out what ever happened to predictability, the milkman, the paperboy, evening TV....
"The Get Down"
The music drama from Baz Luhrmann ("Moulin Rouge," "Strictly Ballroom") has apparently been in the works for 10 years. The show will be set in 1970s NYC, when hip-hop, punk, and other music and art exploded while crime and violence were at an all-time high. The series will premiere sometime in 2016.
"Love"
Starring Gillian Jacobs and Paul Rust, "Love" will be Judd Apatow's first TV series in over a decade. (The movie mogul and "Girls" executive producer hasn't made his own show since "Undeclared.") Co-created by Apatow, Rust, and Lesley Arfin ("Brooklyn Nine-Nine"), "Love" will center on Gus (Rust) and Mickey (Jacobs) as they navigate intimacy, commitment, and other things they were trying to avoid.
Marvel's "Luke Cage"
Marvel and Netflix have joined forces in a five-show plan, which started with this year's "Daredevil." Next is "Jessica Jones," and then three more will follow, though no specific order is confirmed. "Luke Cage" will star "The Good Wife's" Mike Colter as the titular character. Luke Cage has superhuman strength and unbreakable skin. He is married to Jessica Jones, and will first appear in her show, rumored to be released later this year.
Marvel's "Iron Fist"
Though it's yet to be confirmed, Ryan Phillippe ("Secrets and Lies") is rumored to be taking on the role of Danny Rand, aka Iron Fist, a martial artist with the power of...you guessed it, an iron fist.
Marvel's "The Defenders"
Most likely the last show this Marvel-Netflix partnership will roll out is "The Defenders," which will feature all of the aforementioned characters—Daredevil, Luke Cage, Iron Fist, and Jessica Jones—and hopefully some others.
Winona Ryder Drama/"Montauk"
Previously (or possibly still) titled "Montauk," this supernatural drama will star Winona Ryder ("Little Women," "Girl, Interrupted") as Joyce, the mother of a missing young boy, and David Harbour. The show will be set in 1980s Long Island, and will be created by Matt and Ross Duffer ("Wayward Pines").
"With Bob and David"
It's "Mr. Show with Bob and David" all over again—but this time it's streaming! Bob Odenkirk ("Better Call Saul," "Breaking Bad") and David Cross ("Arrested Development") will write and star in this sketch series. Netflix has ordered four half-hour episodes and one "making-of" special, but a premiere date has not yet been set.
Inspired by this post? Check out our audition listings!